Favourite Last Frontier Videos
In the height of this wild and crazy British Columbia summer, with forest fires raging and heat waves that just won't quit, I find myself missing winter. These days, every time I hike up into the scorched alpine or bike down a dry and dusty section of single of track, I'm reminded of why I moved to the mountains in the first place: to ski. Summer is great, don't get me wrong, but this one is taking its toll on my energy levels and motivation to get outside. Instead, I'm sitting in front of a fan watching ski movies between lake swims with the dog, still wrapped in a towel, eating ice cubes straight from the tray. It's not pretty. On the off-chance that you're having a similar summer, I've put together a few recommendations of my favourite Last Frontier videos to help get you through.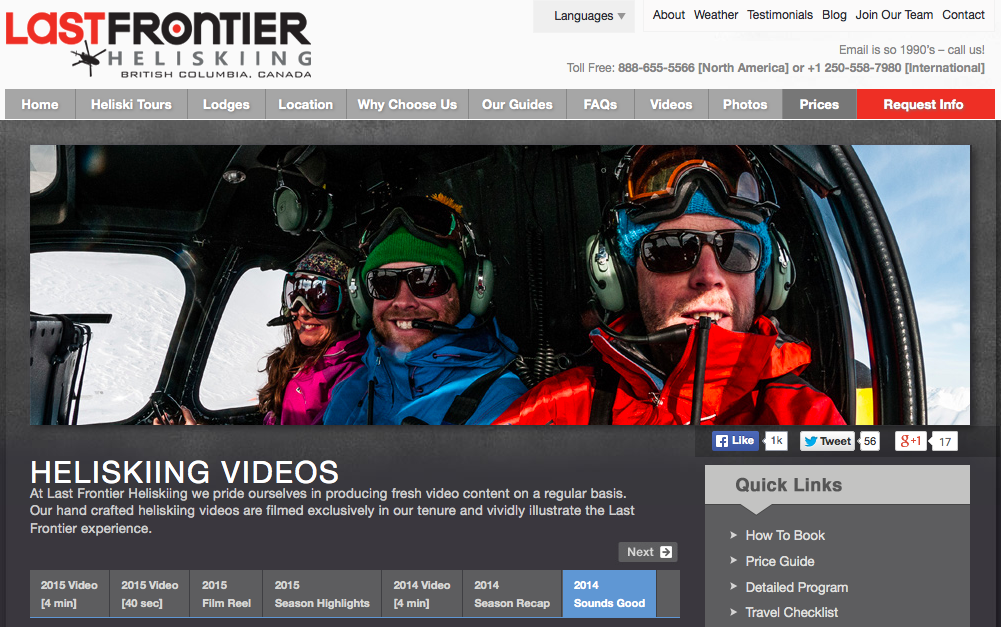 The Cold Rush (2015)

Every season, Last Frontier produces a short video filmed throughout our tenure over the course of a week, and last year's The Cold Rush by flim maker Grant Balwin is the best one yet, in my opinion. I'm a sucker for graphics and aesthetics, so this one gets me right out of the gate. I love the way the music builds, I love the fact that it follows two athletes, Suz Graham and Chris Booth, on a ski safari from Ripley Creek to Bell 2, and I love the gratuitous use of a selfie stick to capture the true essence of a face shot. 2016 has got some serious boots to fill!
The Last Frontier (2014)
I'm not alone in loving this one. Our most viewed film by far is our 2014 promo video, in which the mountains of our incredible tenure are the stars of the show. From the very first turn in shoulders-deep blower pow, the film showcases a dream trip, complete with iconic wildlife spotting (moose! wolves!), fireworks and even the Northern Lights. I live and work here, and this video still makes me want to book a trip with Last Frontier Heli Skiing.
Salomon Freeski TV (2012)

Recently, we posted about some of the reasons why athletes keep coming back to ride and film with Last Frontier. One of my favourite videos to come of a pro shoot in our tenure is the 2012 episode of Salomon Freeski TV, featuring Chris Reubens and Cody Townsend at Ripley Creek. The skiing is phenomenal, of course, but what I love about this video is the inside look at our home in Stewart, BC, and our next door neighbours in Hyder, Alaska. I also happen to know for a fact that the athletes are a couple of gems, so that helps.
https://vimeo.com/54703235
Sounds Good (2014)
While I do really love the sweaty palms and muttered swear words that come from watching the gnarlier, more action packed videos, a 2014 musical tribute to heli skiing has been high on my playlist lately. Sounds Good is the result of a creative effort by crews at both lodges, and it can't help but get you stoked for winter. Right now, in the middle of July, the familiar click of ski boots to bindings and the sound of a helicopter whirring to life is music to my ears.