Gear Review – Hestra Gloves Army Leather Heli and GTX
I work as a ski patroller, and finding a glove that can withstand the abuse of the job, keep my hands warm and dry and actually last the season is difficult. While not perfect, Hestra has a couple of gloves on offer that come pretty close. Understand that no glove is going to do everything, and the debate between leather and synthetics can be a long one. I choose leather. Sure, it's a little high maintenance and requires constant treatment with wax to keep it waterproof, but if you take care of them, leather gloves are durable and tough. Most of our heliski guides choose leather gloves for their daily guiding work simply because they handle so many skis and boards every day [mostly loading/unloading the heli basket].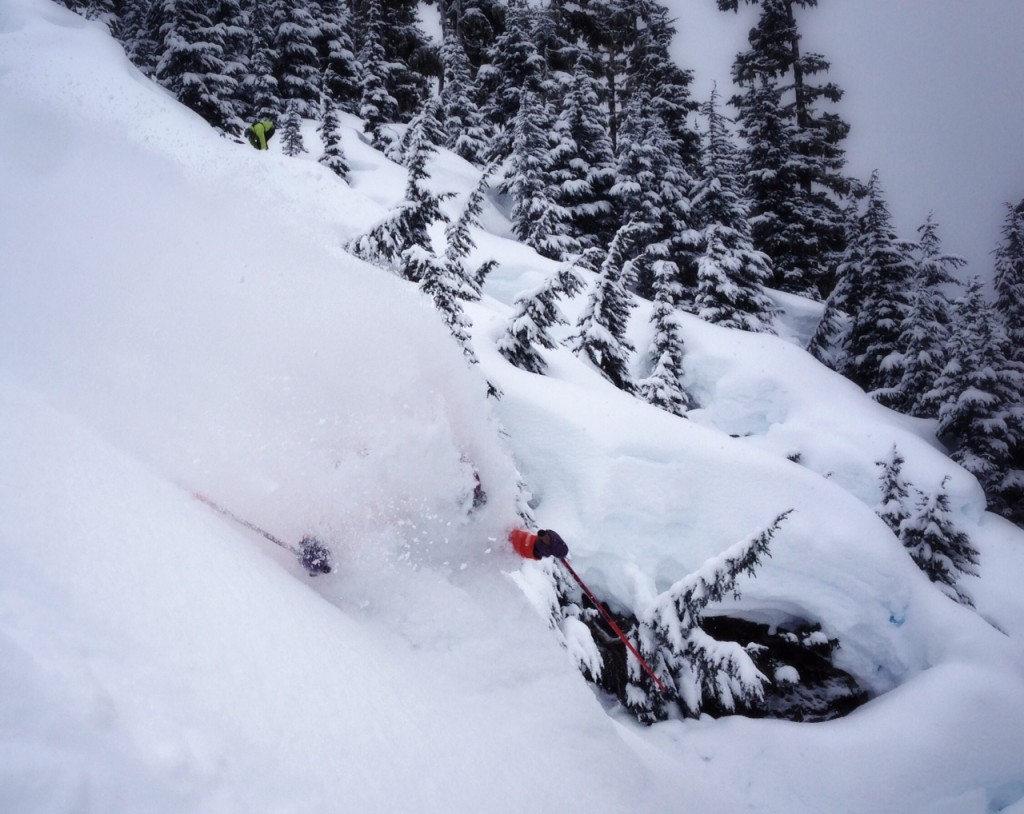 I've used two different Hestra gloves over the last few years, both gauntlet gloves from their Alpine Pro Line. The Army Leather Heli Glove, which was designed by heliski guides and has been their bestseller for years, and the Army Leather GTX Glove, which is essentially the same thing but with non-removable liner and a Gore-Tex membrane between the leather and lining.
Heli Glove – Impressions
I have to say, while this glove has proven durable and when taken care of properly, fairly waterproof and warm, the removable liner is a pain. Sure, it's easier to dry and allows me to run a light glove without the liner on those warmer days, but I find that if it does get wet, I've now removed its usefulness for the full day. Once it's broken in, it offers really good dexterity for a glove of its thickness and size.  The stitching is burly and strong and this glove has proven to be one of the better choices out there for a beefy winter ski glove that can put up with just about everything you can throw at it.
GTX Glove – Impressions
After using the heli glove for a couple of seasons, I decided to try the GTX glove and see the difference. This glove is a little more expensive because it offers the Gore Tex membrane but to me the extra cost is absolutely worth it. It's a little warmer than the Heli Glove and once broken in offers the same level of dexterity. Like the Heli Glove, it requires treatment on a regular basis with glove wax to maintain the leather's waterproofness but here is the kicker: Even when it's soaked through completely, your hands stay warm and dry. The GTX wind and waterproof membrane keep the liner and your hands toasty on even the wettest of west coast days. Yes, it's a bit of a mission to dry it out at the end of the day, but these gloves have withstood 150 days of work, multiple days being soaked and my hands have almost always been dry and warm. Like the Heli Glove, the stitching is bomber and withstood everything from pulling rope, dealing with sharp ski edges and manhandling toboggans day in and day out.
The Hestra Army Leather Heli Glove has long been the choice of snow professionals spending their days heli guiding and working in the mountain environment. And don't get me wrong, compared to a lot of what's on offer out there, the Heli Glove delivers. But to choose between Hestra's bestsellers and their GTX gloves, I choose the GTX.  Sure, they're a little pricey, but they're totally worth the extra cost, especially if you are like me and prefer to have one glove to do it all.  The Hestra GTX Glove offers a good compromise between warmth, durability, waterproofness and dexterity. It will keep your hands happy no matter what you're doing. Both models come in various styles from short versions without a gauntlet to mitts to hybrid one finger mitts.
Be safe, ski hard.