How Much Vertical Can You Heliski In A Day?
Discussions of vertical feet skied vary across the heliski world. In the ideal scenario, you would have a helicopter, a guide, a few buddies, four feet a fresh and bluebird skies for 7 days with an unlimited budget and fuel supply. But unless you're on a private tour (yes, we offer those), most operators have some sort of system in place for their heliski clients.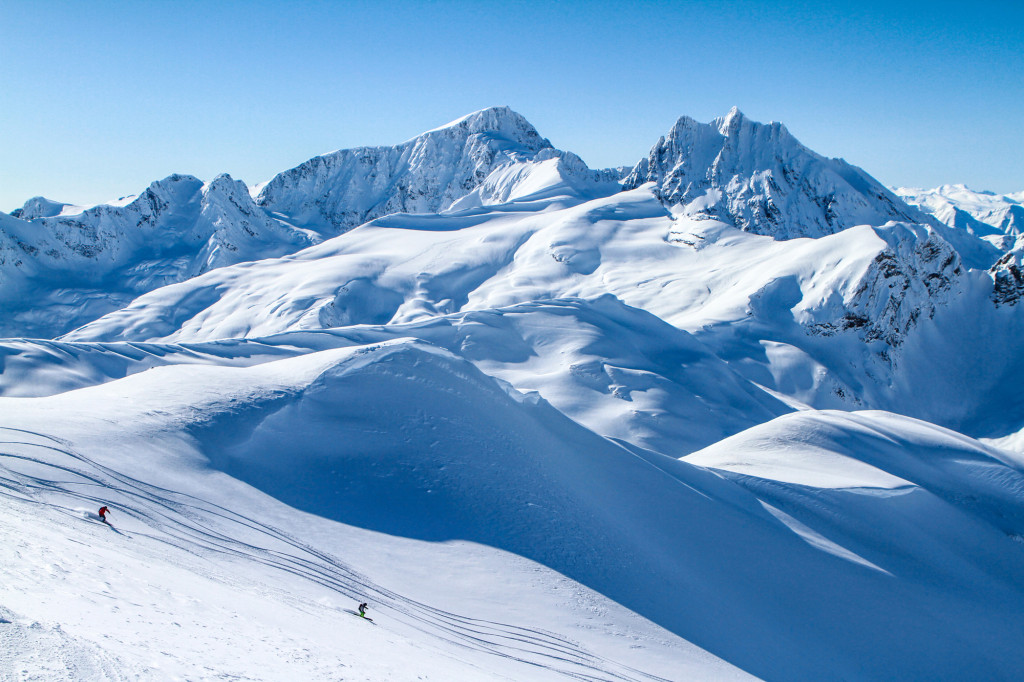 At Last Frontier Heliskiing, we operate a system of guaranteed vertical; 100,000ft per 7 day trip (we also offer trips of 4 and 5 days, each guaranteeing respectively 57,500ft and 72,000ft of vertical). With our vertical guarantee, if you don't crack 100,000, we offer you your money back, foot for foot. The same is true on the other end if you want to ski more than 100,000ft in your 7 day trip. The rate of refund is the same as the rate of added vertical. With me so far? In terms of industry standards we feel it's the most balanced and advantageous system for our guests. And as mentioned, our guests tend to ski about 140,000ft per 7 day trip. Below is a table to give you the pros and cons of each system.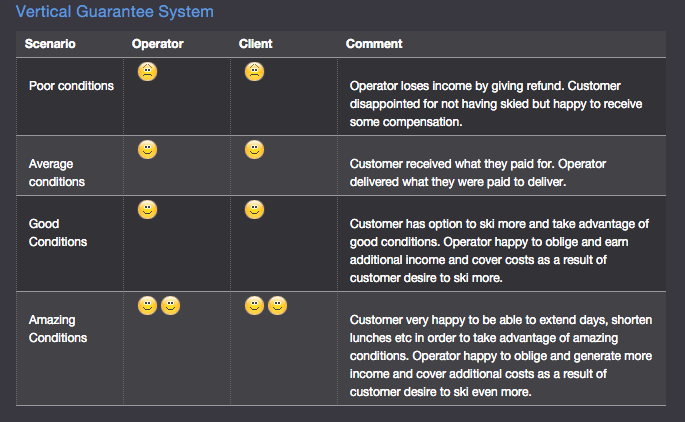 Other operators use a system of unlimited vertical. On the surface, that sounds great, but consider a few points: First, if the weather is marginal and the conditions aren't the greatest, you may be under your guarantee, in which case there may be a refund in order. That's fine and not dissimilar to our system. If, however, conditions are average and you end up skiing the average for a week's worth of heliski days, the operator receives premium income for only an average week. You may luck out in an absolutely perfect week with perfect conditions, in which case it might be worth it, but those weeks are truly rare in any operation. Both systems have their merits, but we feel that the vertical guarantee system works in favour of both client and operator.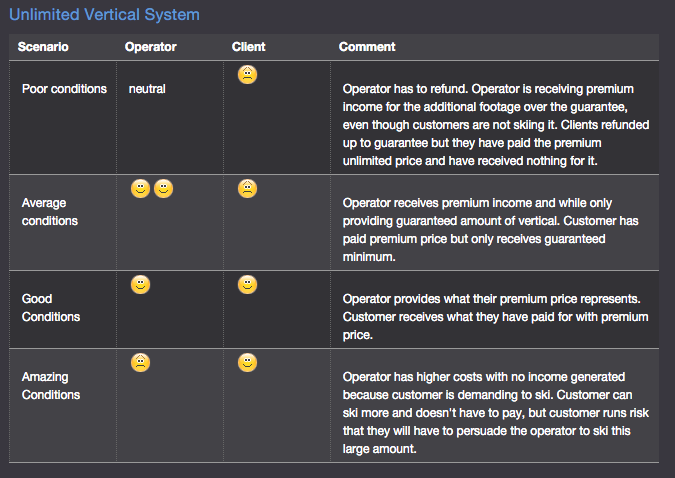 I live in Whistler, the land of huge vertical. One top to bottom leg burner is just over 5000ft. That's a big lap. But unless you're skiing groomers, it's rare to have pow to the valley. Usually it's pow, wind hammered pow, pug, chop, ice and finally sticky crud, in that order. There are those magical days in early March when the coverage is good, it's cold in the valley and the gods decide a full mountain storm is in order, but they are rare. Even on days like that, doing more than three top to bottom runs is enough to do me in, especially if it's all pow.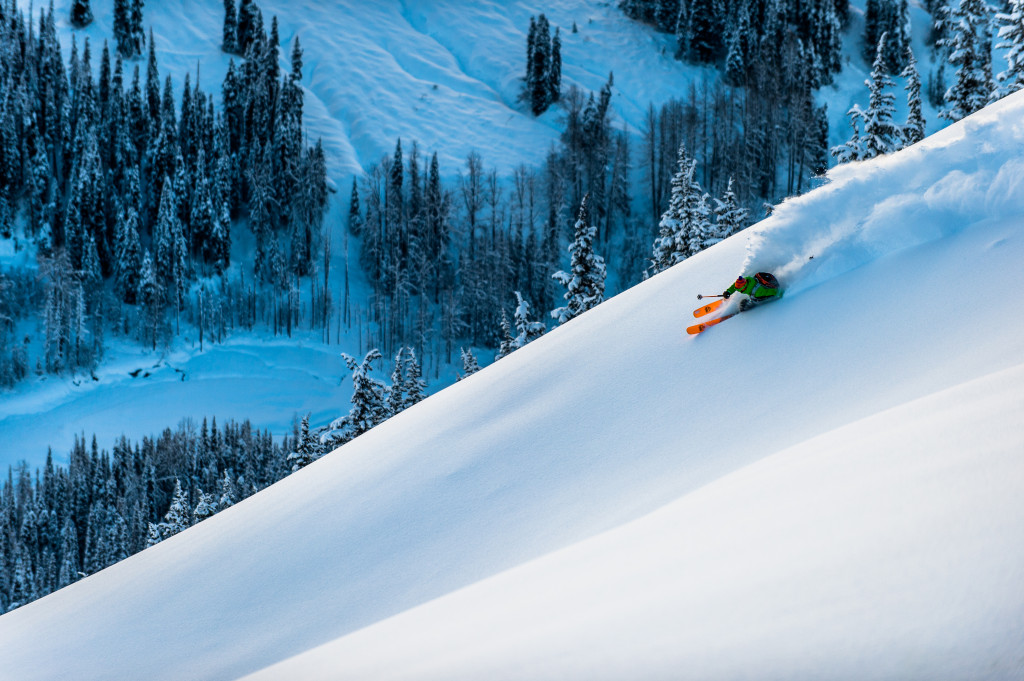 Averaging about 15,000ft a day in some of the best terrain on earth is great. Pushing 25 or 30,000ft is just gluttonous. But according to our head of marketing, Steve Rosset, who happens to have been around since the beginning of things, the most vertical ever skied in a day by a guest was 65,000ft. SIXTY FIVE THOUSAND! That's equivalent to 13 top to bottom laps at Whistler Blackcomb. I'm not sure I could walk after that, let alone meander into the lodge after a day of shredding epic pow and enjoy a hot tub, massage and a rare steak. Ok, twist my arm and I'll give it a whirl.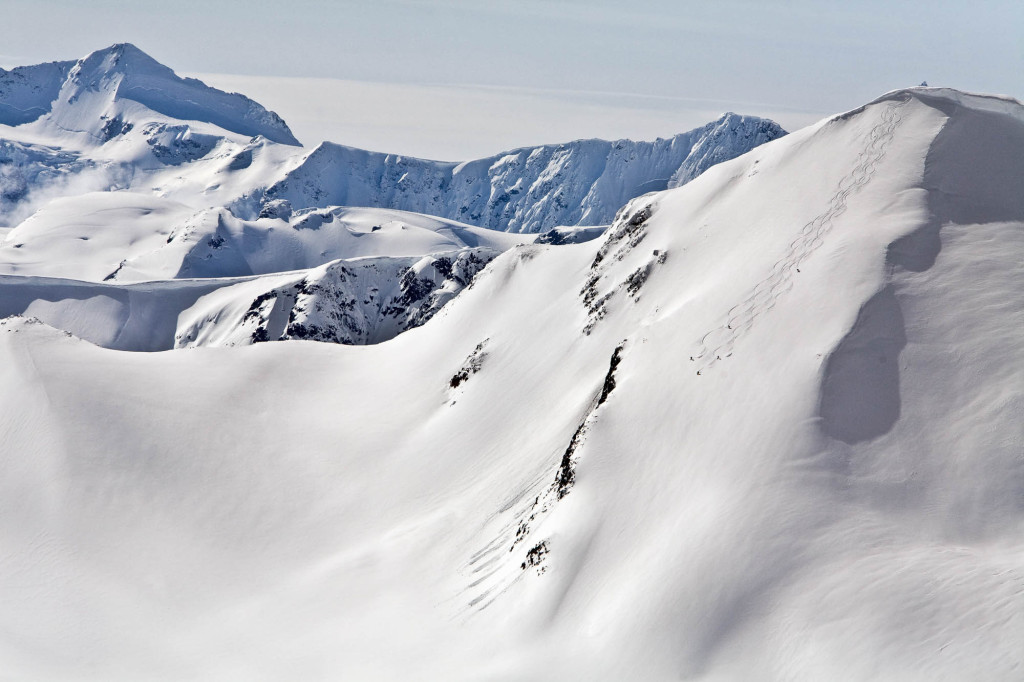 Whatever your fancy, grab some friends and come and see if you can break the record. With annual snowfall topping 80ft (so far this year's it's been all time and we're only into our first week!) and the single largest heli ski tenure on the planet, Last Frontier Heliskiing offers up wilderness heli skiing for the truly powder addicted. With two remote lodges to choose from, both offering their flavour of rustic elegance, you can come and tire out your guide and see if you can crack two or three hundred thousand in your ski week.
Be safe, ski hard.