Skiing on a Glacier at Last Frontier Heliskiing
When I first saw a Last Frontier Heliskiing tenure map, I was flabbergasted. Not only was the ski-able area enormous, but most of the map was covered in white. Now if anyone (and I mean anyone) is worth their salt, they'll know what white on a map means – snow and icefields. Our tenure is covered in them. Very-large-and-disappearing-into-the-far-horizon-icefields. Icefields that leave you aghast, breathless, tingling, and makes you realize just how small you really are.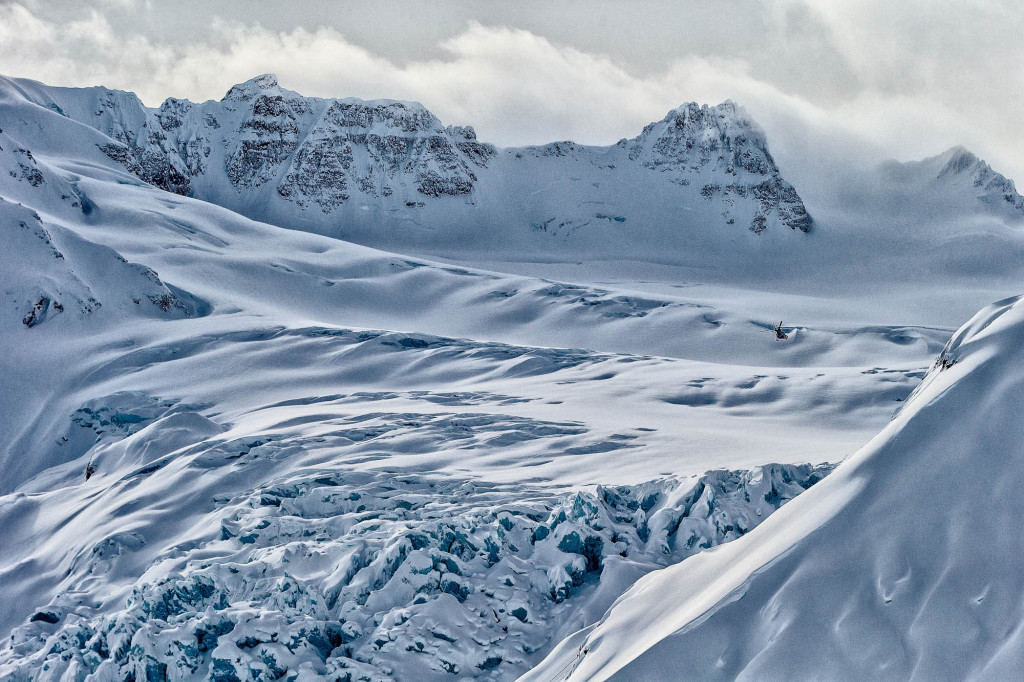 The icefields in the north are substantial and huge. Hundreds of our ski run, all varying in difficulty and length are located on these gigantic ice formations. People come from around the world to see, ski our terrain and experience what it's like to be on an icefield.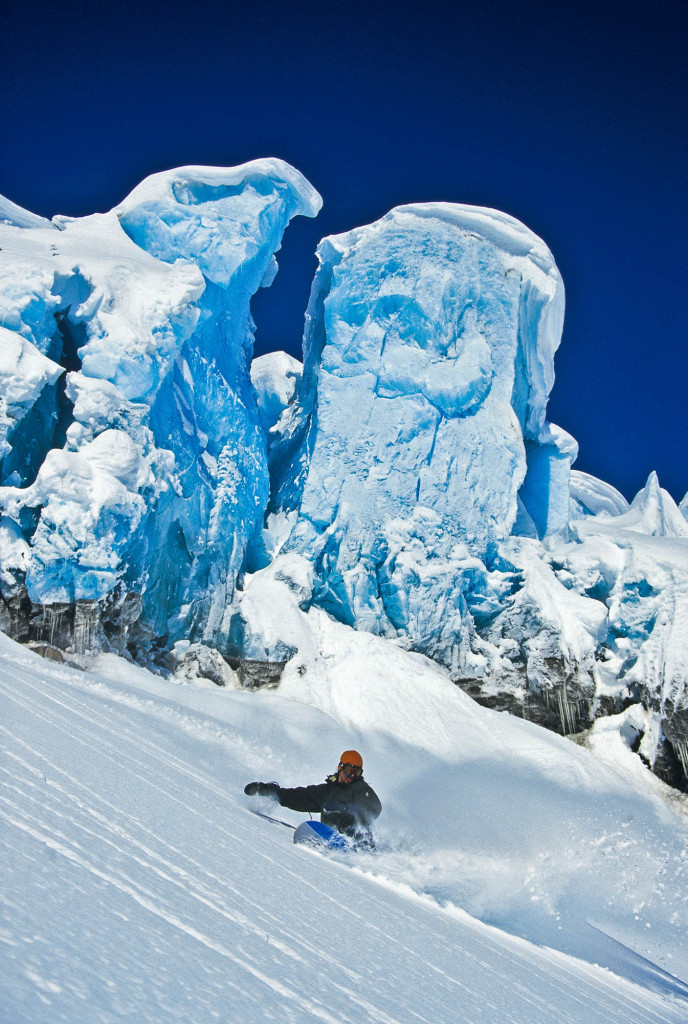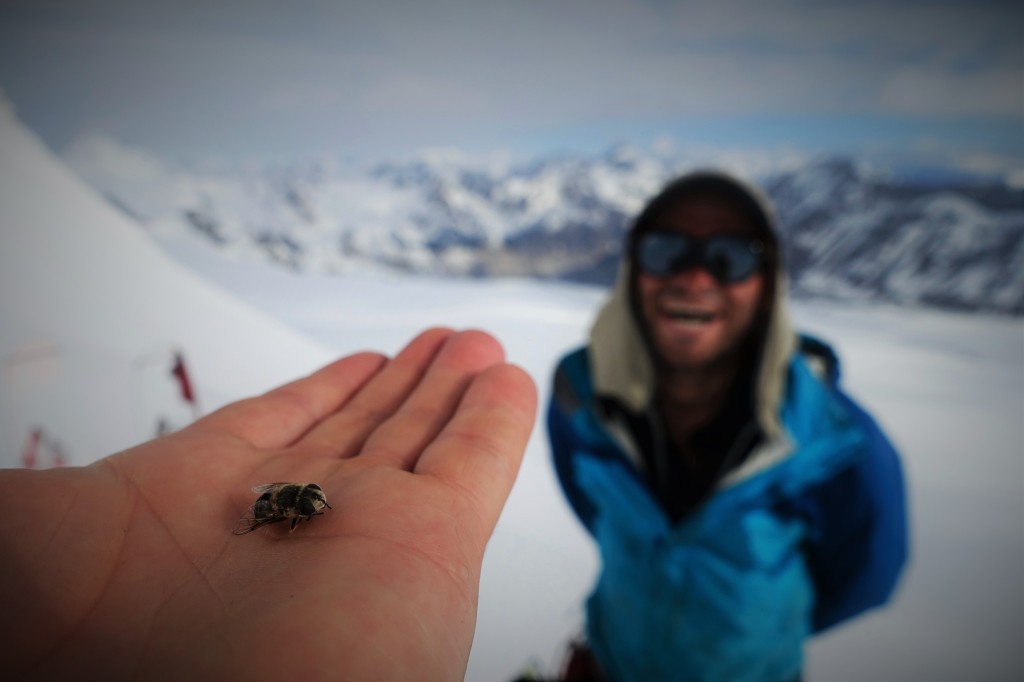 While we sometimes ski these runs in the early winter, more commonly they're skied in March and April, when we have a solid/high snow base and all the crevasses are covered.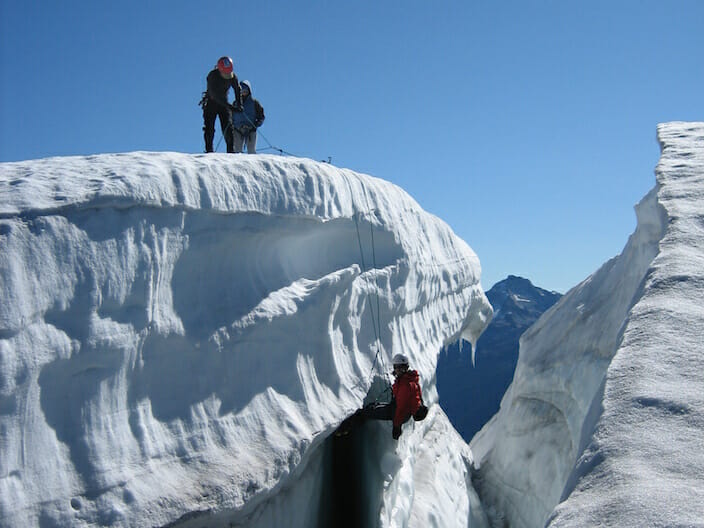 Crevasses are deep cracks found in an icefield/glacier that form from stress generated when different sections of ice have different rates of movement. For skiers and mountaineers, they're a considerable risk that can be managed with good route finding, good judgement, appropriate gear and training. To keep our guests safe, our guides wait until the ski runs on icefields are well covered with stable snow, and that crevasses are bridged. Since we regularly have a snow base of 400 cm or more at 1,000m and above, by spring its usually not a problem. Although we've never had a guest fall into a crevasse, we're still prepared. The guides have crevasse rescue kits, stocked with ropes, harnesses, and anchors if the worst should happen.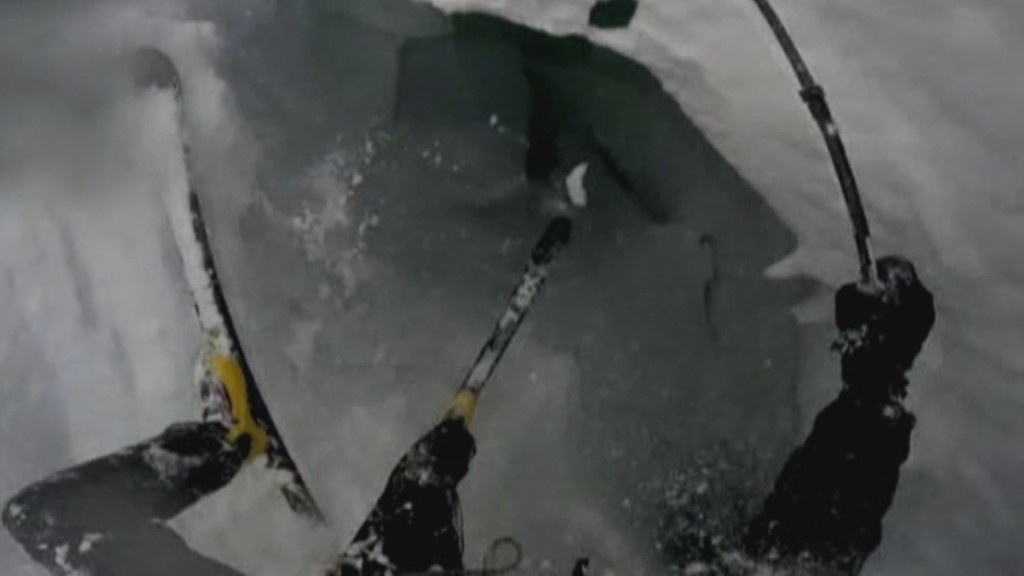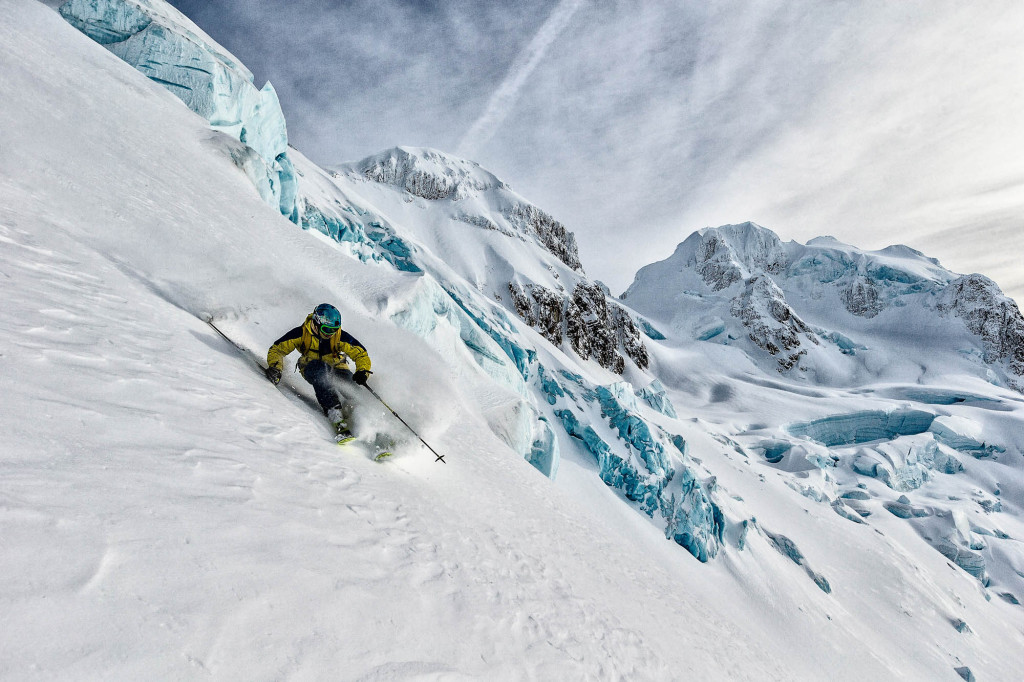 Not only are crevasses a concern for heliskiers, but for many backcountry skiers. I spend much of my free time messing around on snow and ice. If traveling through glaciers, on foot or on skis appeal you, here are some glacier basics you can follow:
–Ski roped up. If you're ever concerned with falling into a crevasse or if you're trying to navigate in poor visibility, it's far safer and easier to rescue someone when they fall into a hole and are attached to a rope. You can read more here.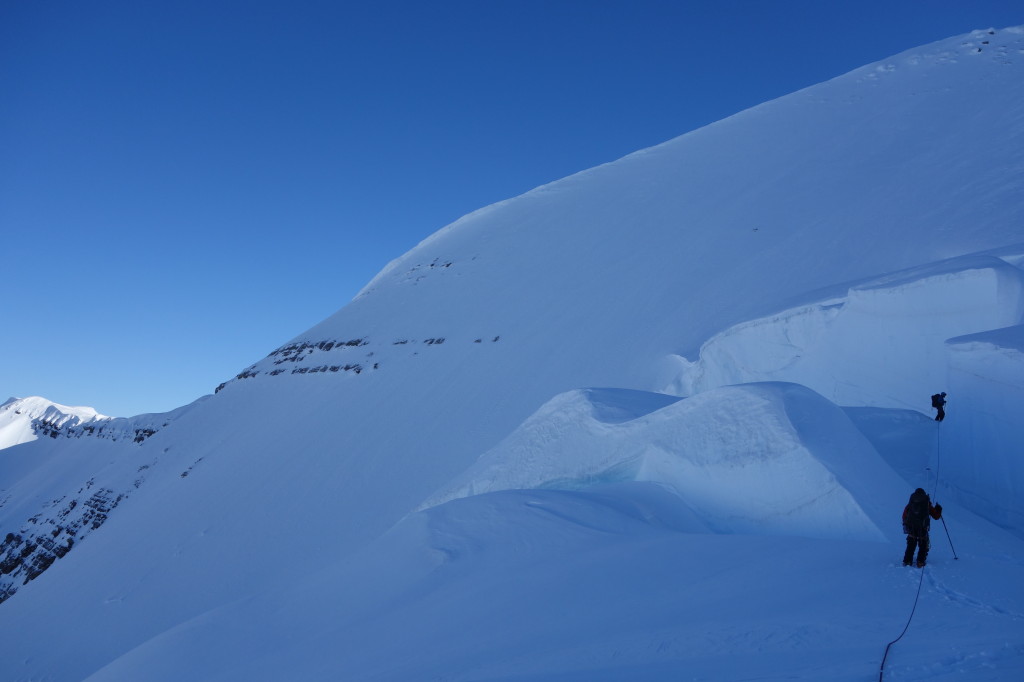 – The best way to avoid dangers is with good route finding. Avoid dips and depressions on a glacier, as they may be a crevasse. Bends over steeper slopes and benches may also be heavily crevassed, as these are areas where the ice will be under more stress and is likely to be heavily broken.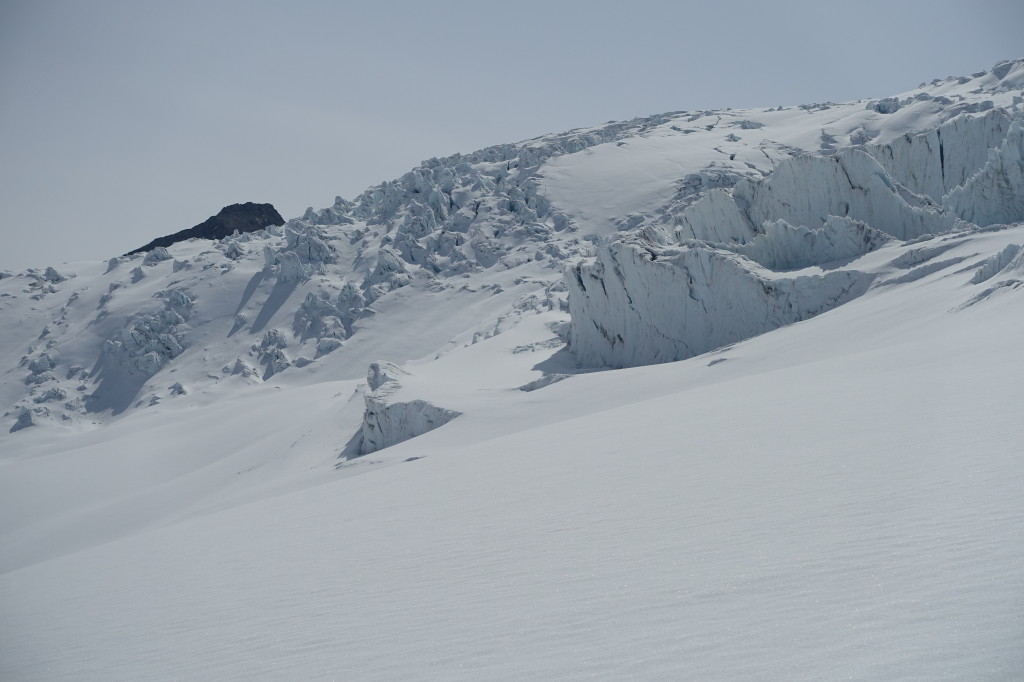 –If the unlikely happens and you fall in a crevasse, have the knowledge and skills to rescue yourself and your partners. Take a Crevasse Rescue course and practice your rescue skills regularly, they may save your life or your friends one day.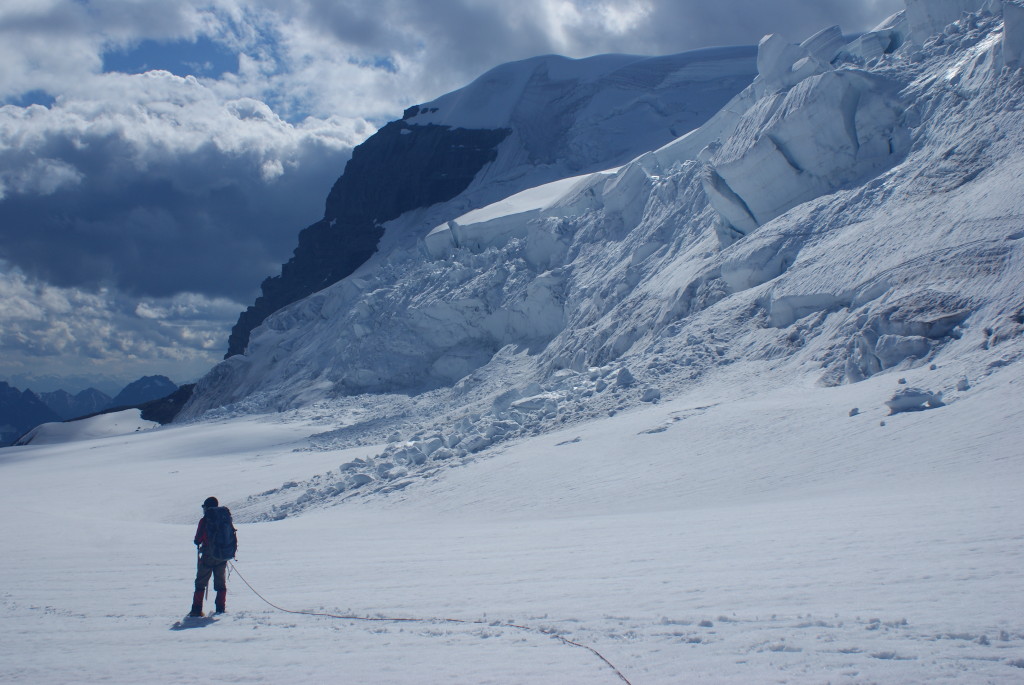 Skiing on a glacier is a truly magical and awe-inspiring experience, one that you'll never forget. I know I never will.