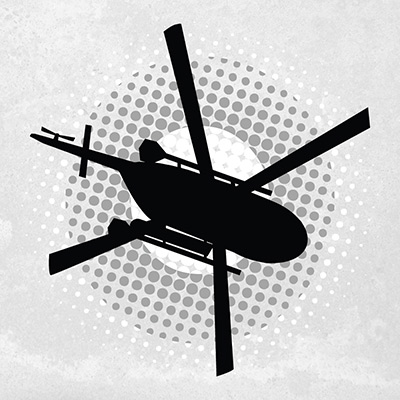 Take Air with Last Frontier Balloon Skiing
Ever since the founding partners established our Heliskiing base at Bell 2 Lodge in 1996, there's always been a pioneering spirit at Last Frontier Heliskiing. This same spirit saw the opening of Ripley Creek in 2001, the first Heliski Safari Tour in 2009 and now an industry first – Hot Air Balloon Skiing (H.A.B.S.). Since January 2015, we have been running a secret pilot program, testing different balloons and analysing weather data.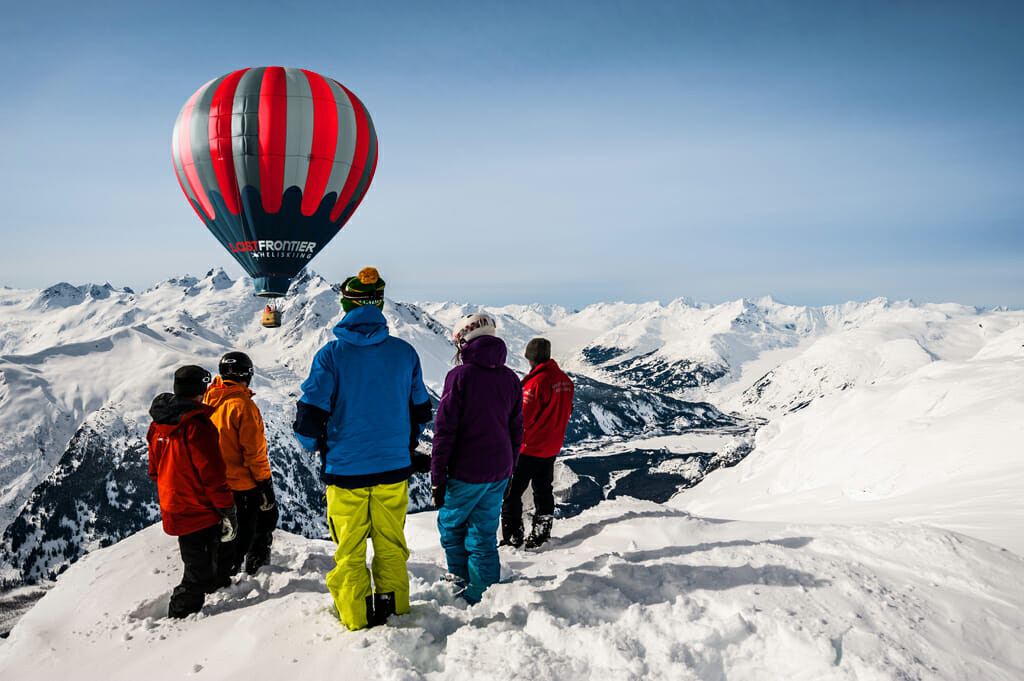 Hot Air Balloon Skiing – Tried, Tested & Ready for You
Deciding on where to balloon ski on a particular day becomes redundant since the general direction of exploration is determined by the prevailing winds. Our in-house meteorologists work day and night in remote locations, using the very latest devices to plan taking-off and landing zones, predict wind patterns and air pressure changes. Our pilots are constantly refining new alpine landing techniques with increasing efficiency and success rates. Risky business? Maybe, but so was heliskiing when it all began 50 years ago. Since then, safety protocols have been established within the industry and the sport has matured to an unprecedented level. No greater reward comes without calculated risks. With our cutting edge balloon technology [two options available – see photos] and extensive guide and pilot training, we are ready to begin operations in 2016.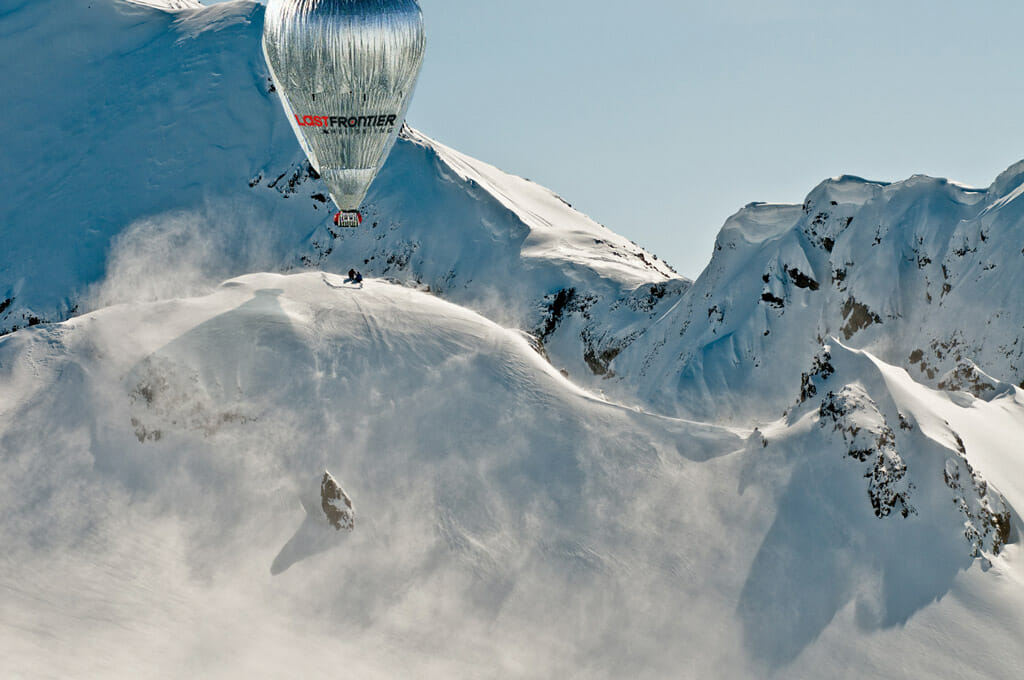 Advantages of Hot Air Balloon Skiing
Environmentally Friendly
While it may take longer to reach the peak, the volume of propane used for each skier is 20 times less than the amount of kerosene burned in a heli. Recent observations conducted by our pilots suggest that wildlife benefits greatly as our silent hot air balloons whisk skiers up the slope in stealth. What better way to watch eagles, moose and mountain goats?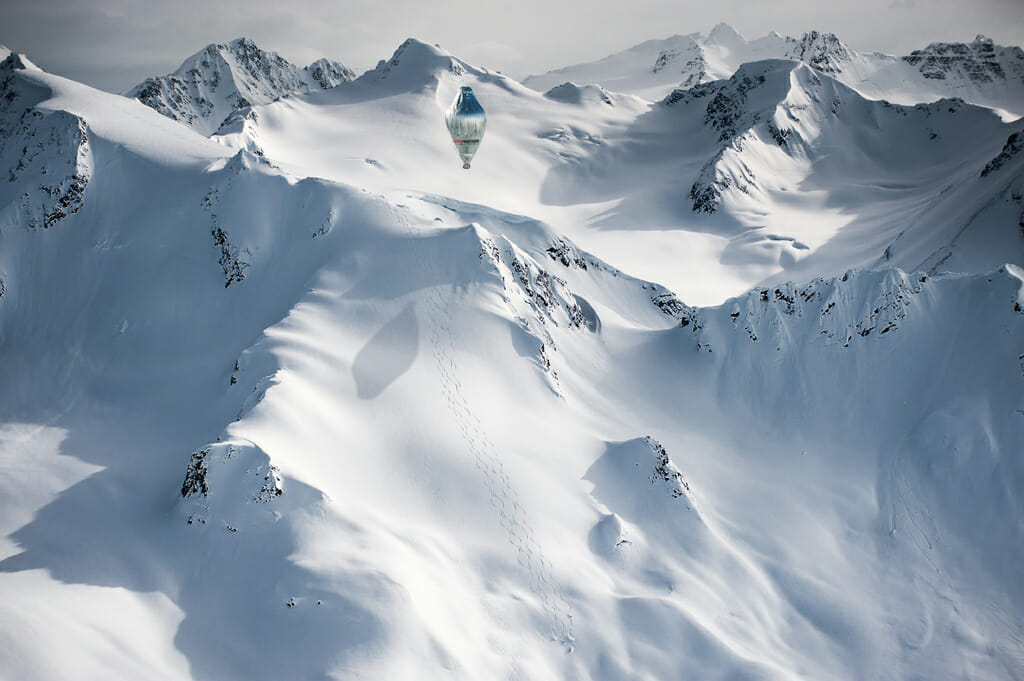 Cutting Edge Technology
The fabric near the mouth of the balloon, where the burner is, must endure substantially higher temperatures at altitude than the rest of the envelope. That is why we use Nomex, a heat-resistant synthetic fabric. Nylon melts at about 450 degrees Fahrenheit, but it begins to degrade at a much lower temperature. The spot temperatures near the burner are tremendous, so fireproof fabrics like Nomex are used to avoid any sort of damage. Nomex can withstand temperatures up to 700 F without any kind of damage.
Cost Effective
Starting at a low $699 for an early season tour in February and topping out at $899 per day during the busy months of March & April, skiing at Last Frontier has never been this affordable. Our packages are flexible, allowing guests to come for 4,5, or 7 days trips.
Quiet Ride & a Relaxed Atmosphere
Our Hot Air balloon skiing packages guarantee a good time. We won't make any promises you will hit our targeted 20,000 vertical feet of skiing per week, but if we go above that there is no cost for extra vertical. This may be lower than what you're accustomed to for heliskiing, but the relaxed pace and stunning views more than make up for that. This trip is a dream for avid photographers, hot air balloon enthusiasts and landscape fanatics.
Only One Group Per Balloon
Since winds often make it hard to reach the same peak twice, you have the exclusivity of a single group of skiers per balloon. Private tours have never been this attainable.
We are now booking for the 2016 season and with the anticipated high rate of demand, we suggest you contact us right away to secure your seat. For inquiries about our tours, please get in touch with us [here].