The Best Smartphone Apps For Skiers And Snowboarders
Skiing has evolved in many ways since the days of wool pants and leather boots. In 2015, we're seeing the effects of modern technology in everything from the lightweight yet heavy-duty materials used in our hardware to the ability to browse for and book heli ski vacations on websites exactly like this. There will always be someone sporting an unironic onesie and mirrored sunglasses as they bounce through a mogul field on their 205 Elans, and they will always be awesome: but old school isn't the only school. In many cases, if you don't keep up you risk being left behind or, at the very least, uninformed and ill prepared. Below, we offer some of the best smartphone apps for skiers and snowboarders.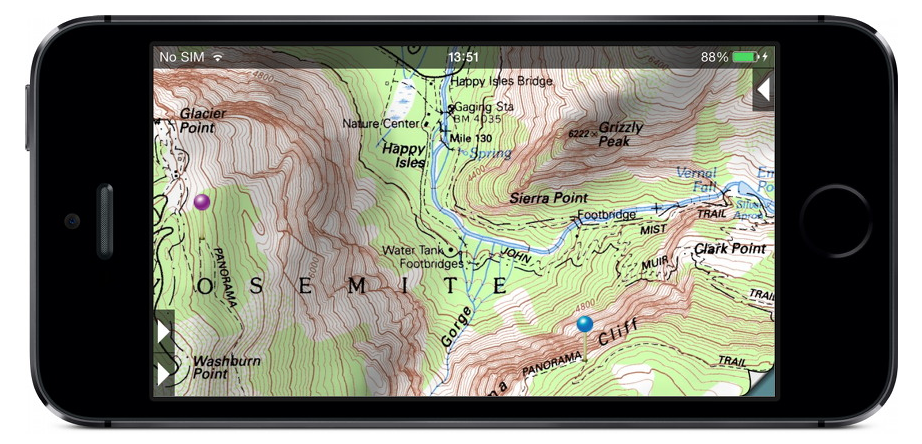 Perhaps the most widely applicable resource when preparing to spend a day in the out-of-doors is a good weather forecast. Having a sense of what to expect from Mother Nature goes a long way in keeping your pack well stocked but not overstuffed. For basic trip planning, as in traveling to a city or town for your week-long ski vacation, Yahoo! Weather is a really nice, really free app to have at your fingertips. It's visually appealing, incredibly user friendly, and well-equipped with all the weather basics broken down on a daily and hourly basis. For more advanced ski-specific specs, On The Snow's Ski & Snow Report is seriously handy. Powder alerts for your local or favourite ski areas, snowfall trackers and live webcams lay everything on the table so you can adjust your expectations accordingly.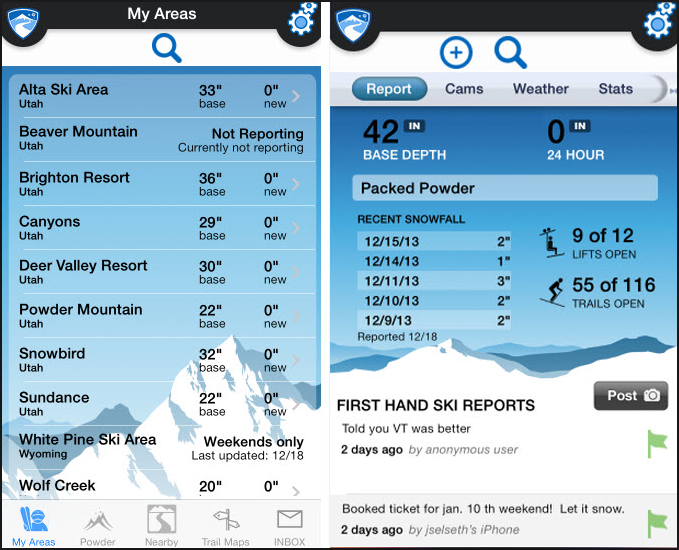 Most ski resorts have been smart to jump aboard the techno-train and use smartphones to their advantage, creating mobile sites where one can purchase lift tickets, view live webcams and get up-to-the-minute info regarding trail openings or closures. Of all the apps streamlining resort information for riders on the go, Ski Tracks has long been a favourite among many a ski bum. Features include a GPS tracker that records your entire day, from runs skied to vert dropped and even speed data. Having said that, be advised that the tracking function, while novel and fun, is not very accurate compared to an actual altimeter, especially outside wi-fi or cell reception range.
Liftopia is another app worth mentioning when it comes to resort skiing. The website and mobile app both offer comprehensive beta on where to ski, how to get there and – most appreciated – great deals on lift tickets and vacation packages.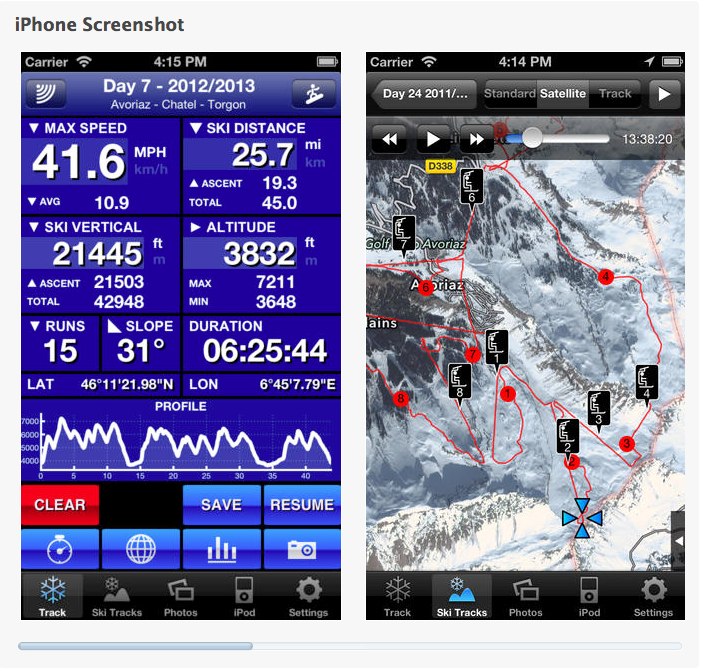 In the backcountry, technology isn't quite as easy to access or justify, however. Cell phones are believed to interfere with avalanche transceivers and, I don't know about you, but I'm pretty into having a beacon that's functioning at maximum capacity when I duck the ropes, break trail or hit the heli. So, a disclaimer: if you aren't sure how to manage a smartphone safely in the backcountry, neither of the following apps are useful enough to warrant putting yourself and your group at risk. If you are comfortable mixing technologies, an app like Topo Maps might be one to add to your arsenal of information. There's nothing too fancy about the app, which is why I like it: it's just a collection of topographical maps that you can download in advance of your trip and then use, as you would any other map. You can zoom in, add way points, orient using your phone's internal compass – it's pretty slick. Relatively new and specific to the Canadian backcountry ski community is an app from Avalanche Canada itself. Users can view avalanche danger ratings by region, snowpack history and recent weather events, all of which help immensely in making good choices and smart decisions about where to ski and, more importantly, where not to ski. New this year: users can upload personal observations and photos from the field, creating a network of sharing and caring.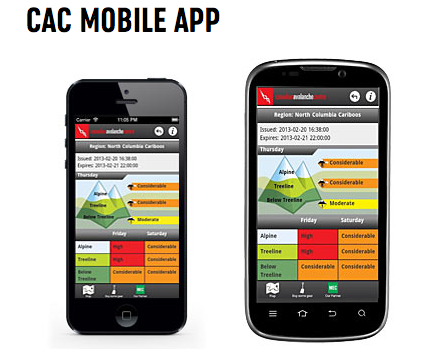 Regardless of whether you're tech savvy or a bit of a dinosaur, there is no excuse. Grab your iPhone, ditch your acid washed jeans and be in the know on the snow!