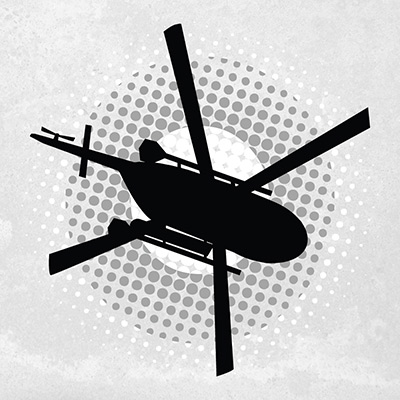 Gmoser the Father of Heli skiing
While skiing has been around for centuries, heli skiing has more recently surfaced as a new and exciting way to take skiing to the next level, allowing thrill-seekers to go beyond the limited terrain offered by ski resorts. With a helicopter, it's possible to reach areas that would be impossible to reach with traditional ski lifts or human powered ski accents. Skiers and snowboarders seeking the ultimate pursuit of fresh powder in untouched terrain will be well rewarded with the combination of a professional mountain guide and helicopter.
Combining lodging, transport, and guided tours, heli skiing was first commercialized in Canada in 1965 by Hans Gmoser, who is considered by many to be the father of heli skiing. But if you look back several years before Gmoser, heli skiing was already making an appearance in a more informal way as a new way to make fresh lines in the snow.
Skiers in British Columbia were already itching for powder and exploring different terrains by the middle of the 1900's. A photo from a newspaper article dated January 30, 1948 shows skiers being carried to Grouse Mountain just outside of Vancouver by helicopter. A 1957 edition of Powder Magazine shows a Hiller helicopter lifting off with skis attached to its side. But heli skiing did not become mainstream until Gmoser started his company in the 1960s and made heli skiing a common term.
Johann Wolfgang "Hans" Gmoser was born in 1932 in Austria and came to Canada in 1951, driving the climbing, skiing, and guiding industry. An honorary member of the Alpine Club of Canada, and recipient of the Order of Canada, he is best known for his role in commercializing heli skiing.
Art Patterson was a Canadian geologist who utilized helicopters for summer fieldwork in the mountains and knew that during winter months, these helicopters were often sitting idle. In Hans Gmoser's book, "A Photographic Celebration: 25 Years of CMH Heli-Skiing", Gmoser admits the idea of heli skiing first came to him through Patterson – it was through him that the dream using helicopters to reach new and better terrain became an idea worth pursuing.
Commercialization of Heli skiing
The idea of carrying skiers to mountains in helicopters was definitely radical at the time. To be safe and successful, it was a sport and business that needed professional guides to navigate skiers who understand avalanche safety. Gmoser and Patterson initially teamed up in 1963, offering "a day of heli skiing" for $20 (about $170 in 2020) in a Bell 47G-2 helicopter. But while Patterson found it too risky as a business, Gmoser saw potential and eventually created the first successful commercial heli skiing operation.
Last Frontier Heli skiing Takes Flight
Like Gmoser did back in the 1960s, here at Last Frontier Heliskiing, we've been proudly carrying on the tradition of taking people to new heights in pursuit of untouched powder and remote terrain. Last Frontier Heliskiing was founded in 1996 by George Rosset, Franz Fux, Mike Watling, and Geoff Straight, who set out to explore the uncharted mountain ranges in northern British Columbia, Canada. Back in their early days, the original Last Frontier Heliskiing crew brought powder-passionate folks one-of-a-kind heli skiing experiences. Today those heli skiing experiences continue, but with considerably upgraded lodging options, more powerful helicopters and a crew that is more committed than ever to make you feel special.
If you want to experience heli skiing in Northern British Columbia much like the fathers of the sport did 60 years ago, at Last Frontier Heliskiing we offer the largest single heli skiing area in the world with an annual bounty of 15 to 25 meters of snow, diverse terrain and well-rounded accommodations for every type of traveller.
Sign up for our newsletter to receive snow updates and information on the latest developments at Last Frontier Heliskiing.