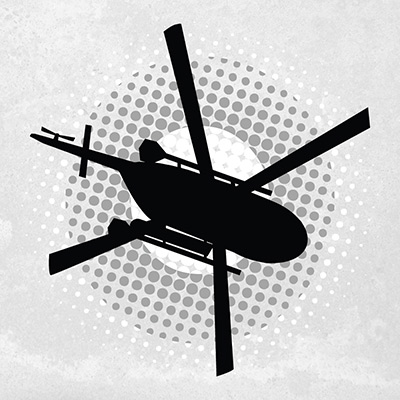 Modern Day Heli skiing
Heli skiing has changed from something that only the most daring would do, to what is now an adventure that many thrill-seeking skiers and snowboarders can partake in. It is no longer a sport that just the elite professional can enjoy, bragging rights about scoring the freshest powder on the longest runs are now also bestowed to proficient skiers and riders from around the world. Modern heli skiing allows intermediate and advanced skiers and riders to take their sport to a new level, making their own turns and tracks in a true one-of-a-kind adventure.
What does heli skiing offer? 
With our modern helicopters and skilled pilots, we can now access areas in the mountains that you couldn't normally access by other means. Our smaller choppers give way to remote areas that offer fresh powder, and long, open ski runs without any crowds. It gives you an opportunity to escape the hustle and bustle of your typical ski resort. With your professional mountain guide, you may even be lucky enough to reach areas that have never been skied before.
A family adventure
Traditionally heli-skiing was a very male-dominated sport. This has changed over the past decade with an increasing number of guests opting to bring along their significant others and even families. Last Frontier Heliskiing offers private packages that allow families to ski with a  private guide at their own pace. We have seen an increasing number of families opting to bring along their teenage children to experience the pursuit of fresh powder in a remote environment under the supervision of specialized mountain guides. 
While the skiing should be left to proficient skiers and riders, many heli skiing operations will allow non-skiers to accompany them. At Last Frontier, non-skiers are welcome to enjoy the mountainous relaxing setting we have in our backyard and are accommodated based on room availability in our lodges. 
Safety Innovation
Safety is paramount to having a successful heli skiing adventure. At an industry level, the top heli ski operators work together to share their experiences and discuss current snow conditions and avalanche hazards through meetings that take place twice a day between mountain guides across BC. Technology also plays a role in safety. From avalanche transceivers to avalanche airbags, (first mandated here at Last Frontier), we are continually improving our safety standards so we can continue to pursue our passion for sharing the freshest, powdery terrain with you, our fellow vertical-chasing enthusiasts.
If you want to experience heli skiing in northern British Columbia, at Last Frontier Heliskiing we offer one-of-a-kind heli skiing experiences for guests. With multiple helicopters, we are able to accommodate up to 36 guests at our remote Bell 2 Lodge, and 24 guests at our Ripley Creek location. Founded in 1996, we have the largest single heli skiing area in the world that spans two mountain ranges and can offer a vast array of terrain choices.
Stay in the loop by signing up for our newsletter below to receive snow updates and information on the latest and greatest happenings at Last Frontier Heliskiing.