2022 Season Reflections
2022 Season Reflections – The Good, the Mediocre and the Ugly
I like a challenge, so as I sit down to write this, one of my goals is to avoid the use of the still ever present 'C'- word. Let's see how that goes….
From back in December right through until the middle of April when we made our very last turns, the skiing this winter has literally been off-the-charts. Cold temps, record snowfalls and some of the most consistently good quality snow in recent memory.
With more than 10 meters [33′] of fresh since January 1st, winter 2022 delivered the best conditions we've seen in a decade. The development of our tree skiing paid big dividends to keep the program on track during heavy snow weeks, and when the skies opened up, the massive alpine areas delivered some mega days. We have been able to venture far and wide this winter, taking advantage of all corners of our tenure and again bagging a number of first descents. Our guests averaged over 44,000 vertical meters [144,300 vertical feet] per week this winter. Our biggest day this year was March 31st with a whopping 19,500 vertical meters [64,000 vertical feet] skied.
The end of our (27th) season inevitably becomes a time for reflection, but to avoid verbose musings, maybe a few GQ style interview questions instead:
What was the worst phone call you had to make this winter?
Early in the season we had 50% of our Bell 2 Lodge front-of-house staff in quarantine and were hanging on by a thread. (The remaining 50% will argue that we weren't hanging on). We had 10 or so guests leaving and 26 new, scheduled to arrive. Realizing that taking those new guests in, would result in definitive breaking of said thread, we had to make the phone-call to turn the inbound bus around and send them home. We were stomach-churningly gutted. BUT within 2 or 3 days everyone involved was re-booked for 2023 and showed a never expected level of optimism about the whole situation.
---
Most determined heli-skier?
That's easy. Igor from the Ukraine. 2020 – he decided he wanted to heliski. Tried to come, travel visa refused. 2021 – booked but postponed. C-word. 2022 – war broke out. He decided his family was safe enough where they were. He closed his business offices, packed his belongings in his car, drove to Madrid and parked his car at the airport. Flew to Vancouver and the rest is history. When I gave him a hug goodbye at the hotel in Smithers I genuinely wondered what lay in store for him. Must give him a call.
---
Any scary moments this year?
There is an enormous amount of effort to minimize those. In fact every year, more and more effort. By nature there is risk in what we do and every year we have some incidents. This is not a topic that heliskiing companies generally like to talk about in a public domain. It's not something one needs to dramatize or dwell on but once in a while, I think it's important to put what we do into a clear, unadulterated perspective. Close calls are one thing but when there's a loss of life or a serious injury that's another. In 2007 we had an avalanche incident which claimed the lives of a guest and a staff member. Until you have an event like that hit you, it's easy to underestimate the ensuing ramifications. The negative ones are obvious and everlasting but there are positive ones too. They are not necessarily as obvious but are just as enduring. Predominantly, there is an overarching mantra to avoid a repeat event. This year a guest was buried in a relatively small avalanche. Without going into the technical details, mainly the fast reactions of the guides together with a dose of good fortune resulted in it being nothing more than a very close call. Way too close for anything that resembles comfort.
So what am I trying to say? Yes we have our scary moments, but no matter where they lie on the 'scary scale', it's firmly in our collective DNA to confront those events in an open manner. We learn and share as much as we possibly can, rather than brush them under a carpet.
What specific event marks the end of the season?
Even when the last guest is back home we still haven't quite made it to the end. Together with our helicopter partners Access Heli, we always invite the entire team from Ripley Creek and Bell 2 Lodge to stick around for a day of skiing and an evening of 'festivity'. There is rarely any doubt our crew work hard but one thing is for certain is that they can play hard. The following morning Joel fires up the 1 remaining helicopter at the lodge, he'll lift off, disappear down river a little way, pull a tight turn and rocket back over the lodge at Mach 2 (at legal altitudes of course) for his one and only Top Gun-esque fly-by for the year. Then and only then is when (for me) the curtain is drawn.
How good is the experience? Is it worth the hassle and the money?
Meh…. Subjective. Not gonna get sucked into answering that. Conditions each week vary, and I don't care how objective customers may think they are, their overall perception of the experience is heavily influenced by weather and snow conditions of the particular week they travel.
I'll give you two unabridged e-mails I received this winter and you can draw your own conclusions. The first is from a guest who lives in our home town of Vernon. He's in his 70's and comes to us with a close knit group of 10 friends. (One day I hope I will ski as well as he does):
First off, your people are committed. It shows they are treated well at Last Frontier so they want to go the extra mile – and they did, from all aspects. The gals in the office were diligent and kept us all on track. The service on site was exceptional from check in, food and body movement. The pilots, especially XXXX in the first day through snow and clouds, never gave me any concerns. All three guides were awesome. XXXX on the first day nailed it and pulled the pin at the right time when things got heavy in the afternoon making it easy snow for injuries. XXXX also got us into very cool terrain especially across the valley in the afternoon. And then there is XXXX. I wondered, just by his character but he opened up about himself and very inventively showed us some very cool terrain, sometimes just a bit off the beaten path. He also had a way of taking a few minutes to calm the 'Heli frenzy' to savour the moment in the mountains. Very very cool.
As I said to the boys at one point, spread some of my ashes on these mountains because it's a magical place! We did have horse shoes up our butts with mother nature.
The 2nd example comes from a fella in the UK who has been skiing with us for 9 years. I don't know him particularly well but I do know he has been around the block, several times, with his eyes wide open.
Dear Mike and Team,
Yes we had an amazing week with you all and got very lucky with the weather to be able to ski so much! It is a very long trip for us but that is the totally acceptable price to pay for the wilderness and mountains that you have.
A couple of small things it would be nice to have salt and pepper on the tables, it would be nice to have proper butter (I have no idea what the wannabe butter you served is but it sure is not butter) at breakfast and a choice or jams/marmalades served with spoons not mini knives! There was just one jam and the challenge of putting it on your plate at breakfast with a knife!
At the end of previous trips with you we got a little badge which was a nice memory, any reason why you have stopped that I think that is a pity?
You have a wonderful team in the hotel, restaurant, bar, house etc good fun too.
Great guides and normally over the week there is one whom you would rather not ski with in future but this was NEVER the case. All different and fun and all SAFE we never had a nervous moment. Helicopter pilot was also super safe and gentle, as you know having been in two crashes heliskiing I am rather sensitive to that but after the first few lifts I forgot about it
I guess the only real complaint is that you are too busy next year for 4 places in either lodge for the dates that we are looking for – let me know if that changes!
Have a great summer, stay safe, best regards and thanks to EVERYONE
[I did say that I'd let you draw your conclusions but if the only things left to improve are the jam spoon, the butter and a lapel pin, I figure we are doing OK]
What next?
While it's always nice to get a good pat on the back, we have a ton of work ahead of us. Fortunately we thrive on constantly improving, inventing and reinventing. The lodge at Bell 2 will once again undergo serious improvement this year. Work has already started on a complete refit of the spa / sauna / massage building. Boring, invisible but nevertheless costly improvements in the form of new roofs, generators and other infrastructure is also scheduled later in the year. Ripley Creek will see improvements too – brand spanking kitchen and improved bar area for starters.
We had approximately 72 hours to convert Bell 2 Lodge from a heliski lodge back to a forward operations base for mining. With the gold price remaining high, exploration projects in the area forging ahead, Bell 2 Lodge will be full until at least October when the first snow flies again.
Over the next 6 months, though still somewhat gun-shy of making any fixed travel plans, I'll likely be in Europe, the USA, Australia and NZ. If you are in the mood to hook up and I'm in your neighbourhood, it's always nice to connect.
And finally…Are you in the right job?
Picture this. Last week of the season, I'm walking down the street in Stewart, big smile on face, mouth open, tongue hanging out, catching snowflakes. Yes – I'm in the right job.
My favourite selection of my photos from this past season.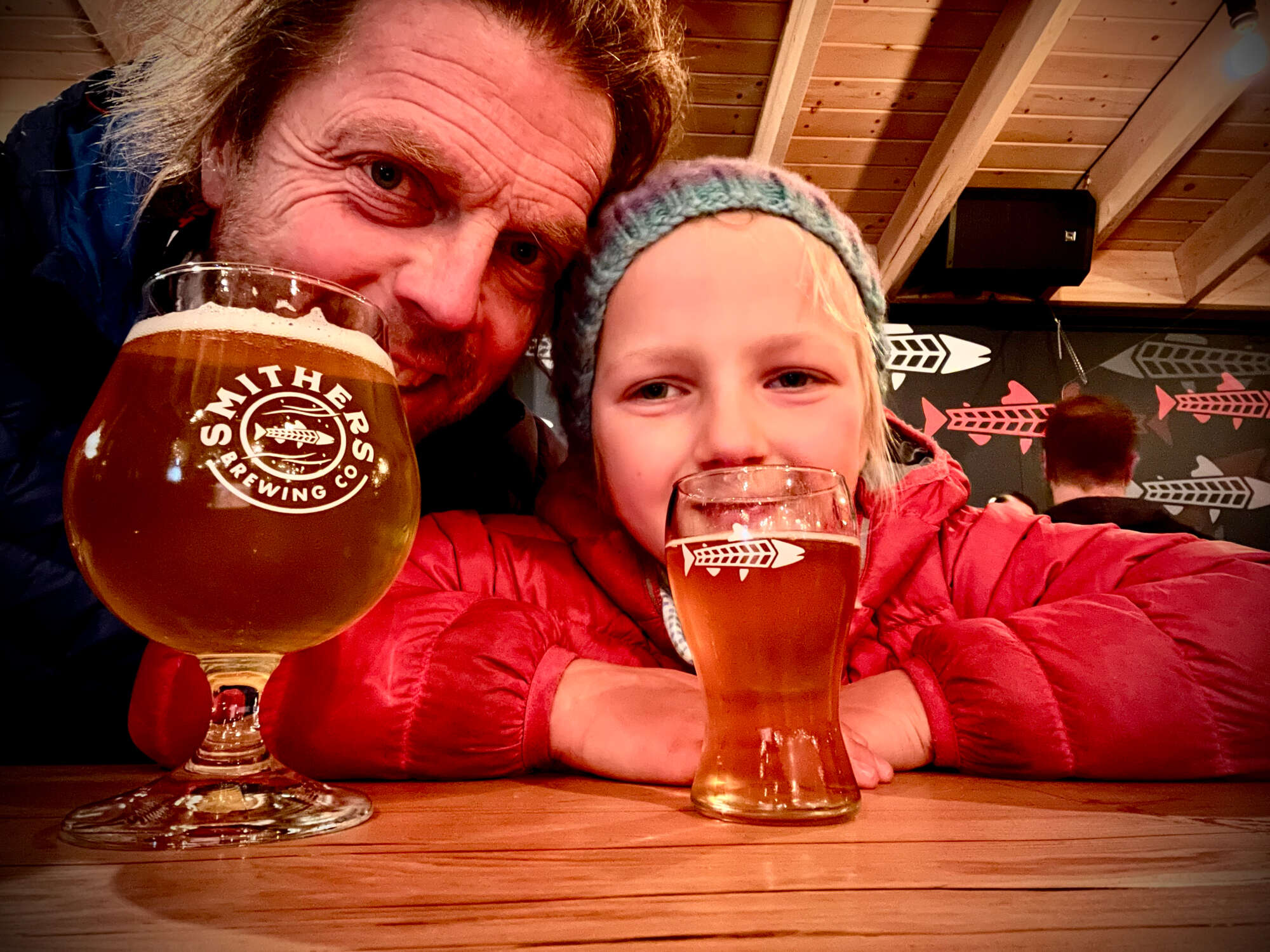 An introduction to Après.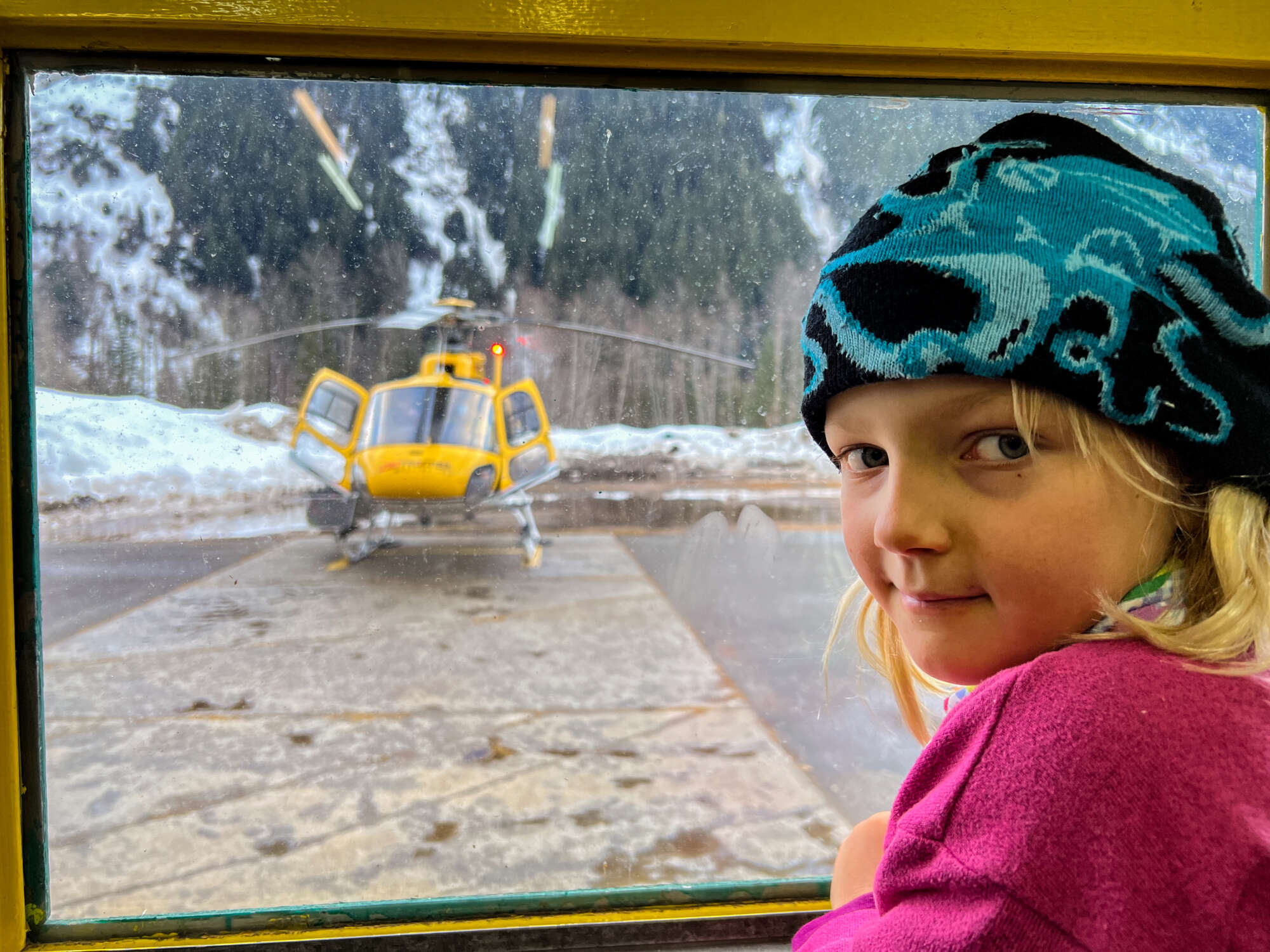 Much better than watching TV.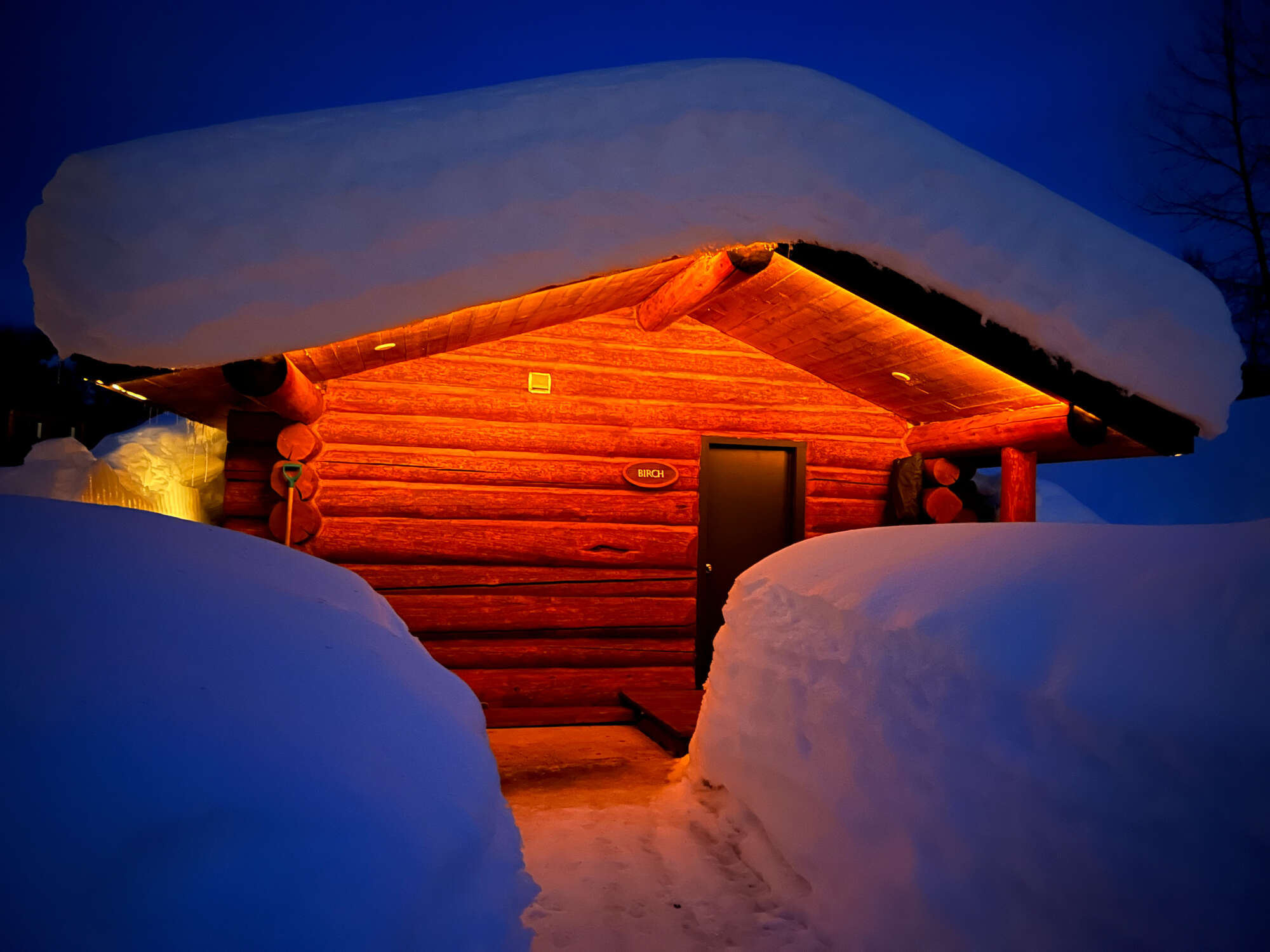 Dawn at a Bell 2 cabin.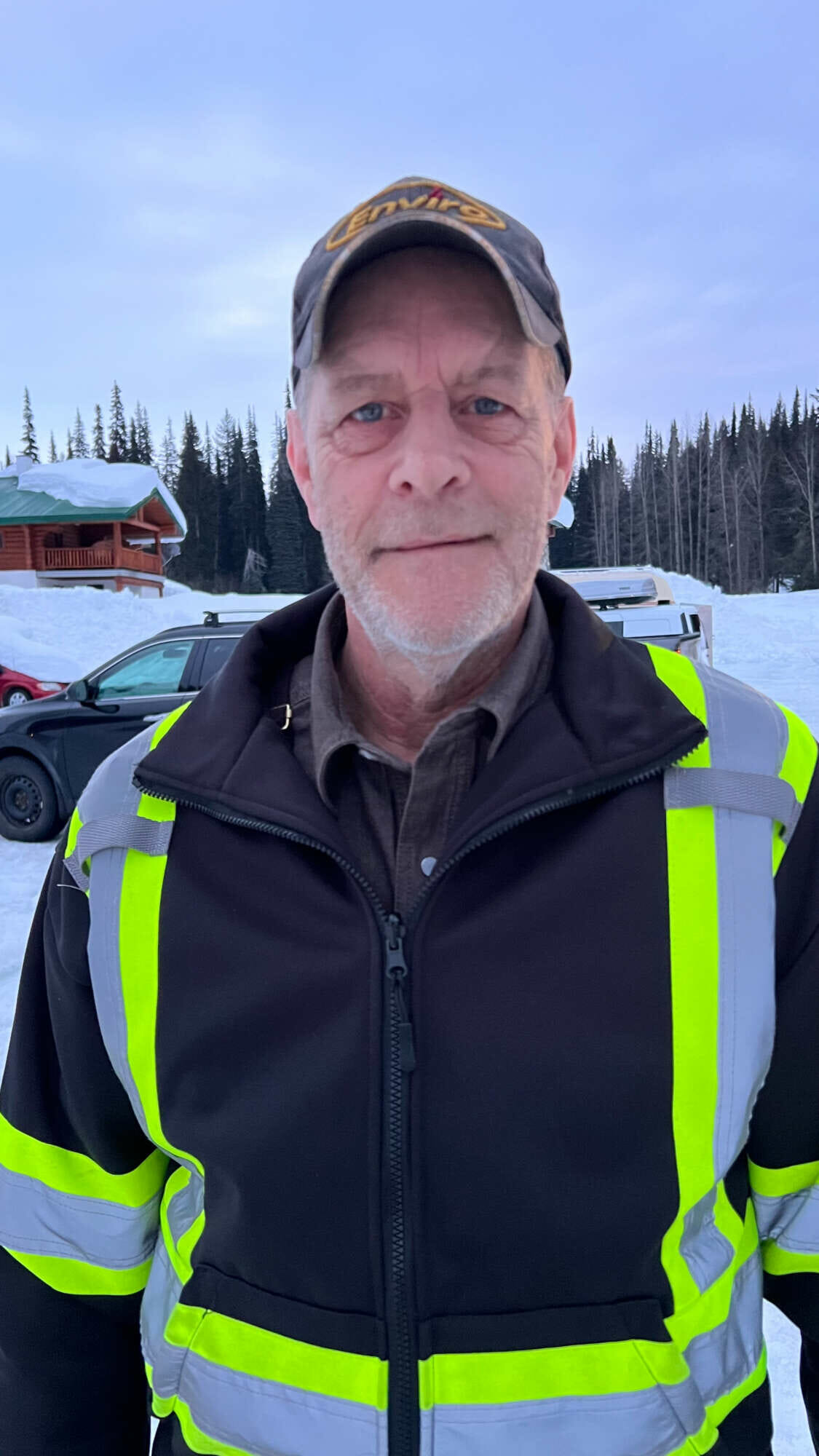 A big shout out to Brian our delivery driver who has been bringing our groceries (and pretty much everything else) to the lodge for 18 years.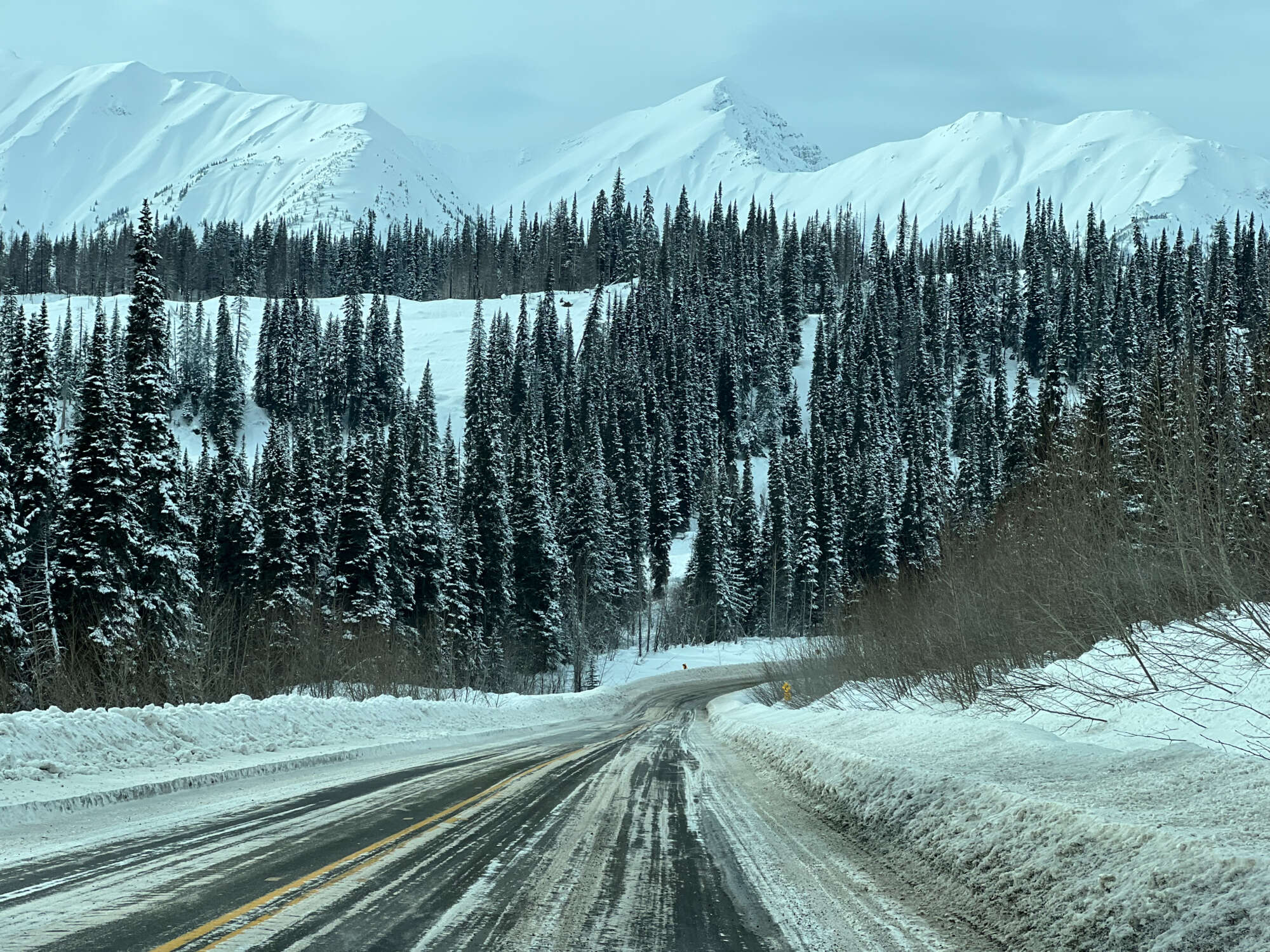 The final corner before reaching Bell 2 Lodge.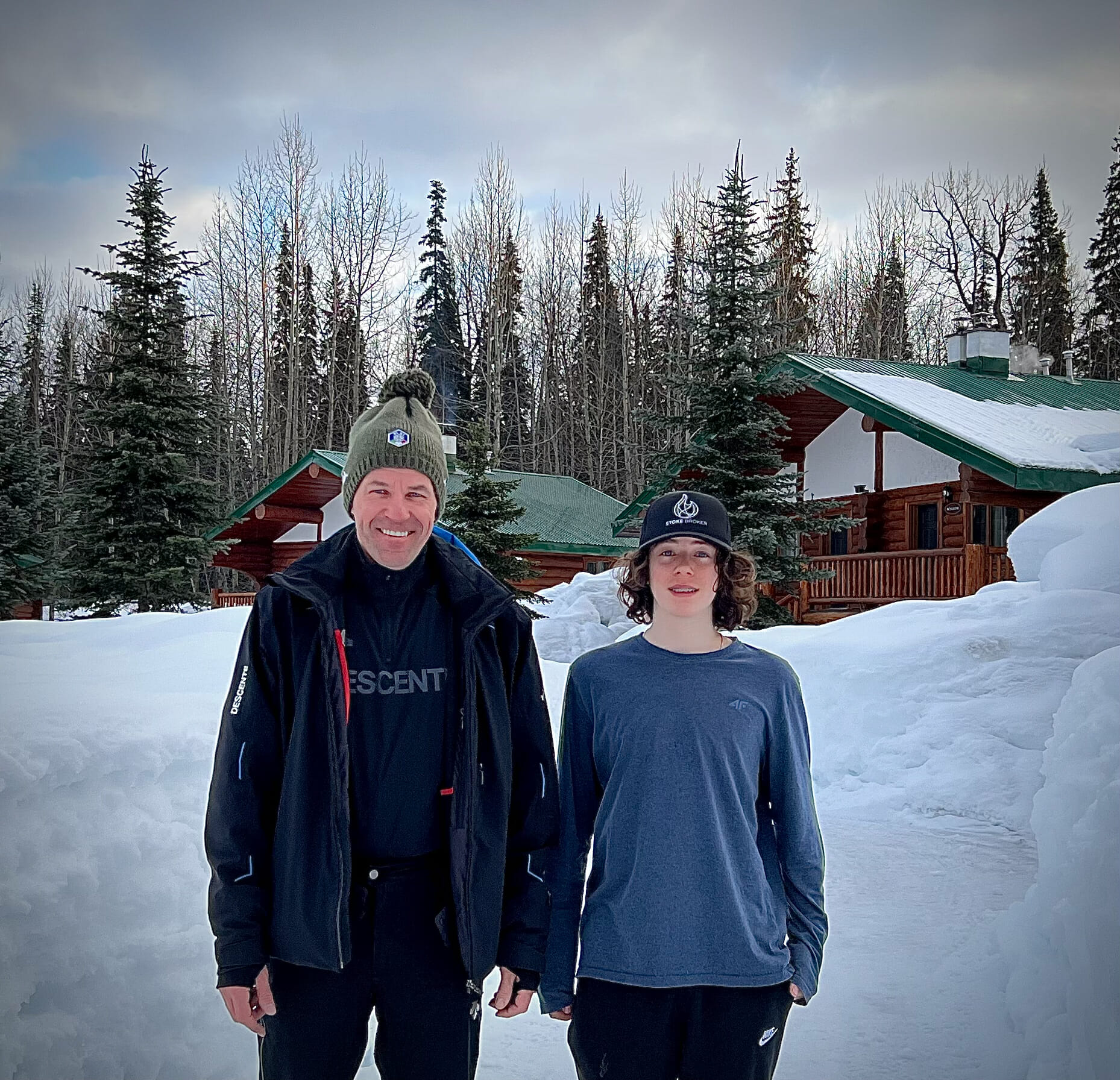 Aleks and Edvard Stanish. Only a few Aussies made it this year. We missed you all.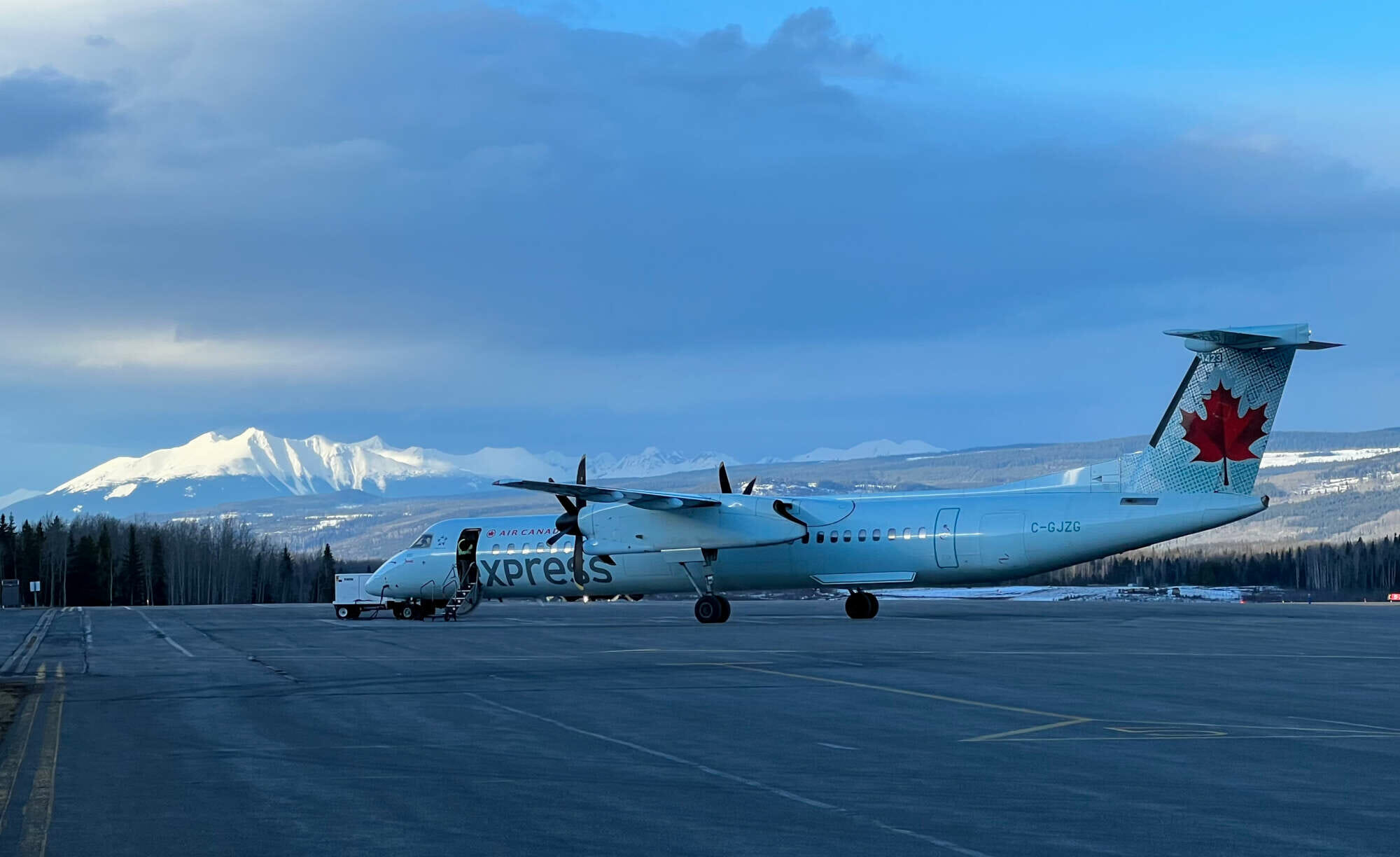 The question is always … "But did they load our luggage?" Always travel with your boots as hand luggage….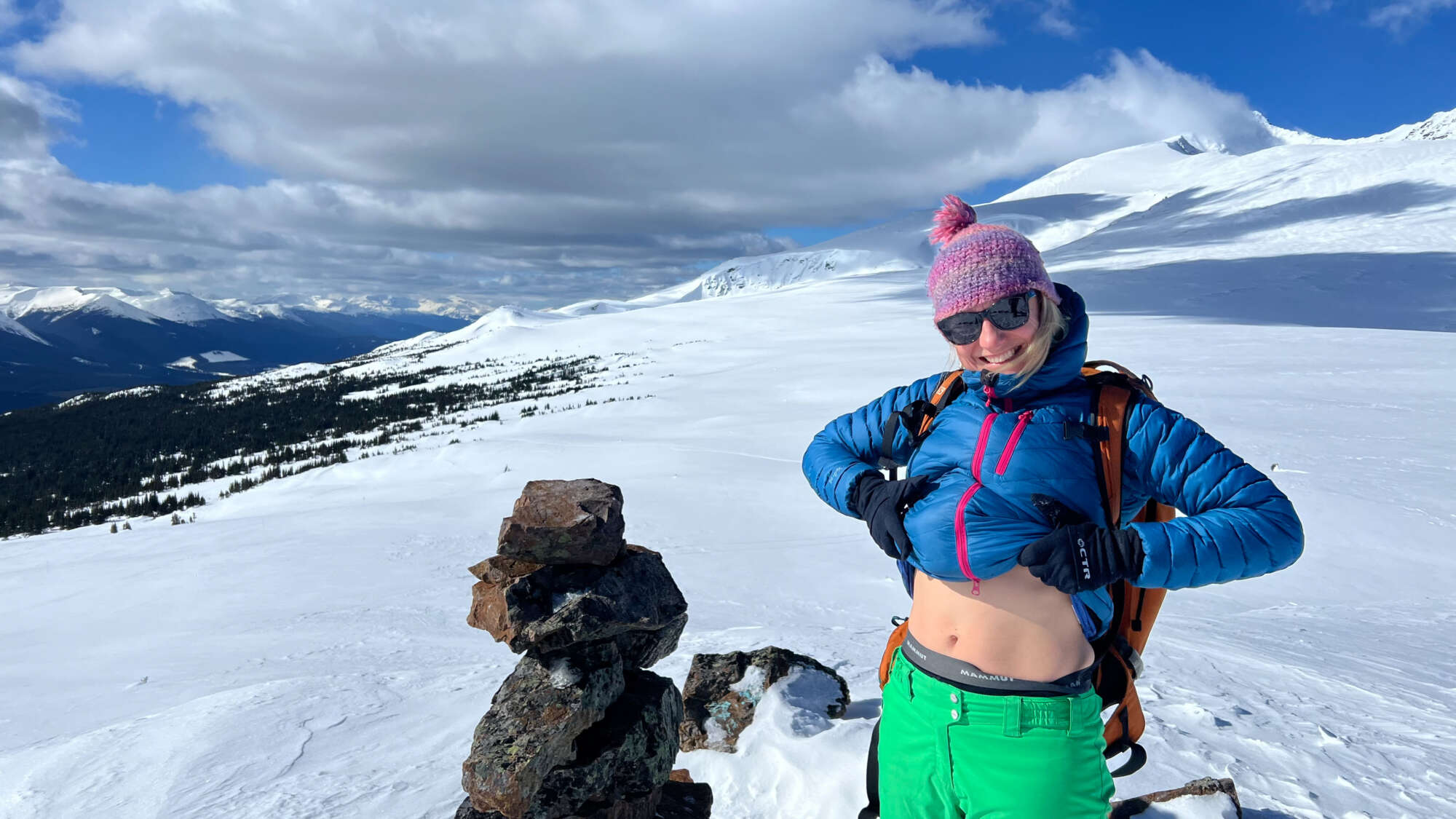 7 years earlier at this same spot Megs was 8 months pregnant.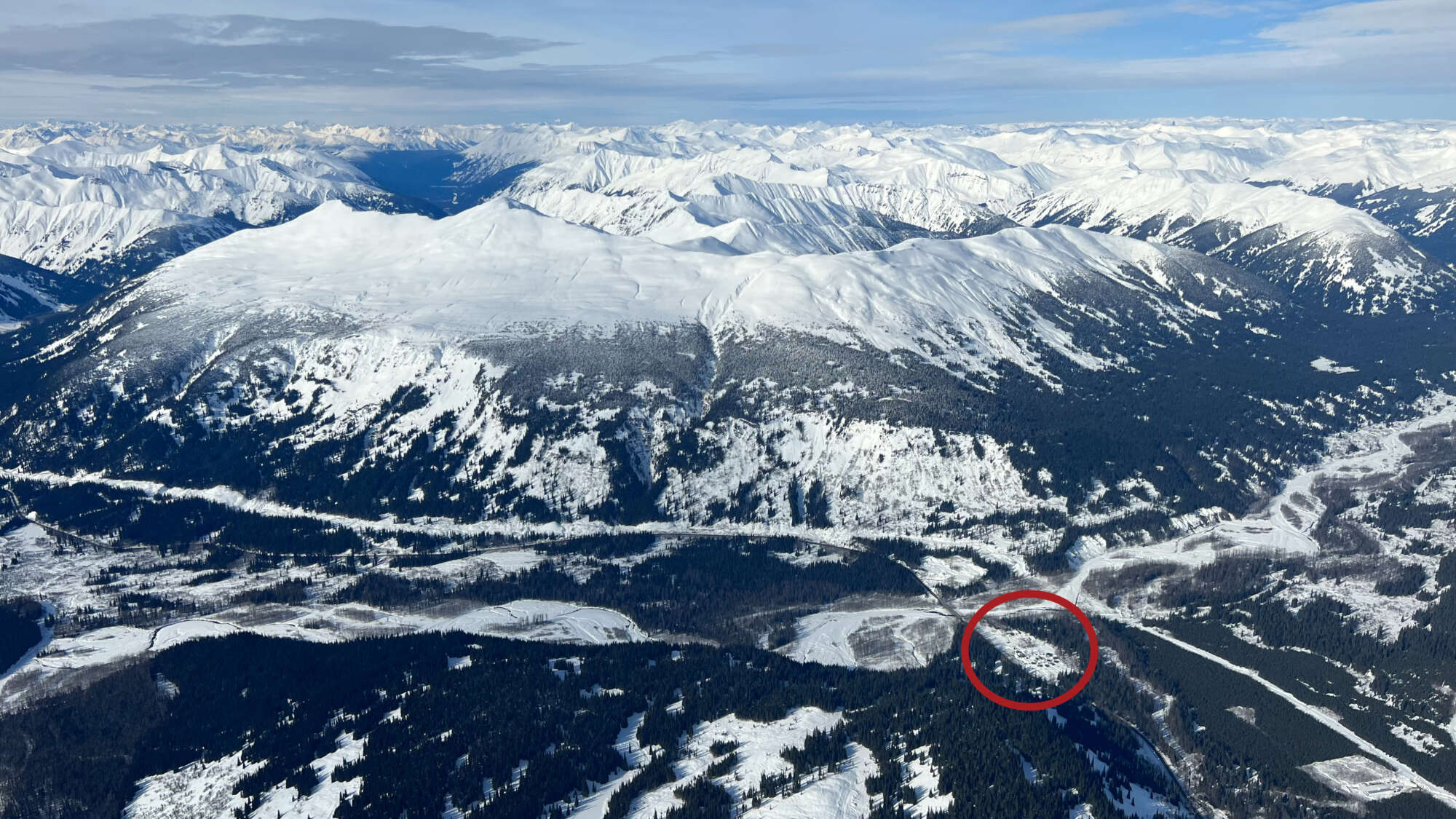 Bell 2 Lodge and surroundings. Lodge just visible and marked.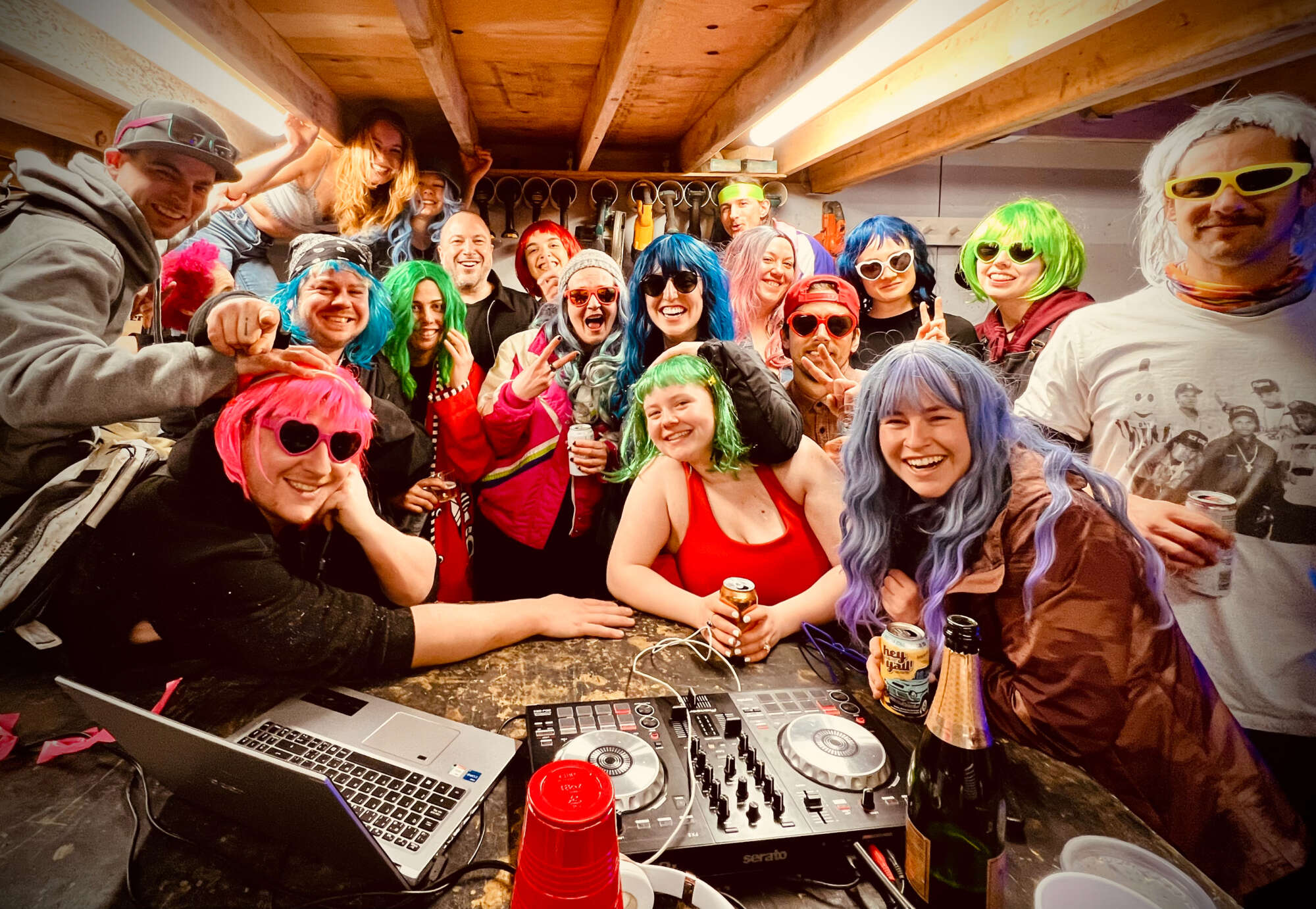 The catalyst for a throw-down in this case was Cheri's birthday. We wait for all the guides and pilots to be fast asleep and then…..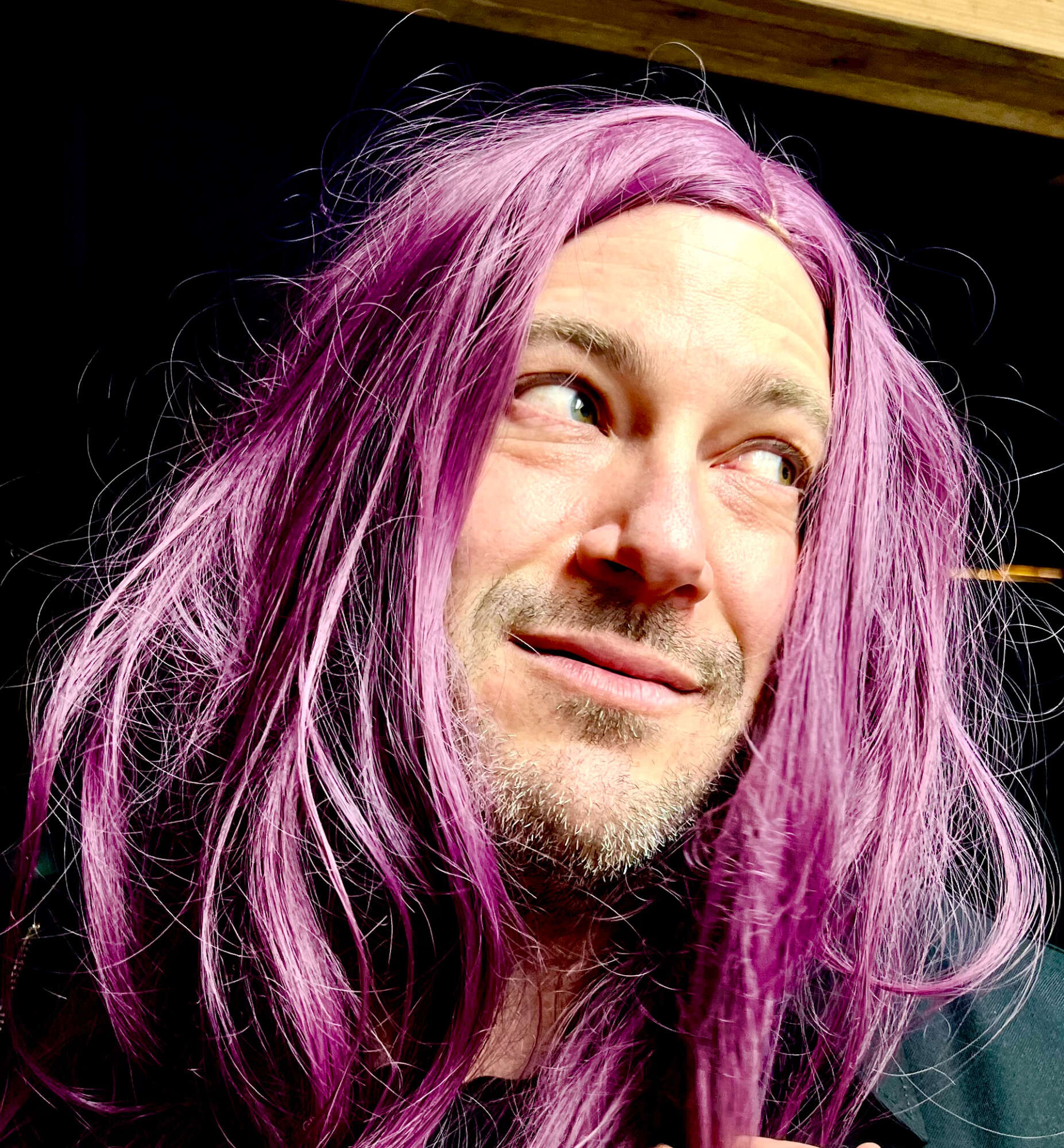 …..Strange creatures appear…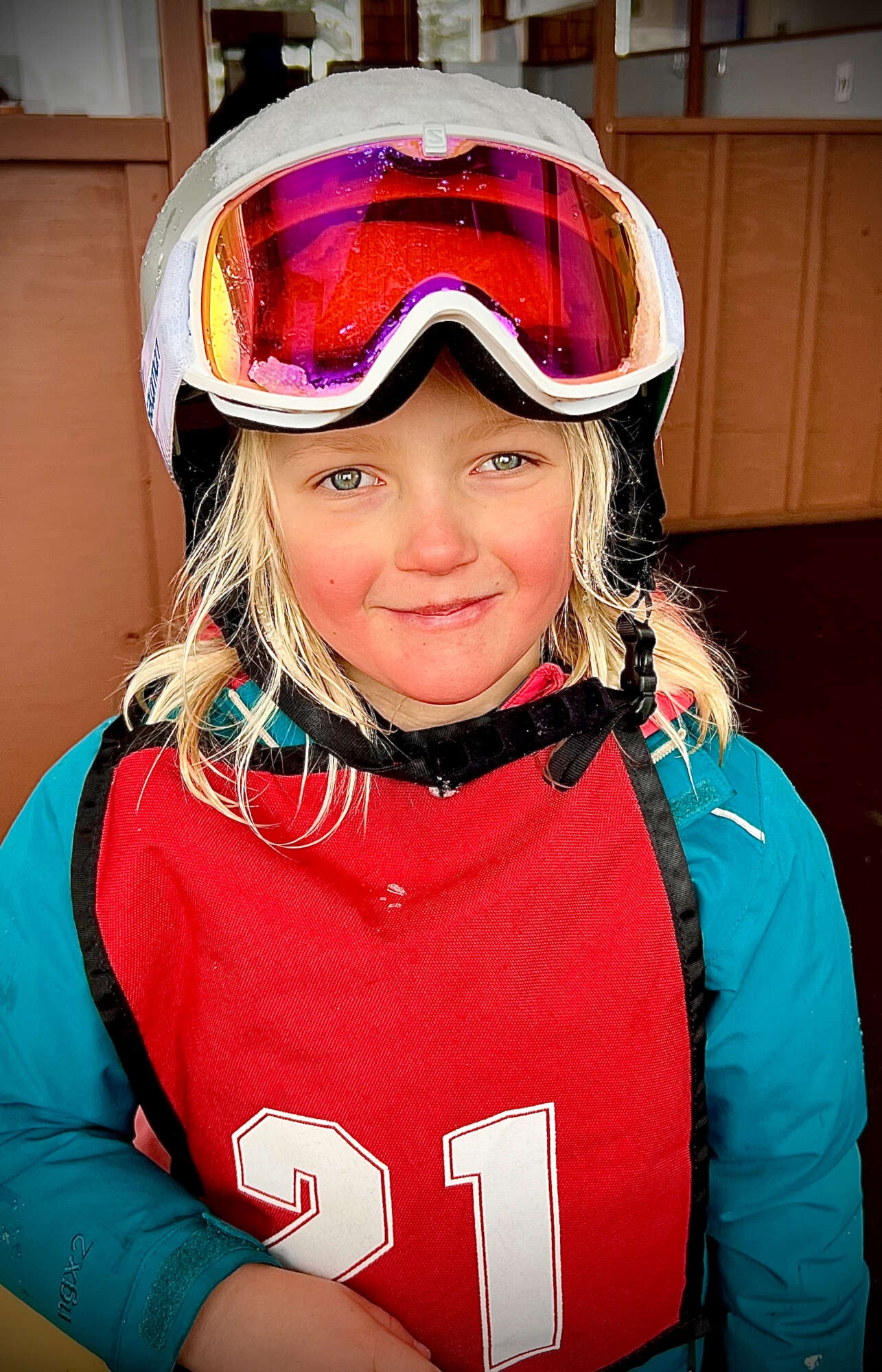 1st day at ski club.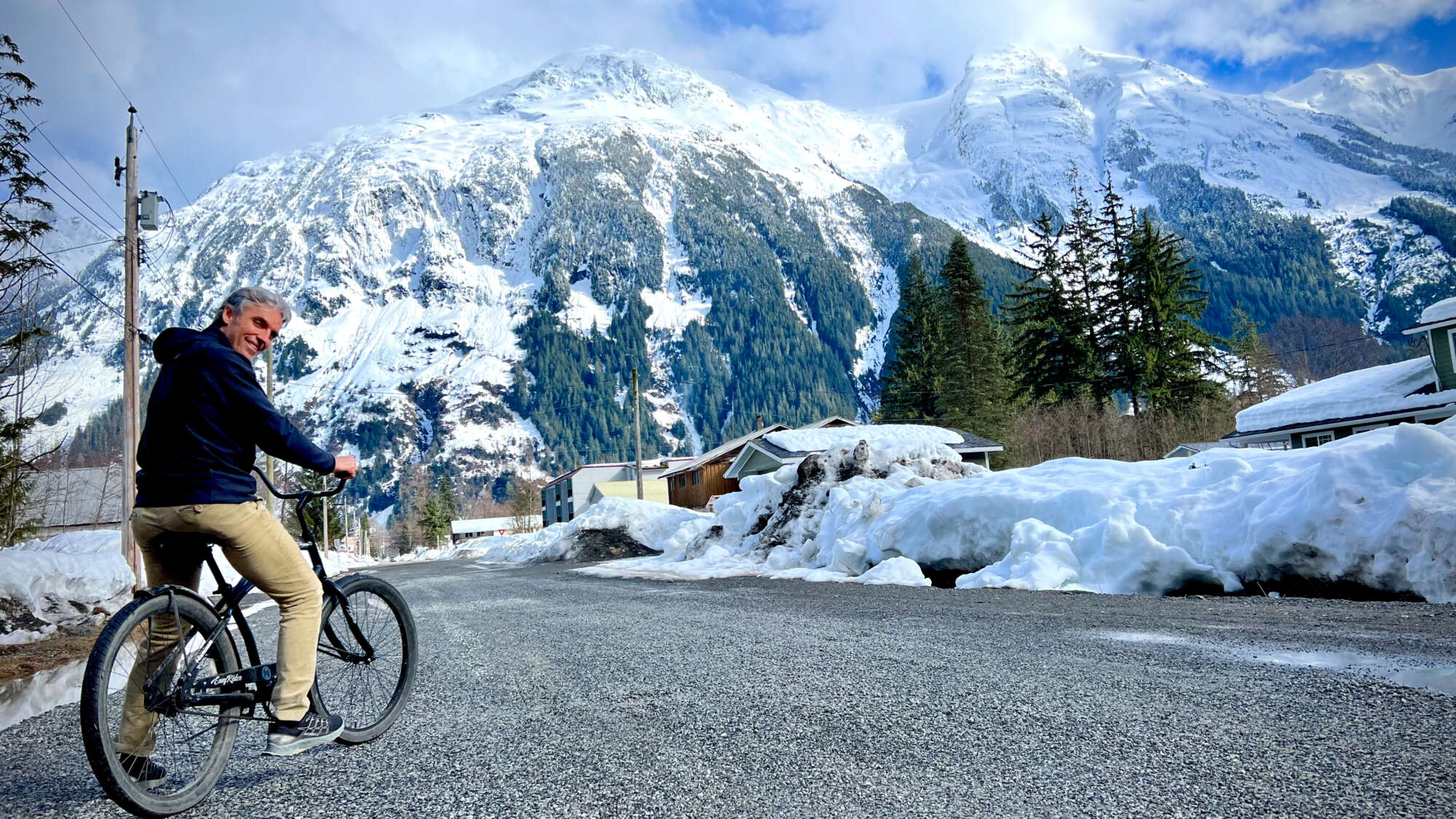 Hanging out in Stewart with Dani Sera, our man-on-the-ground in Spain.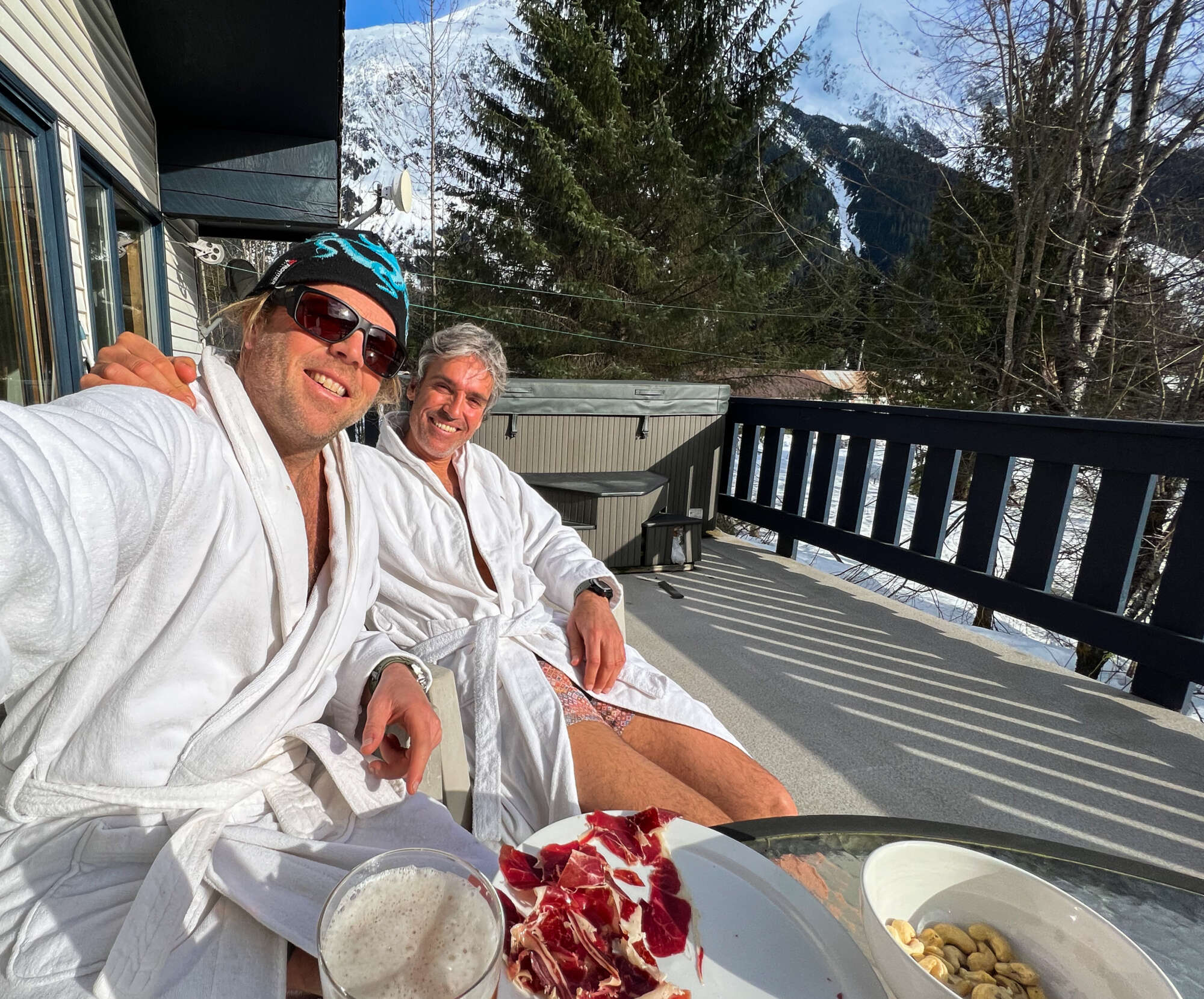 Hugh Hefnerring it with Dani. Note distinct absence of any bunnies. All Spanish guests are advised before travel that Jamón Ibérico has a particularly favourable exchange rate if smuggled in.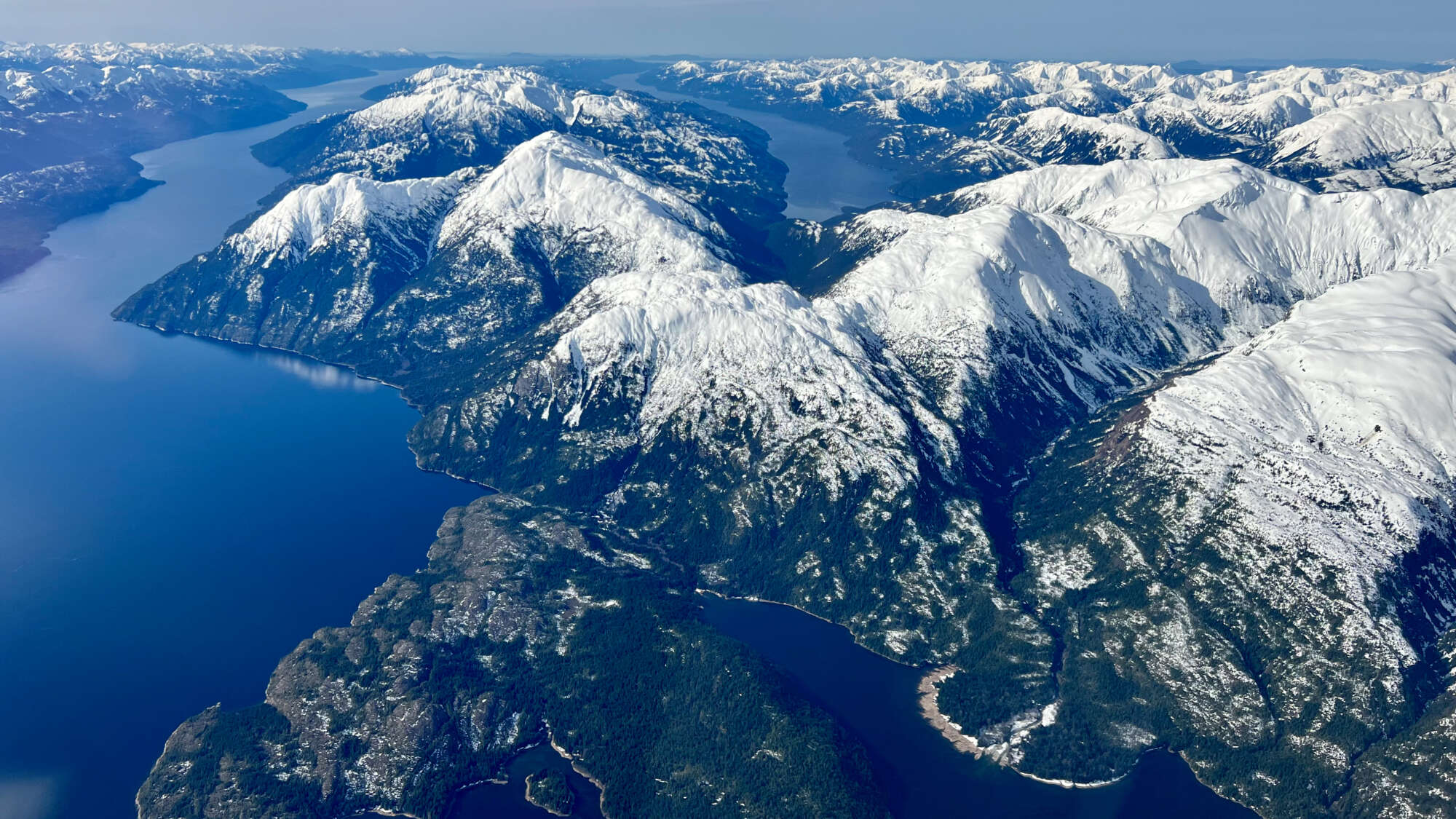 Observatory Inlet. 1 fjord south from Stewart's Portland Canal.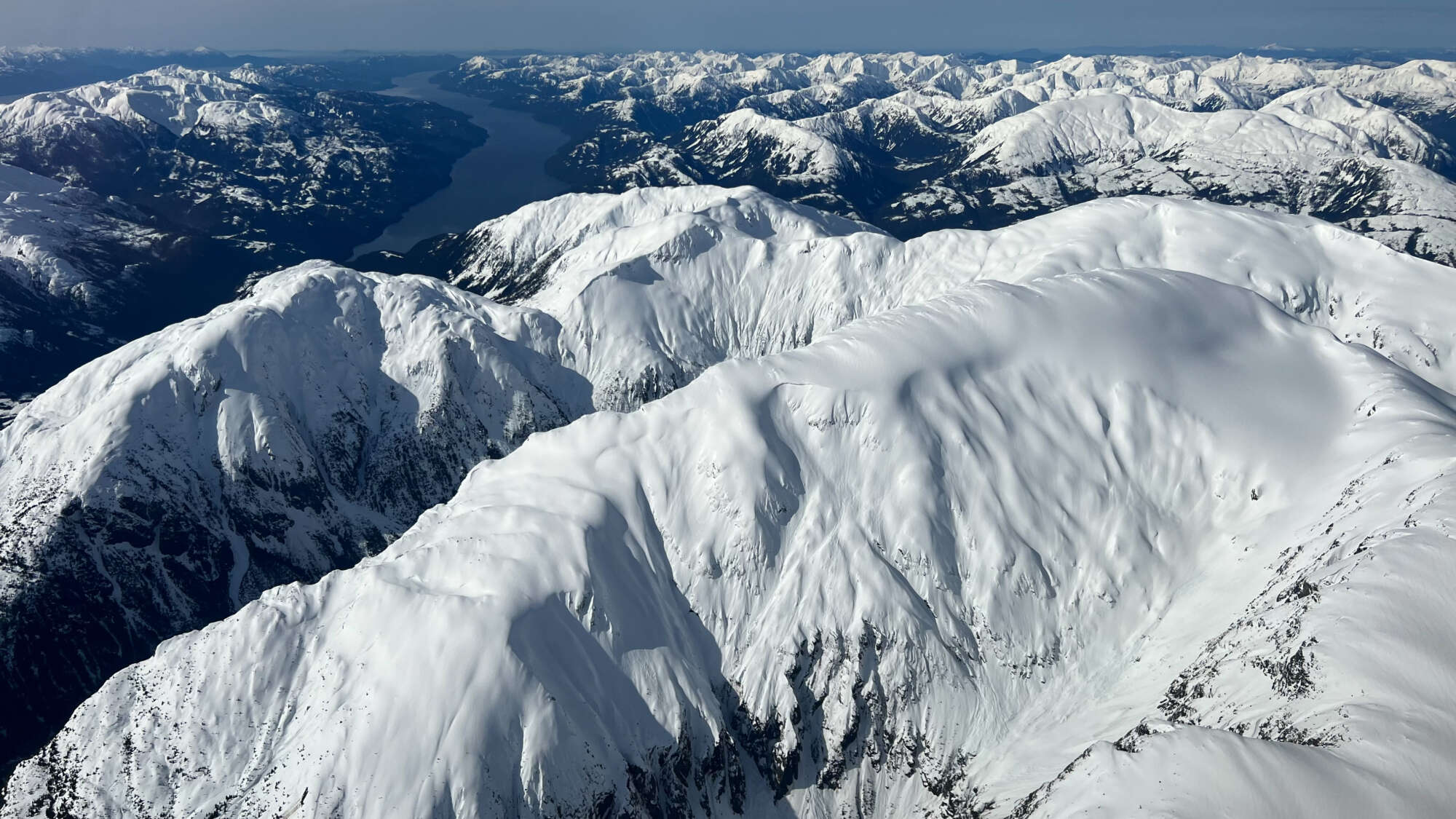 Looking south west down the Portland Canal and out to the Pacific Ocean.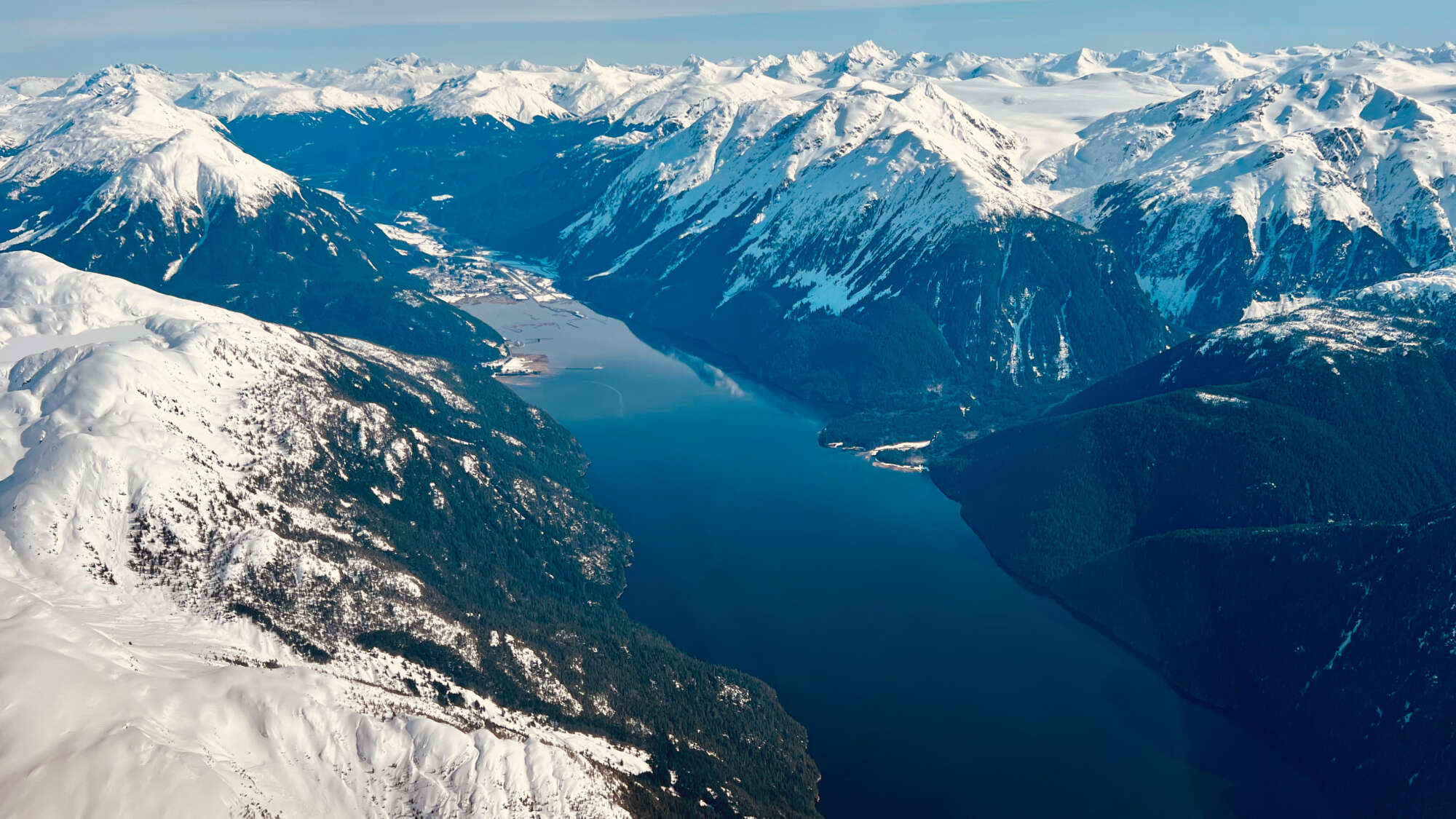 Stewart (top left) and surrounding terrain.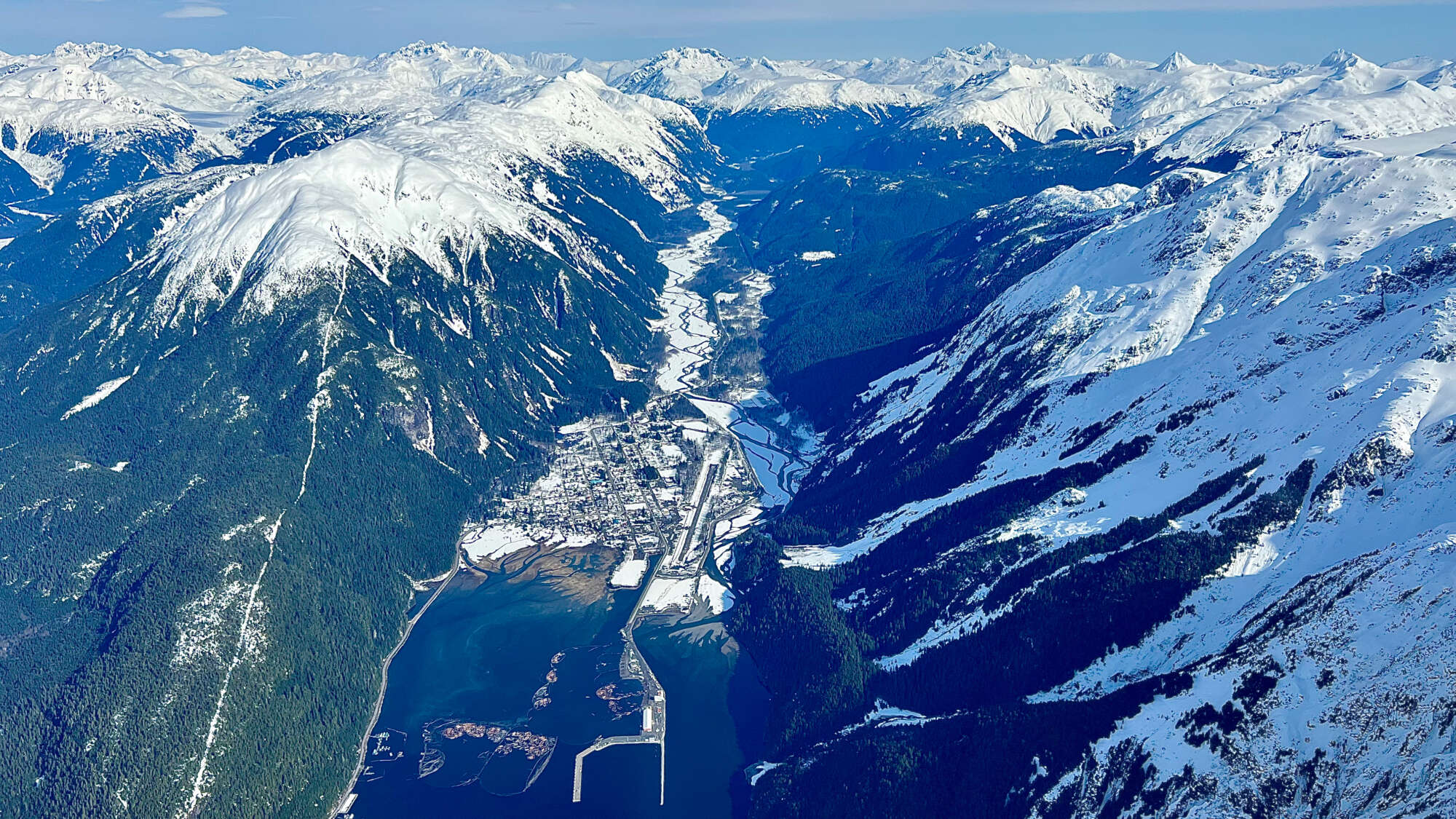 Stewart and the Alaska border visibly cut through the trees. (Makes tracking of illegal immigrants easier).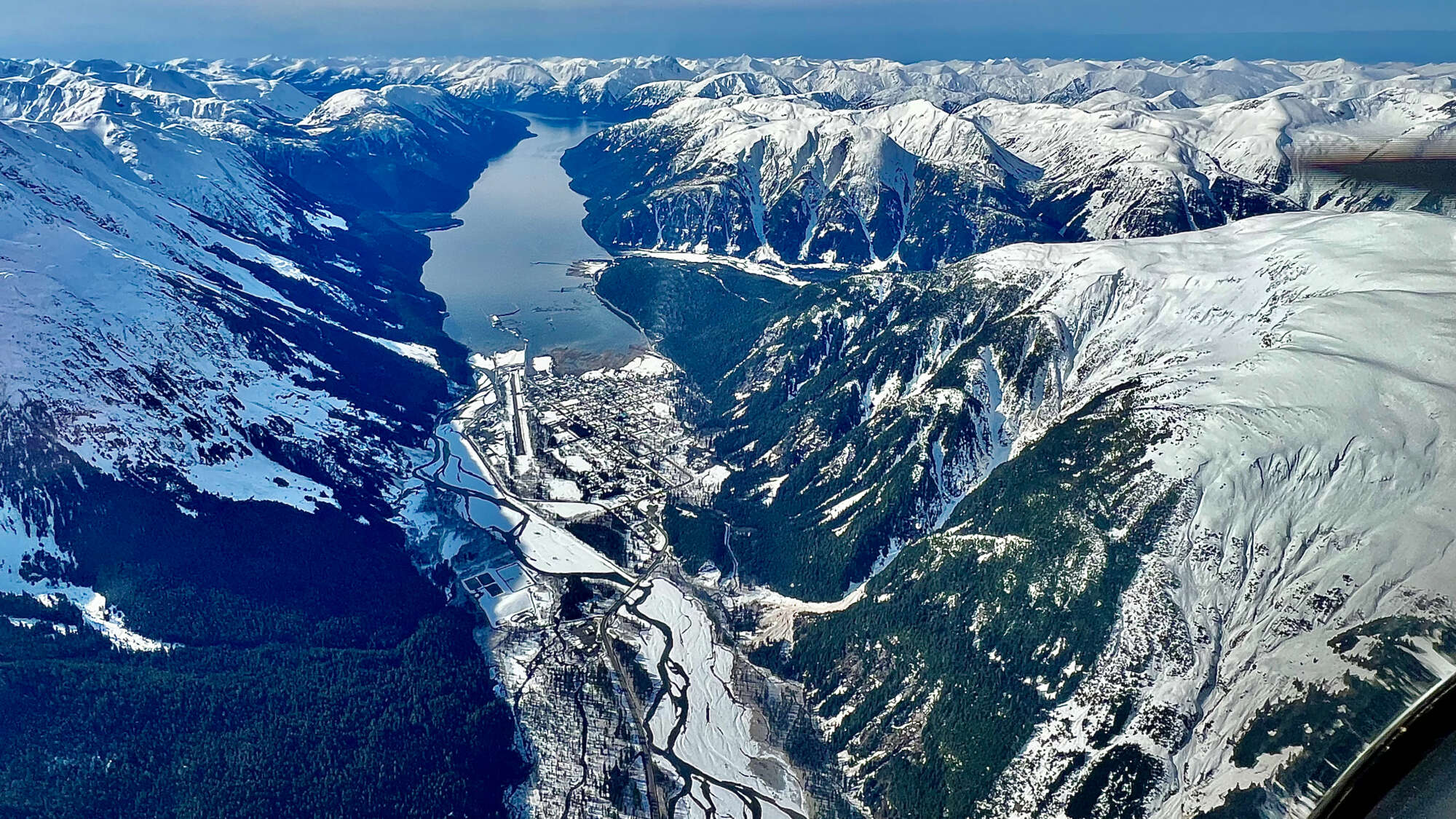 Stewart and looking south.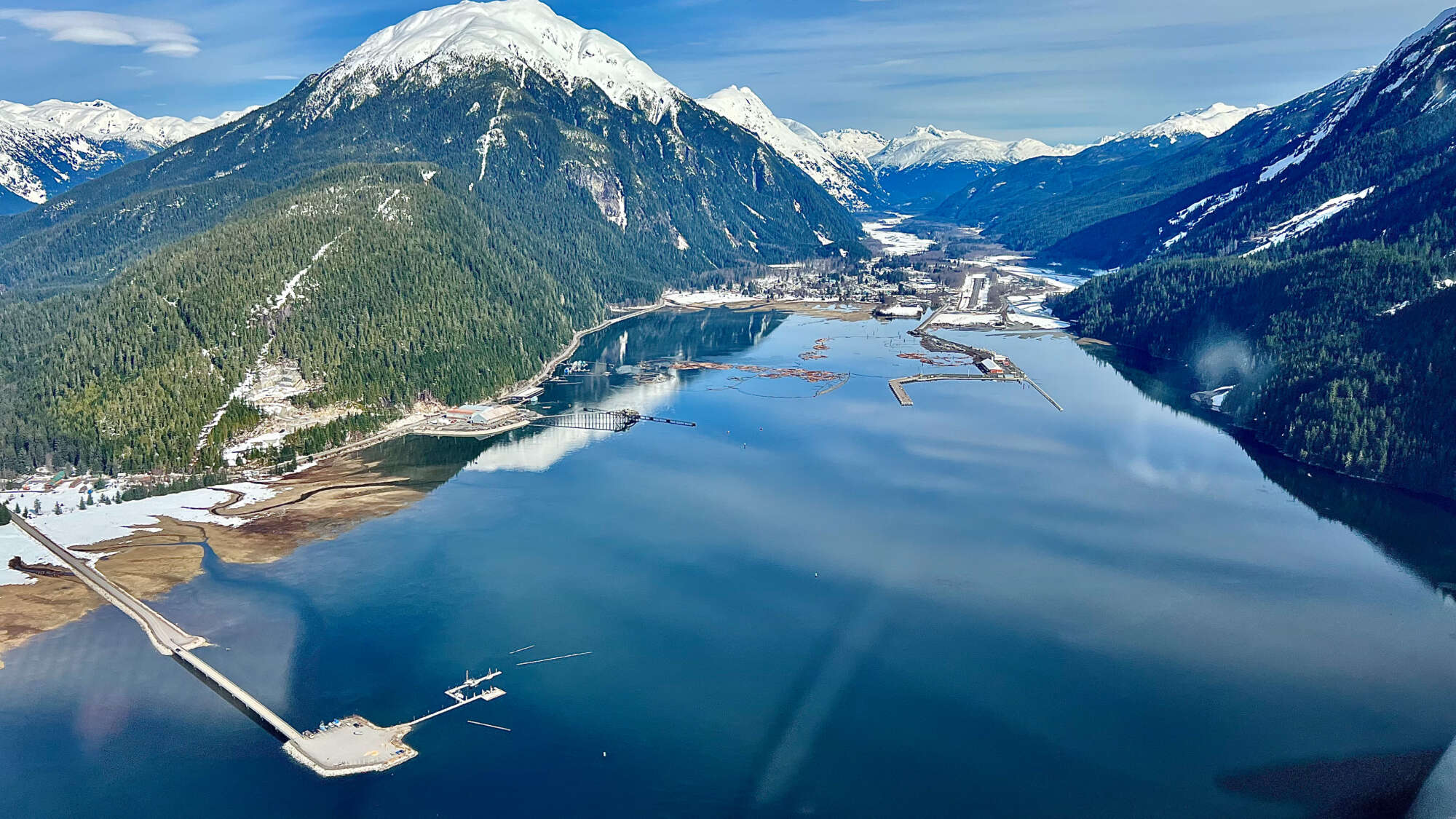 Hyder, AK left and Stewart.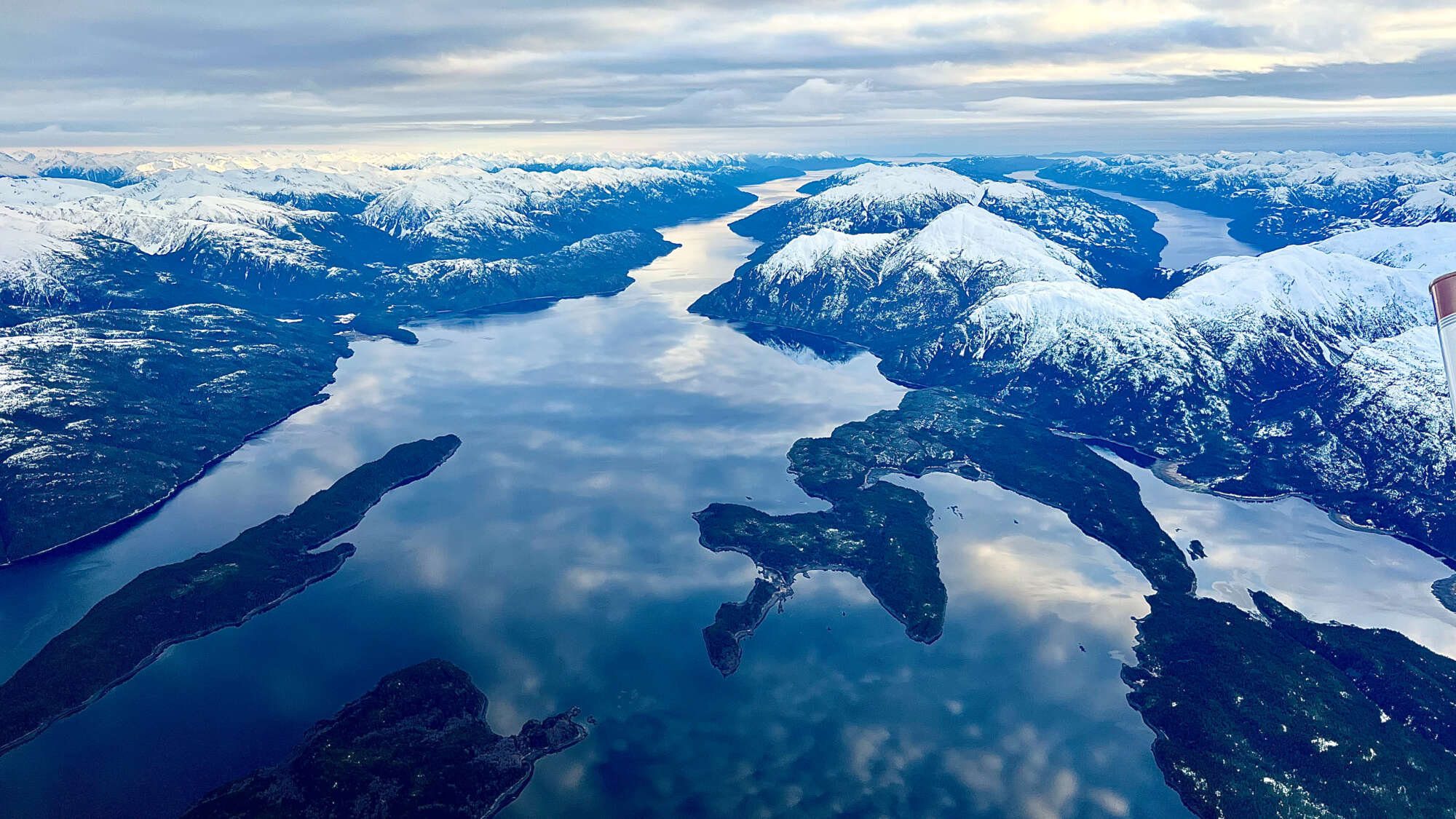 Larcom Island, Hastings Arm.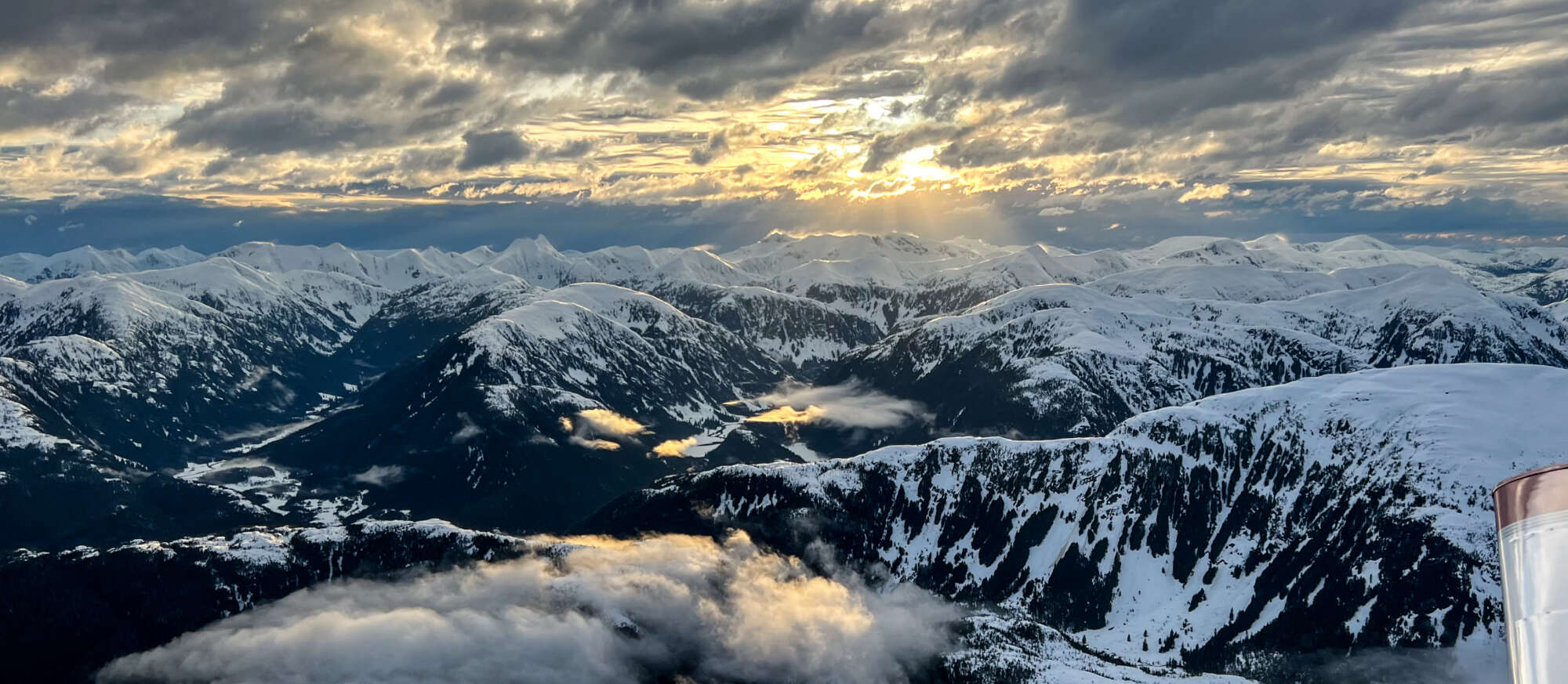 Looking west of the Portland Canal and into AK.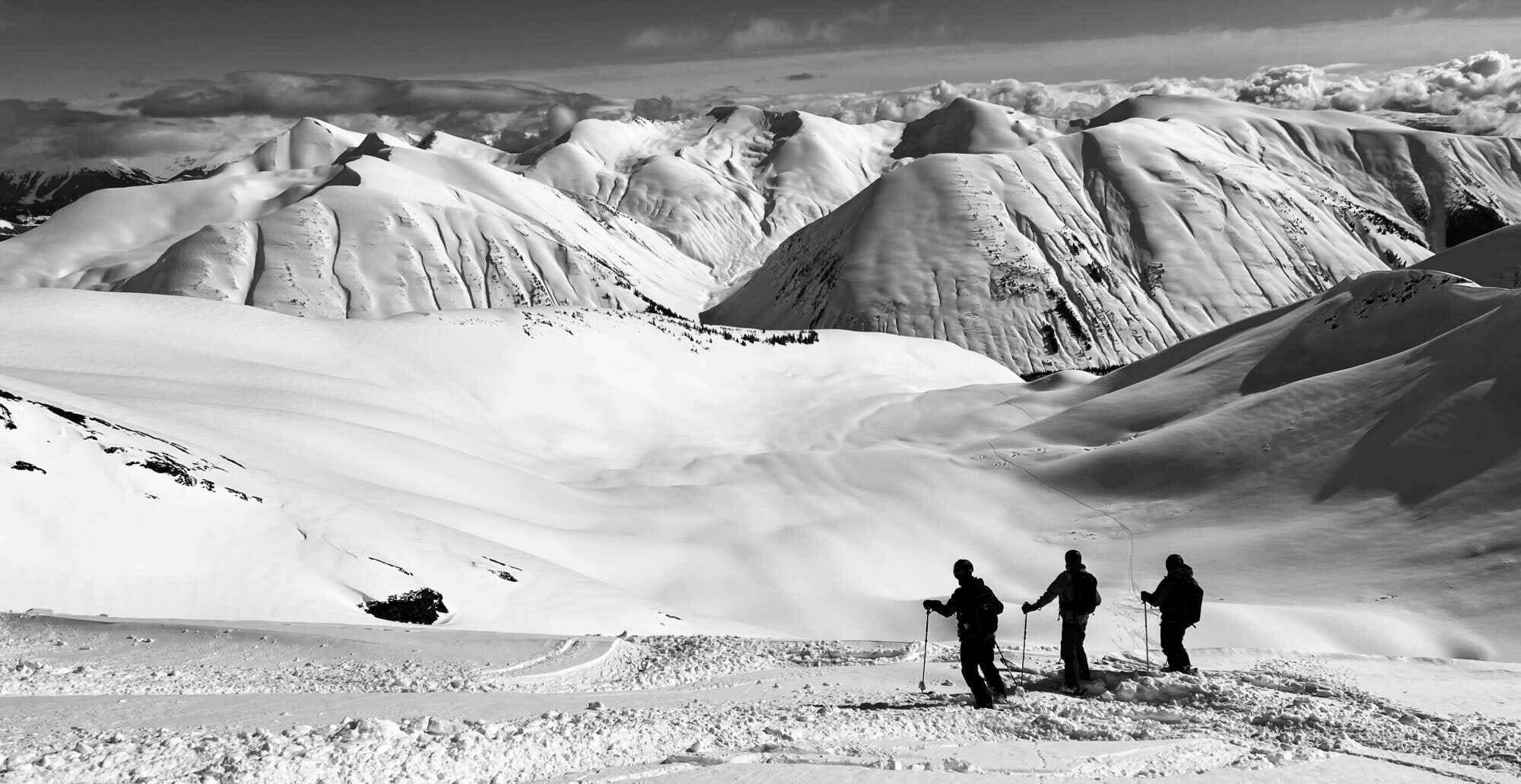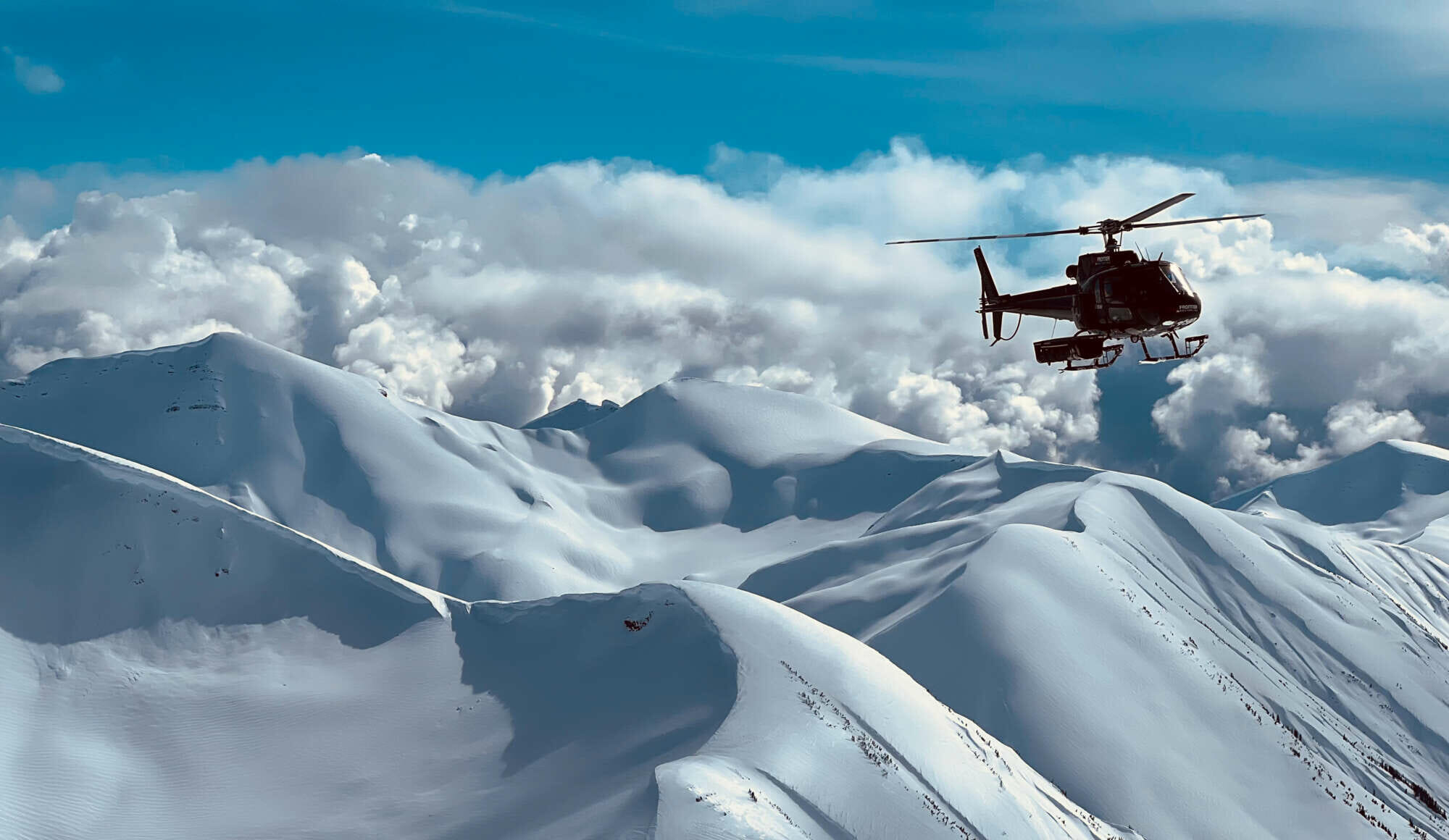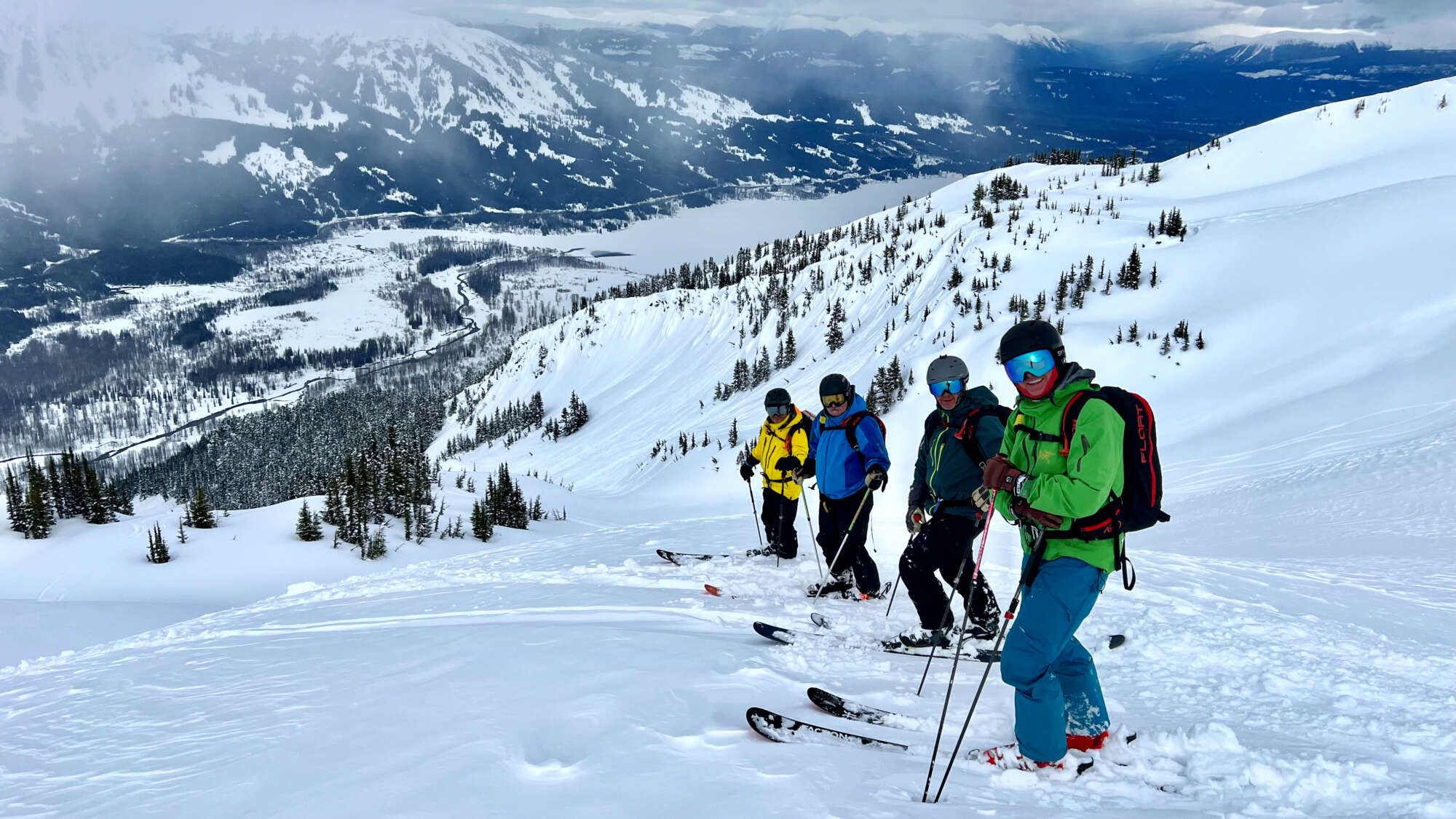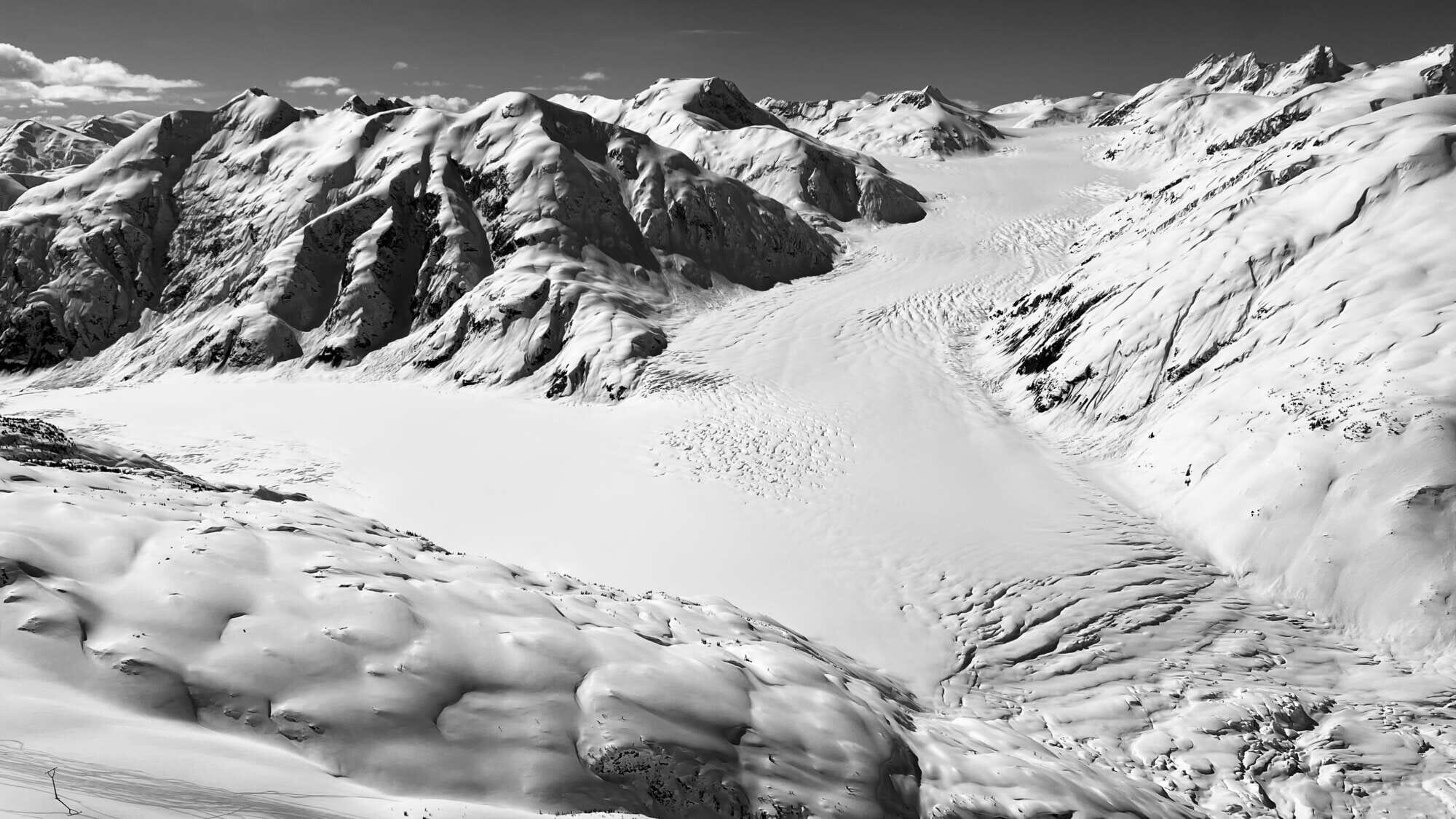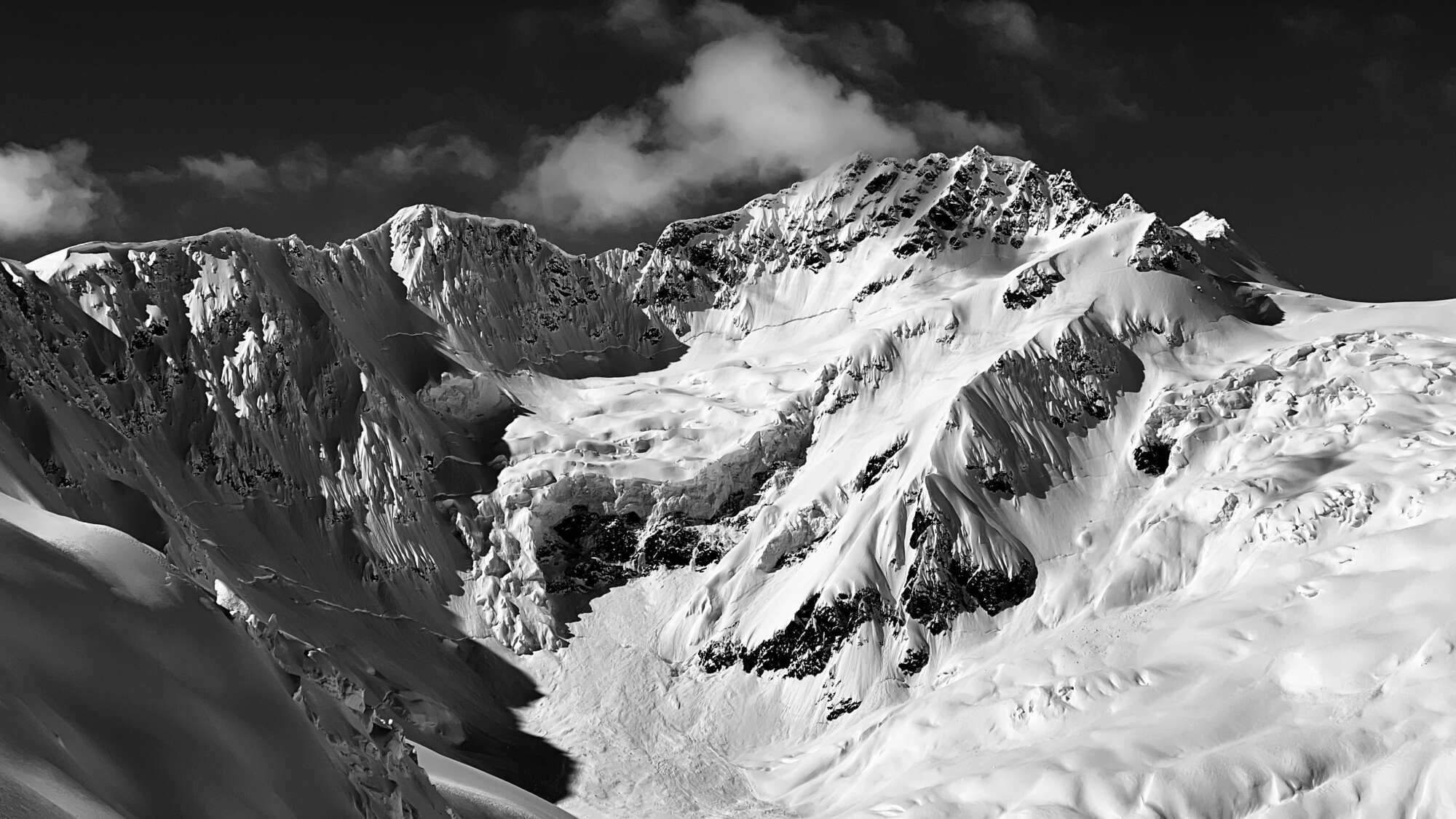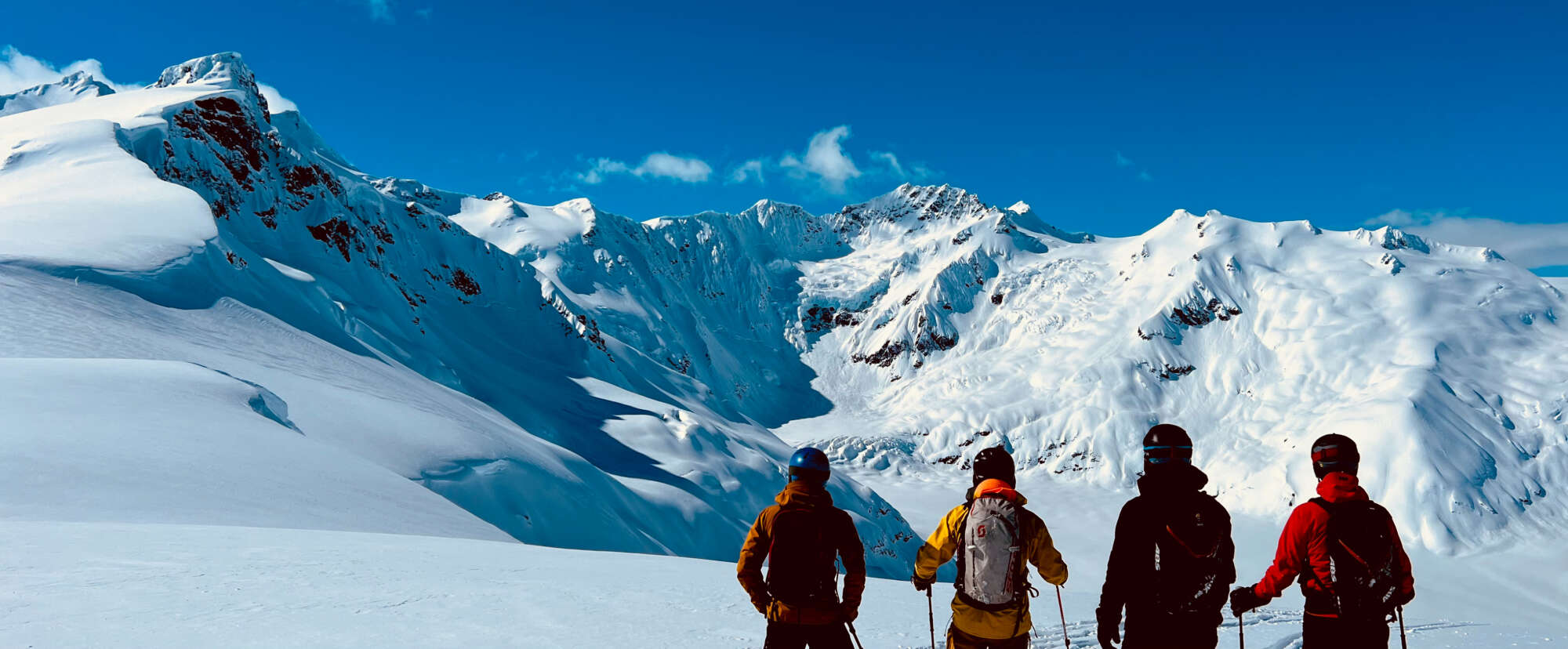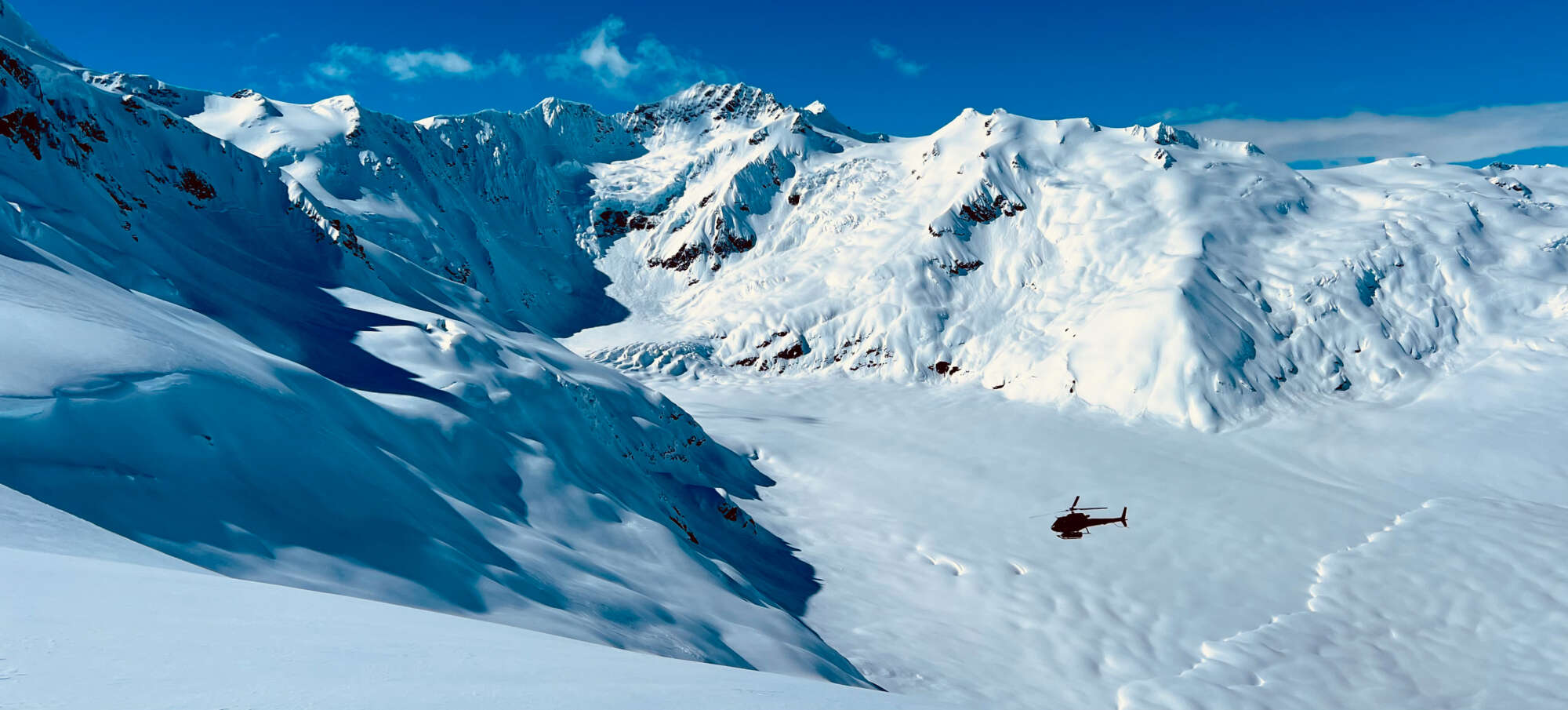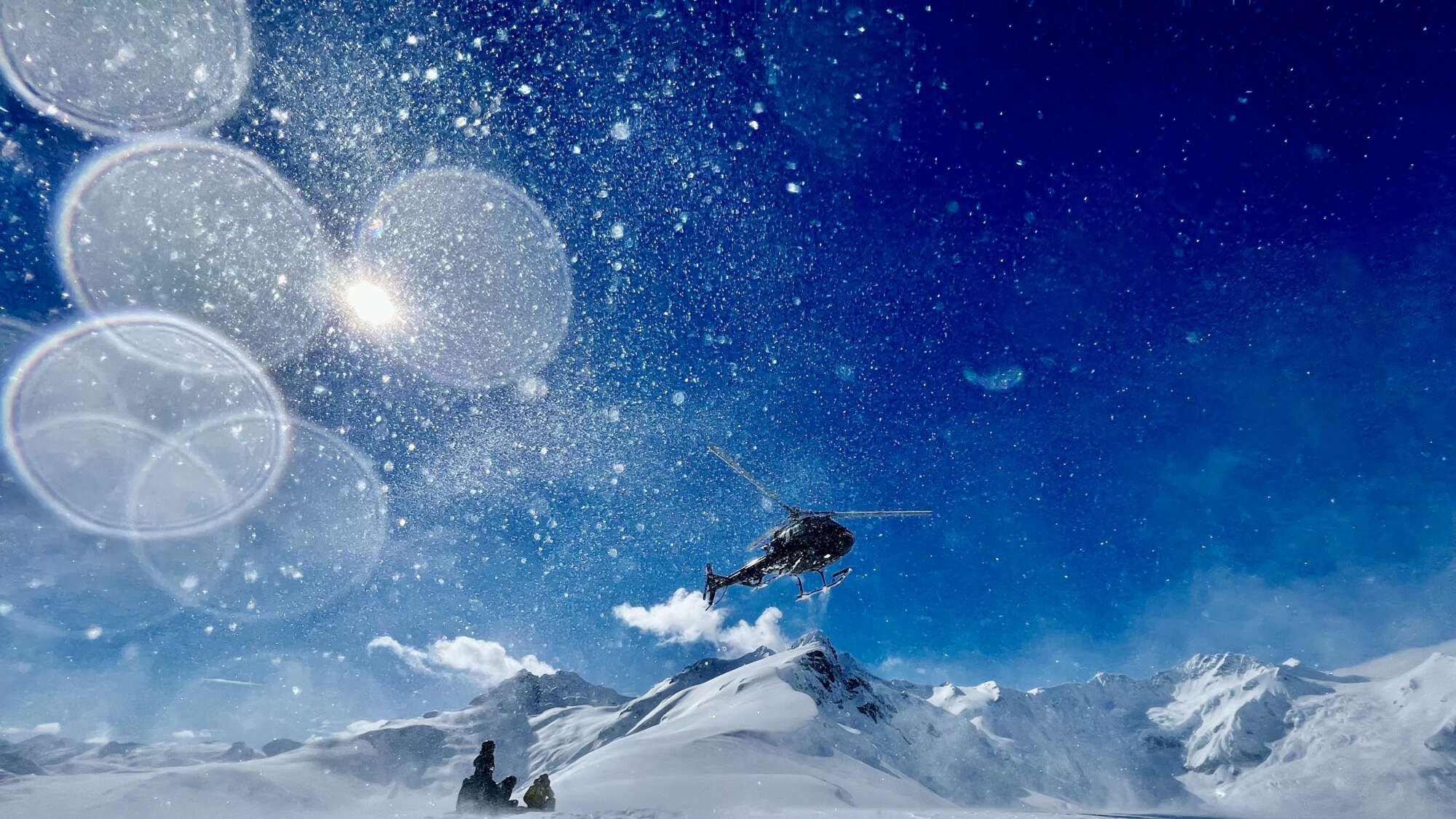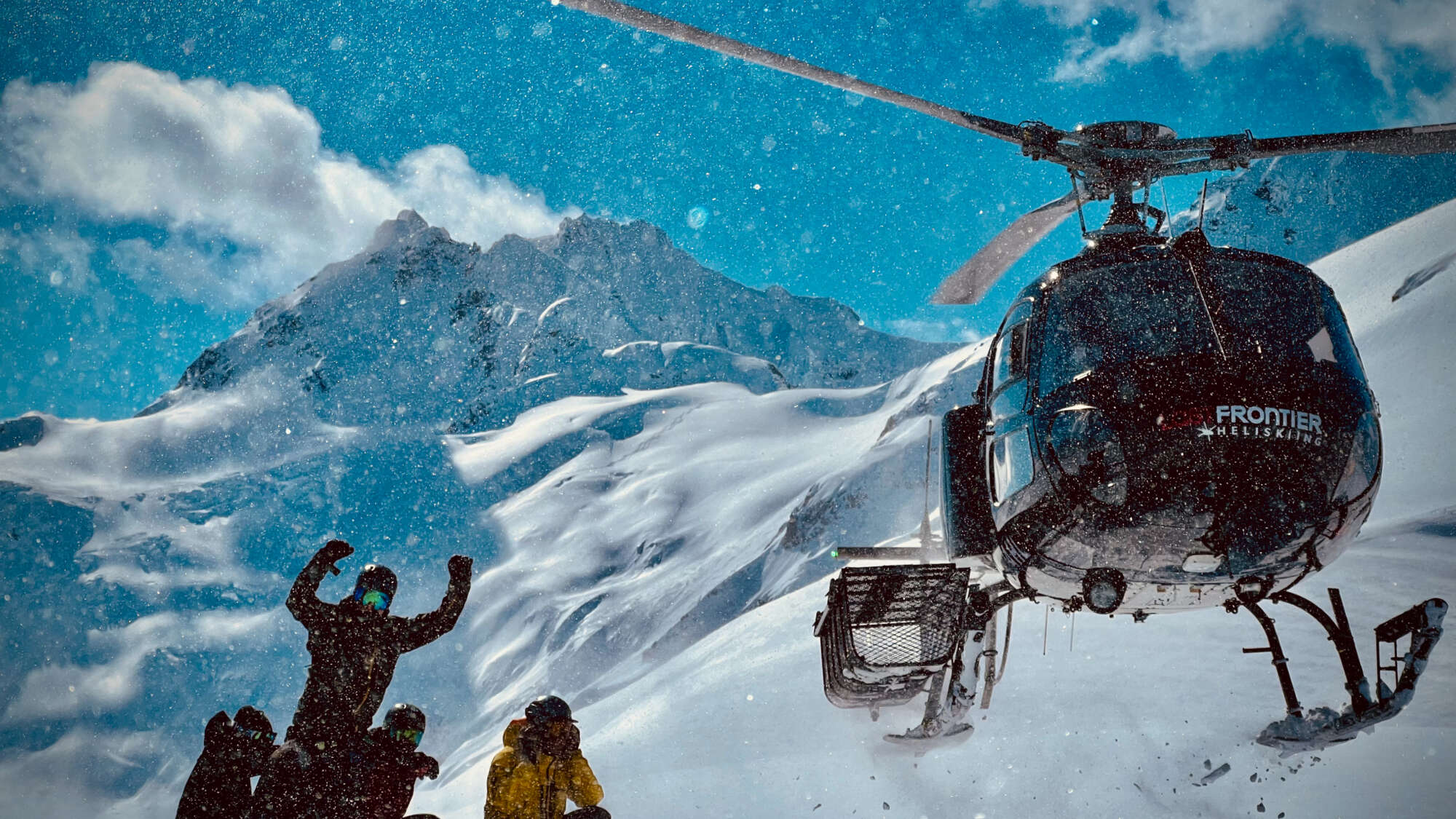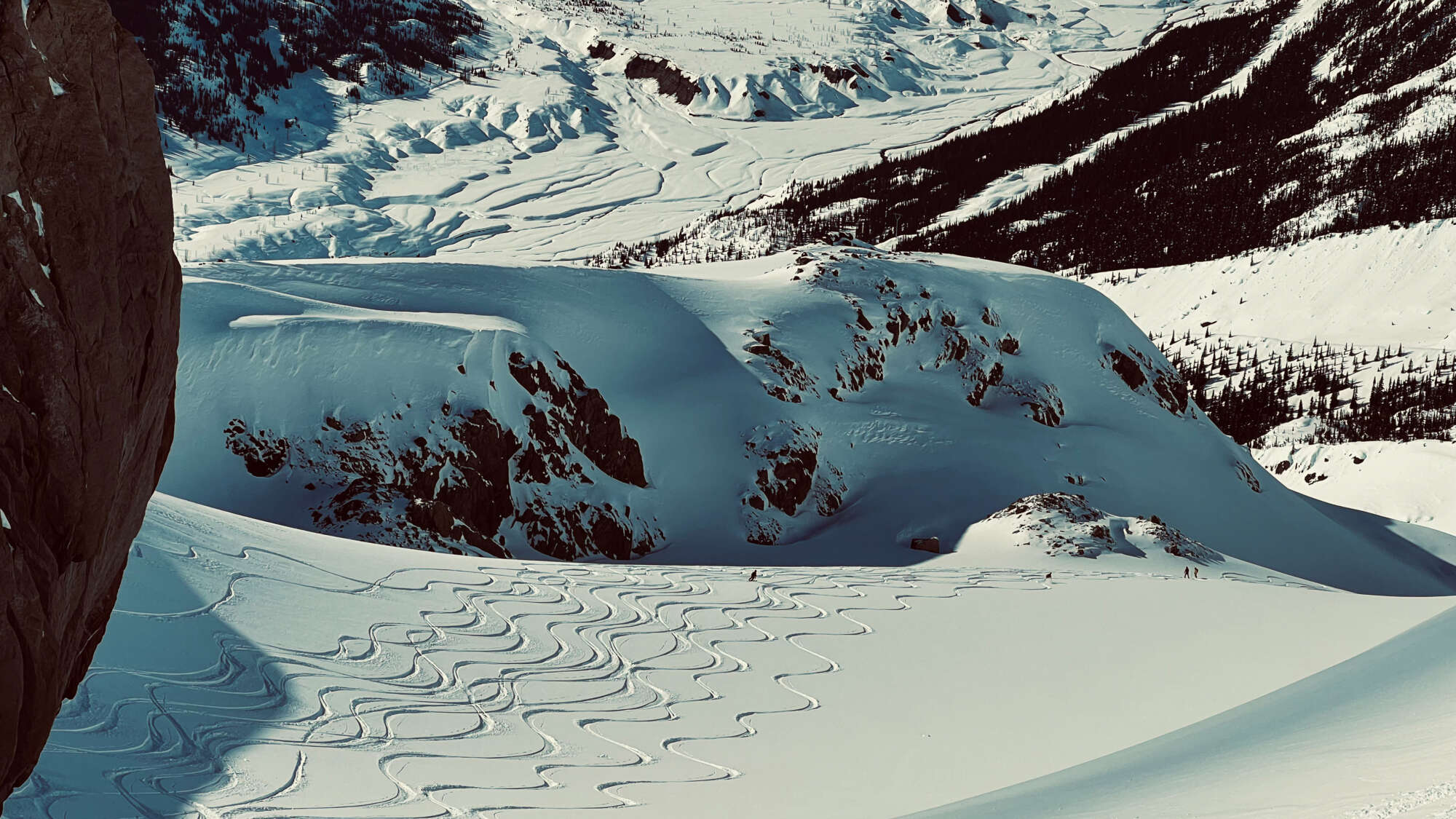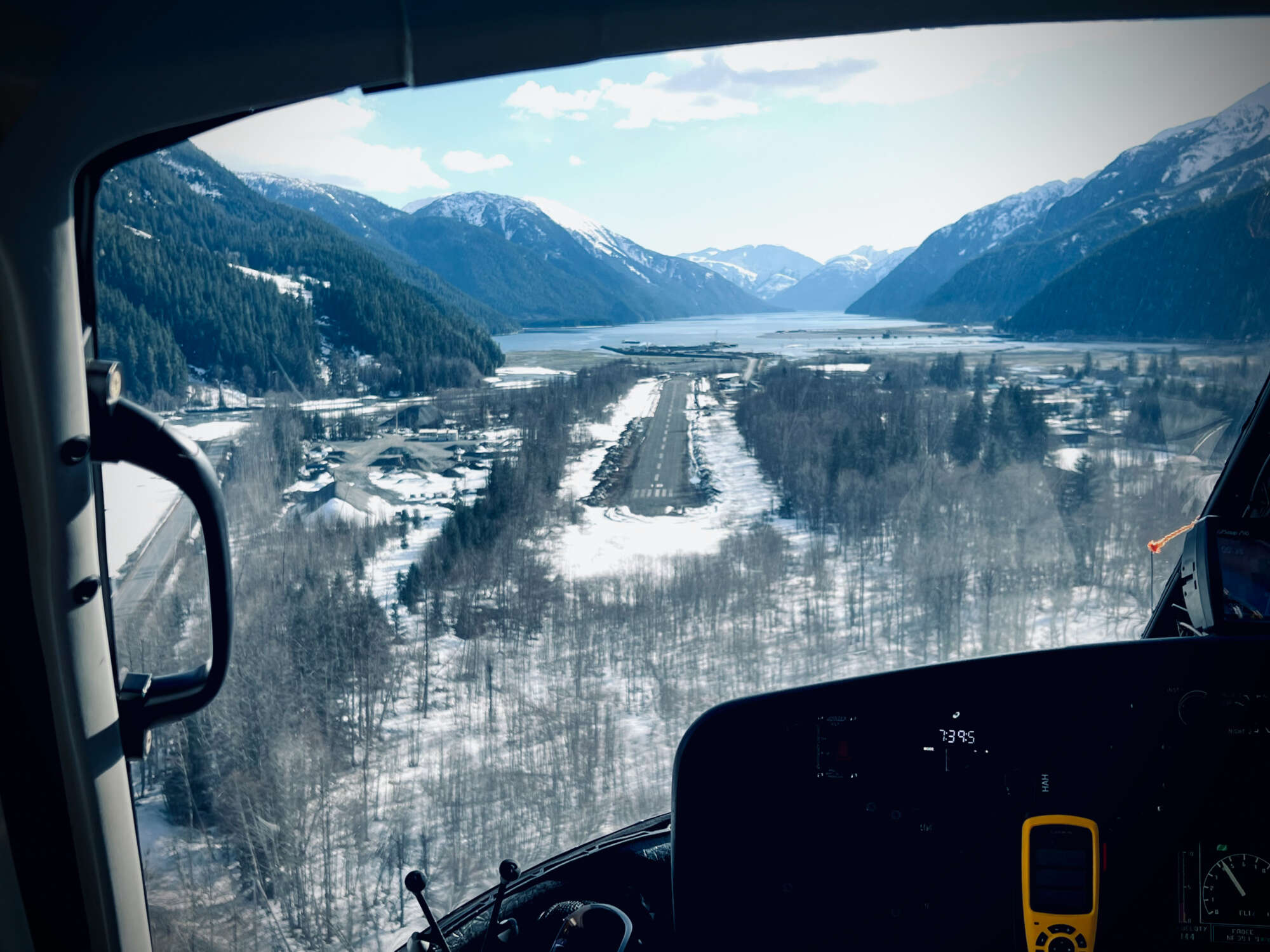 The approach to Stewart.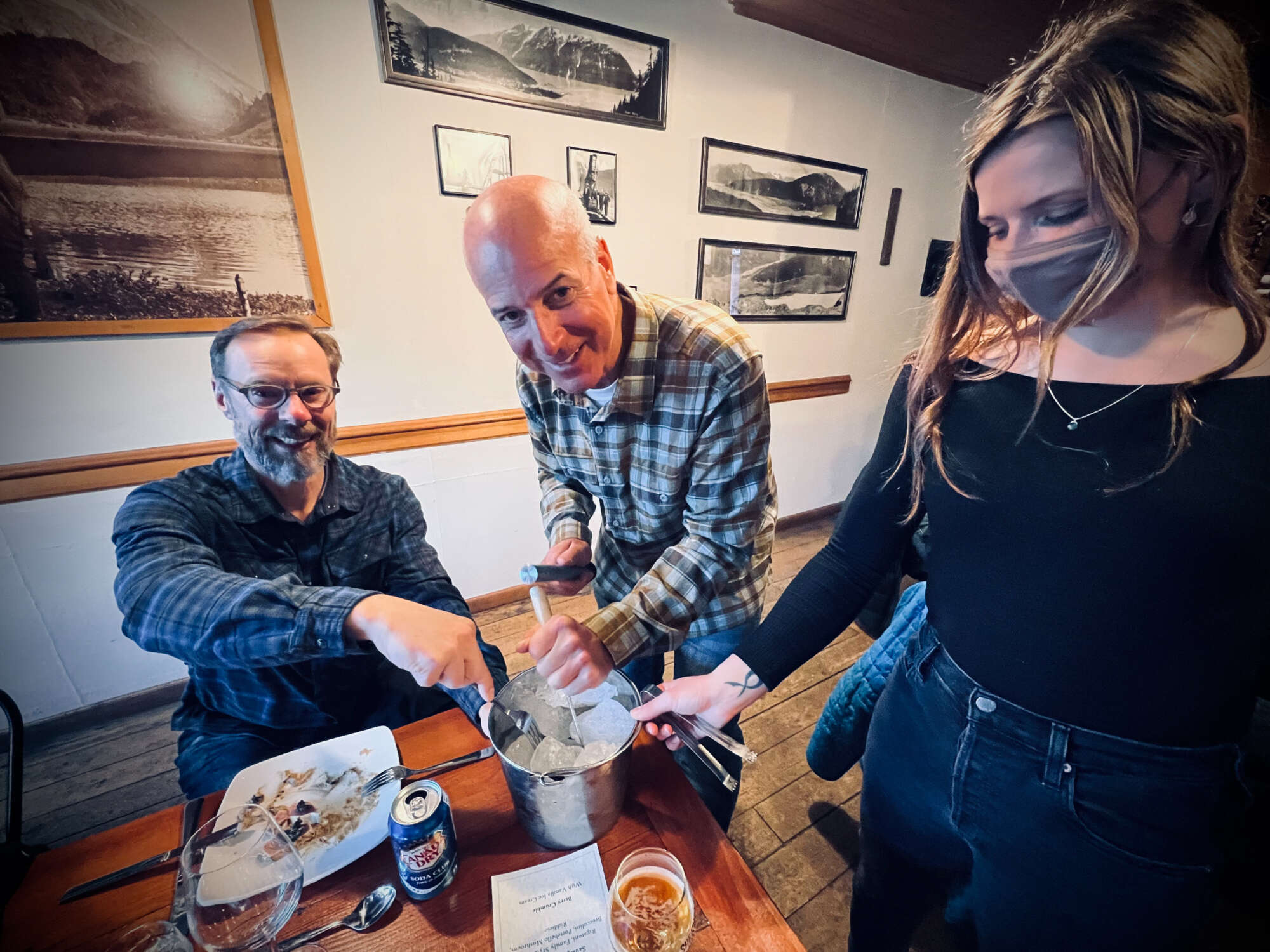 Glacial Ice for dinner drinks.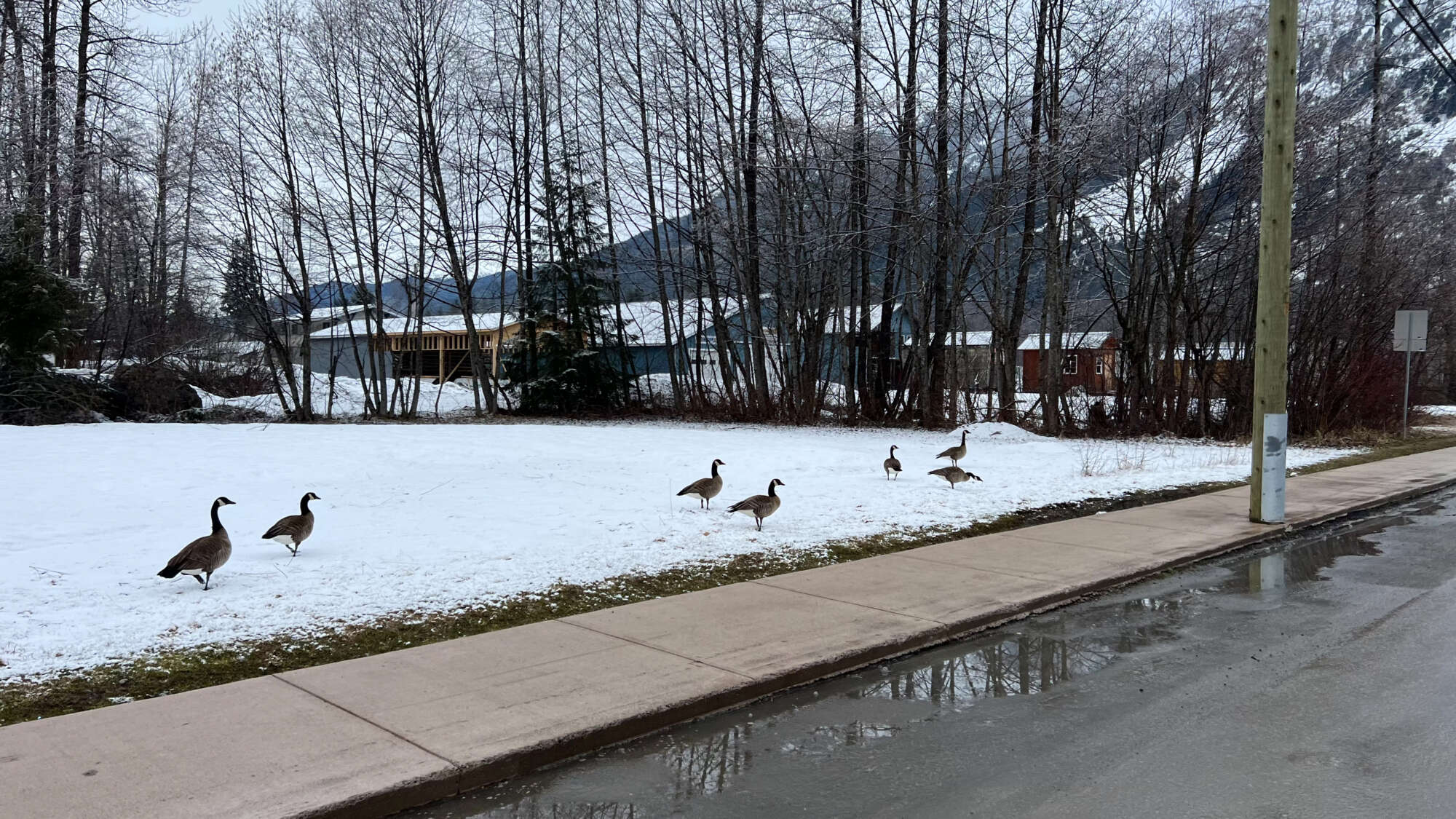 Ready for spring…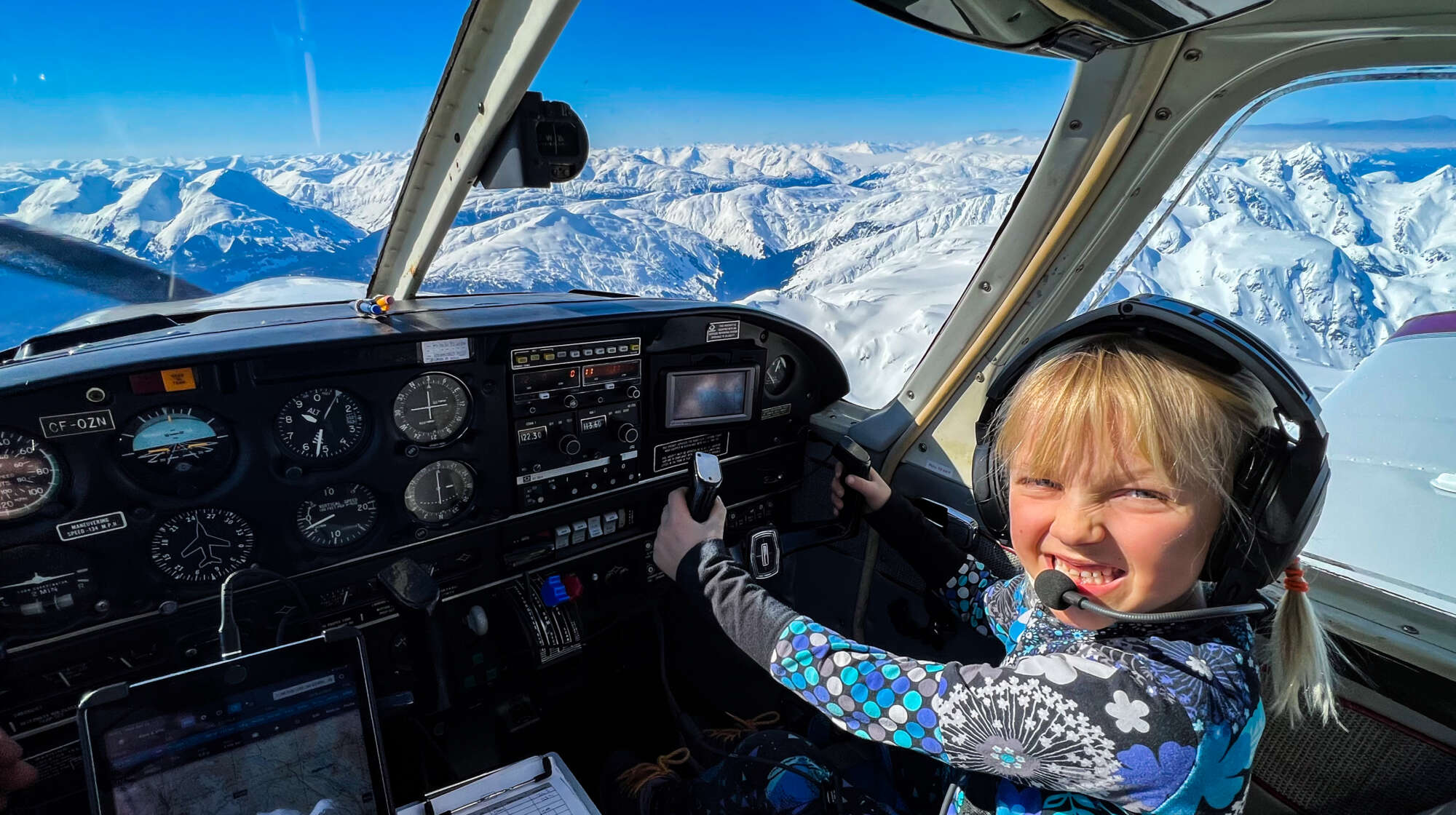 Never one to miss a party…heading for the end of season session at Bell 2 Lodge.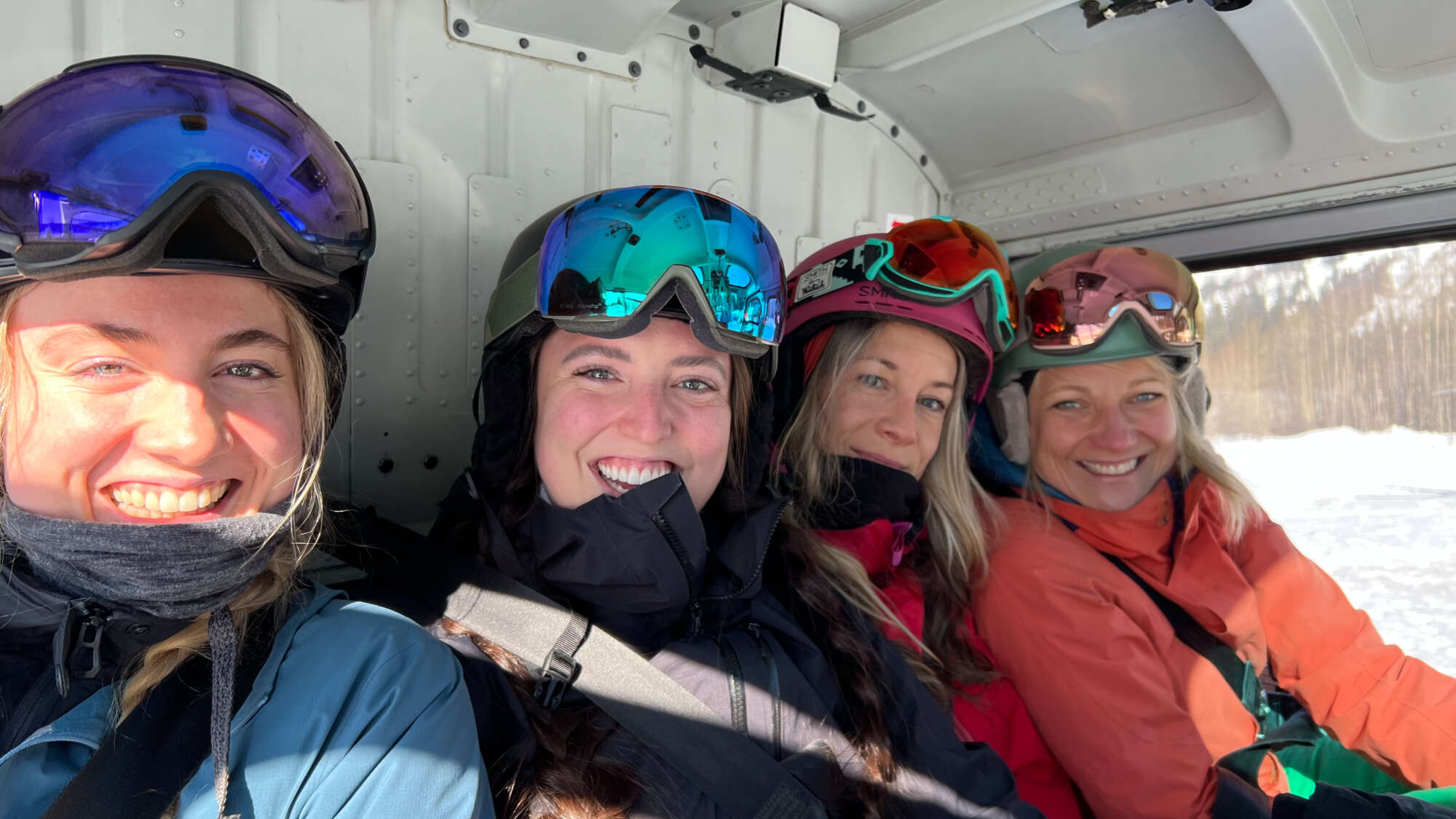 VERY important cargo.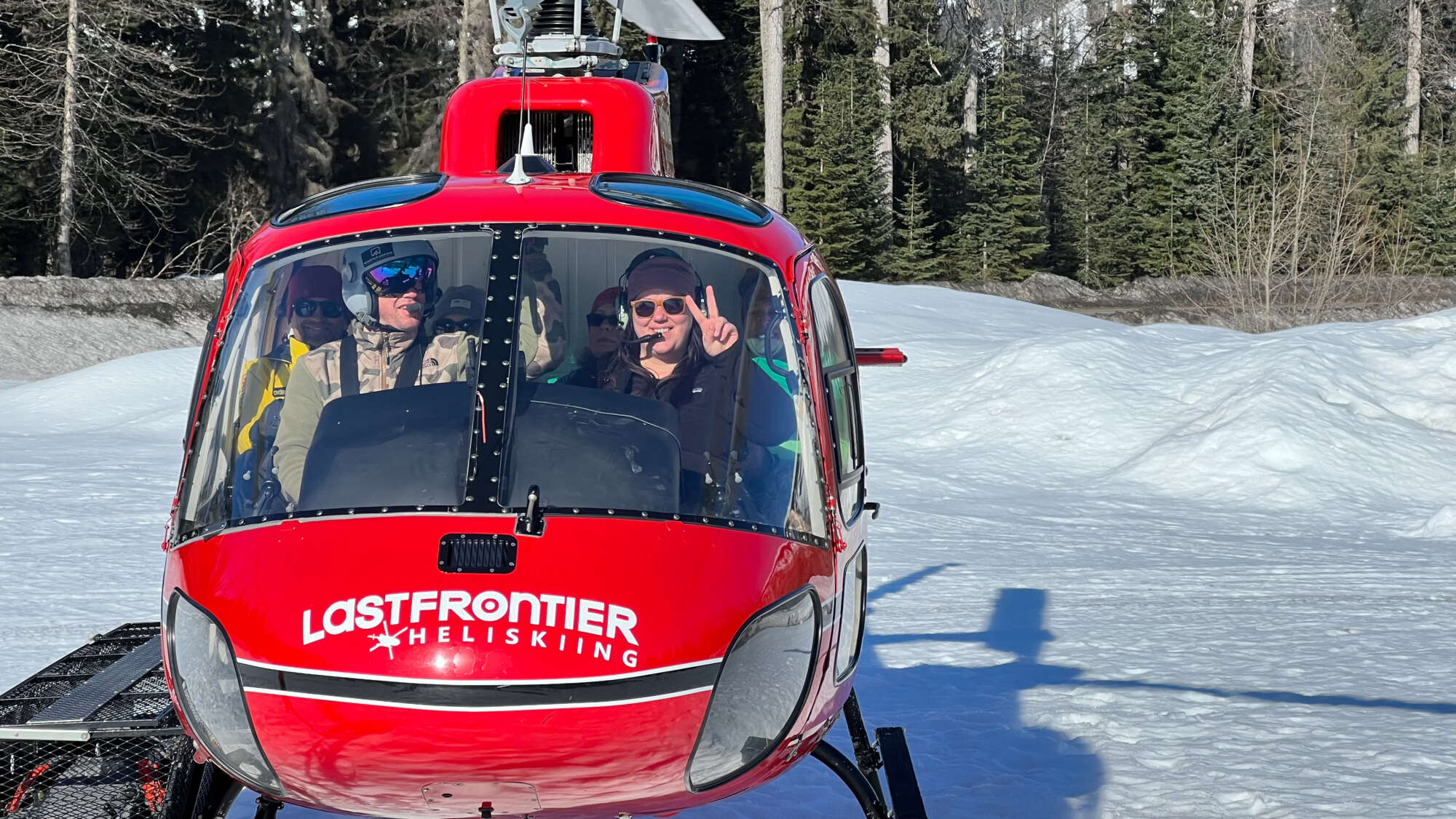 Liz the new co-pilot.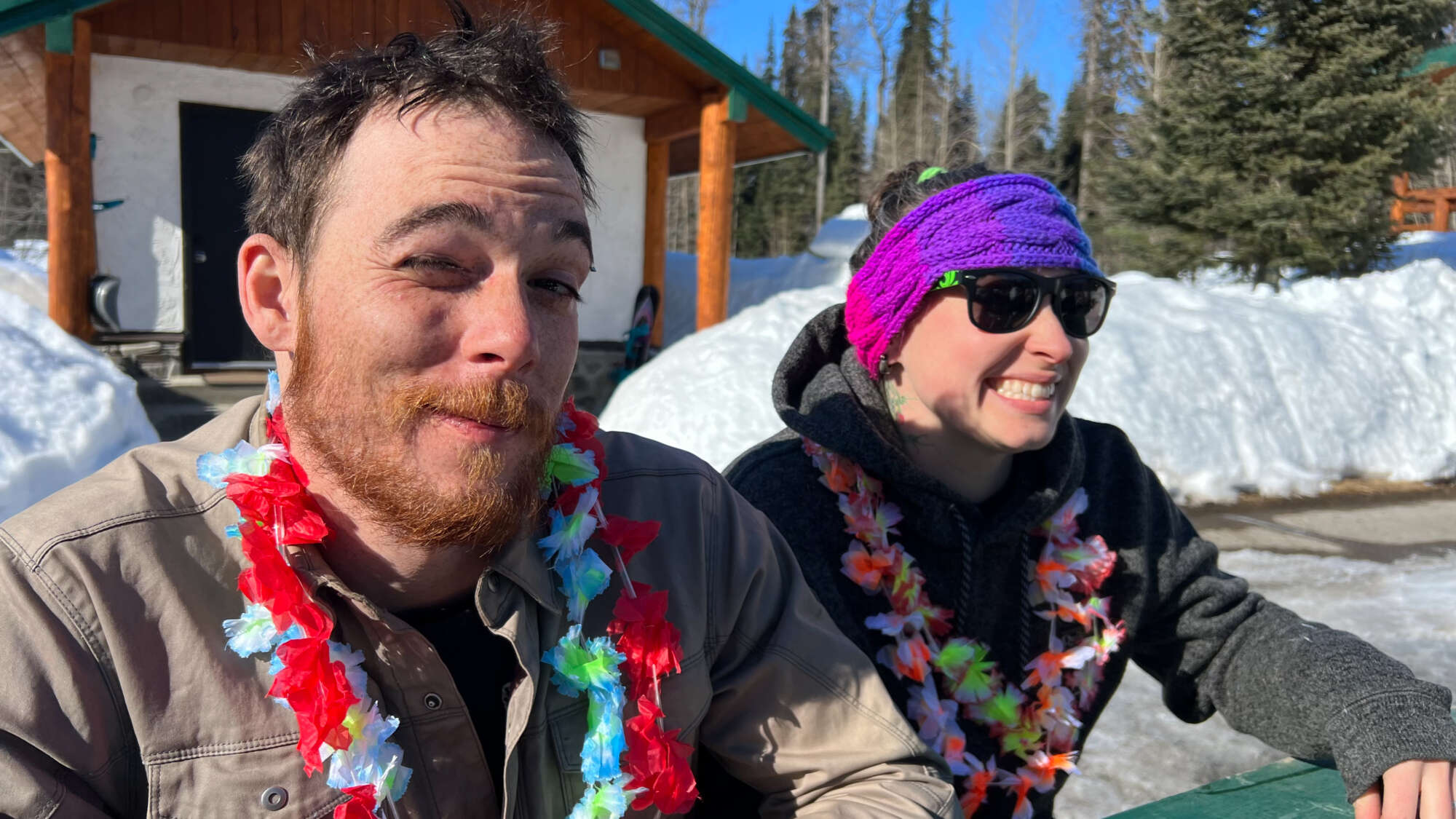 Jordan our Maintenance Manager and his honey Syd.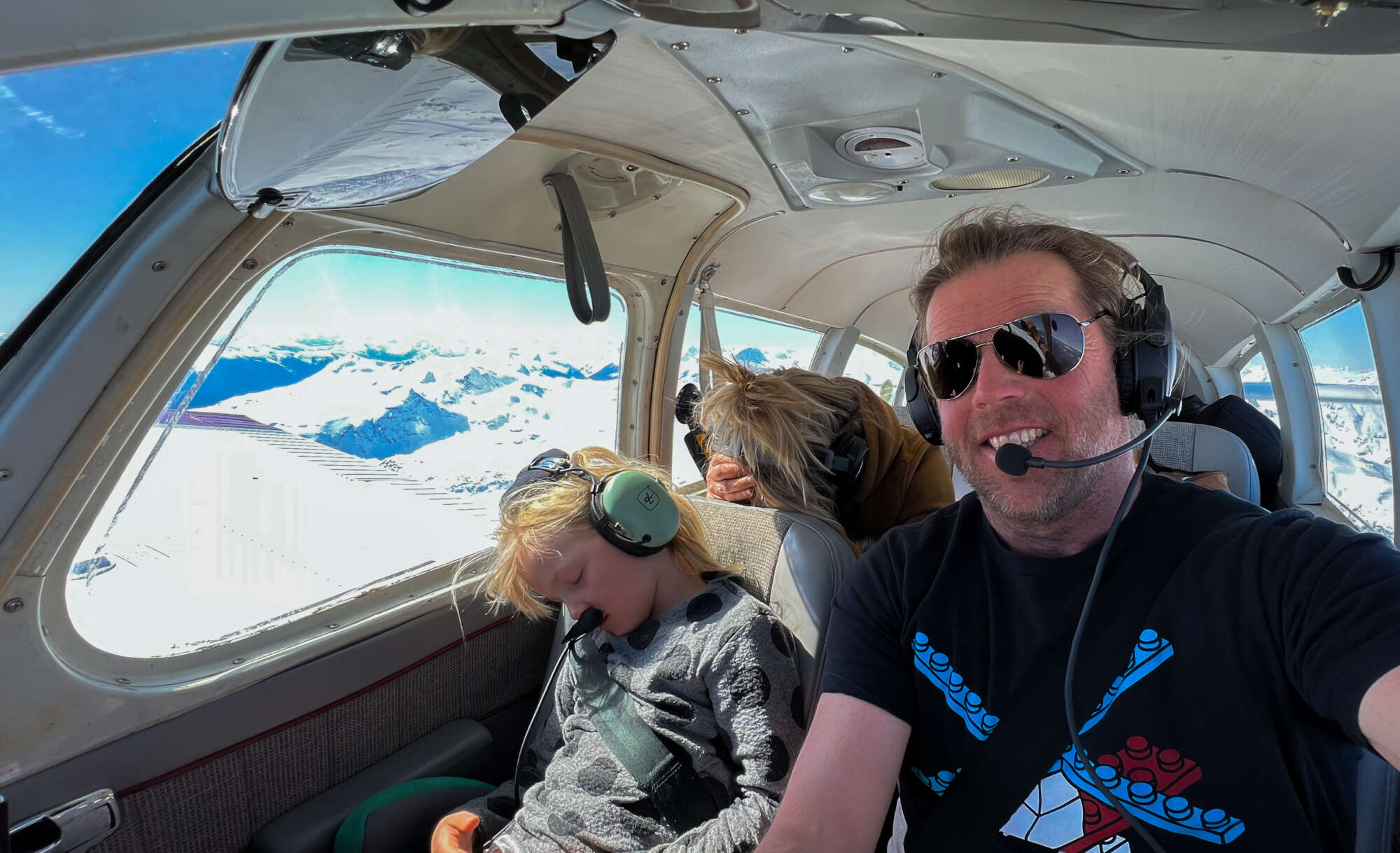 Must've been a good party.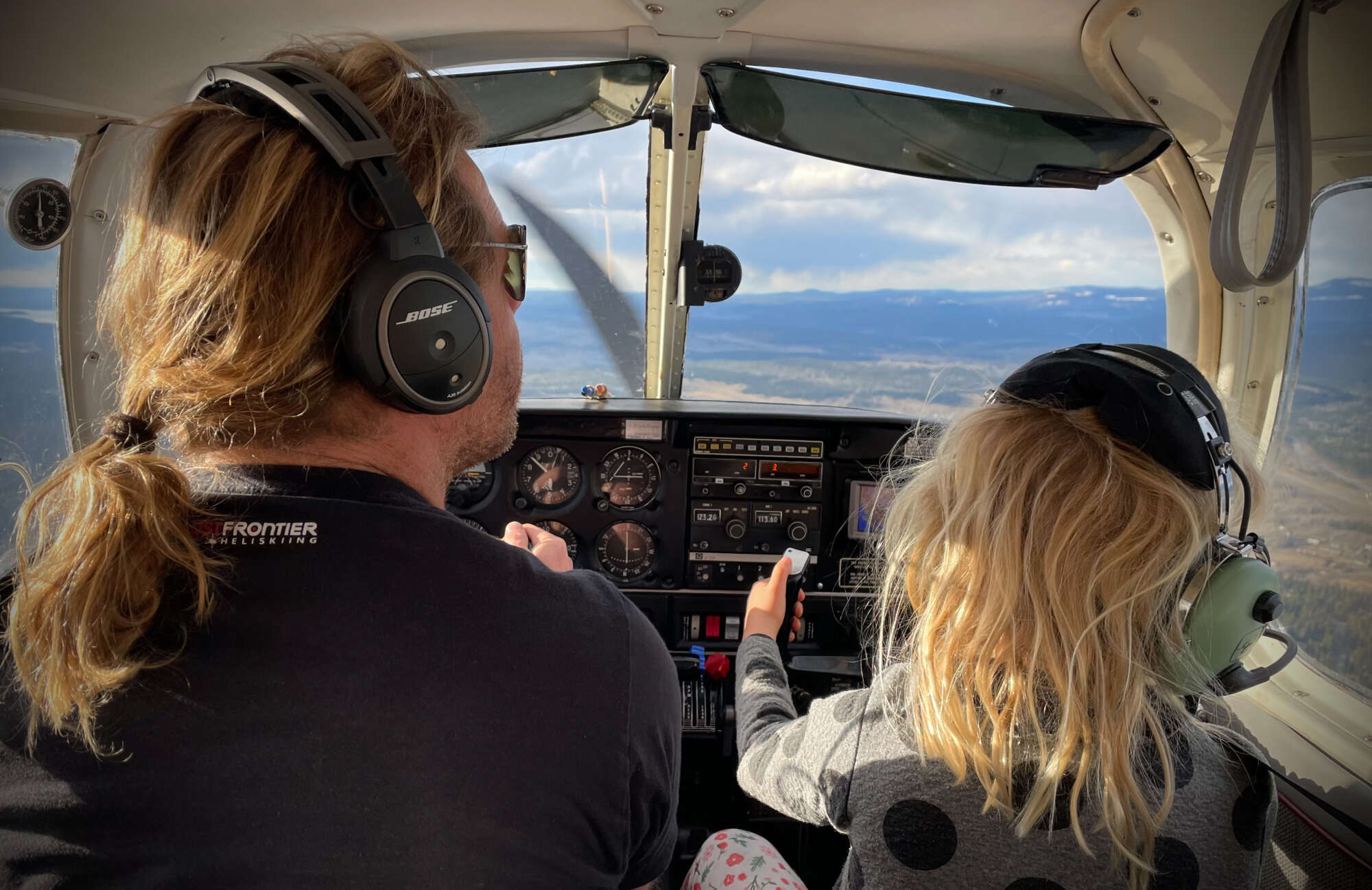 But never one to miss a landing.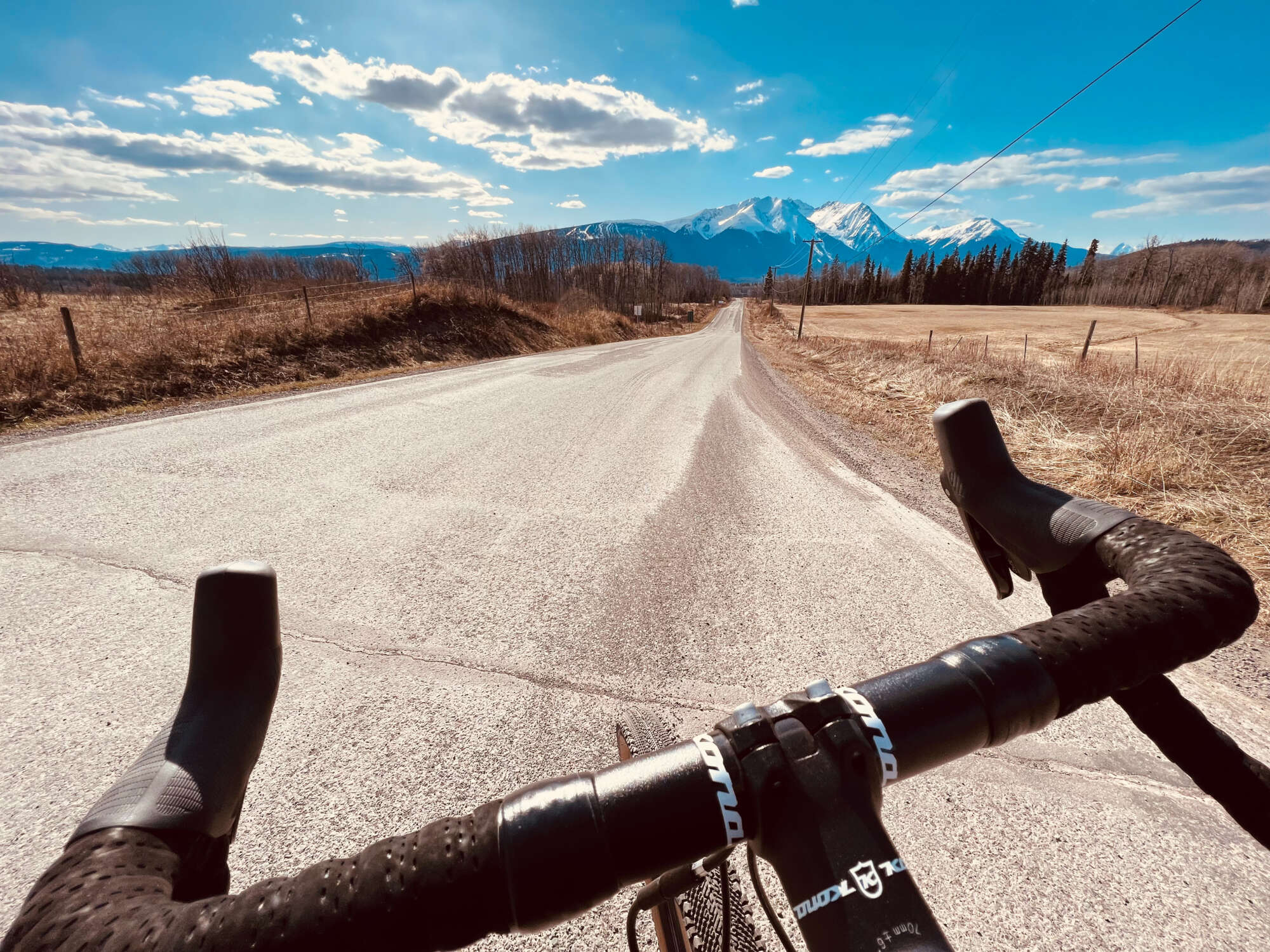 The season is changing.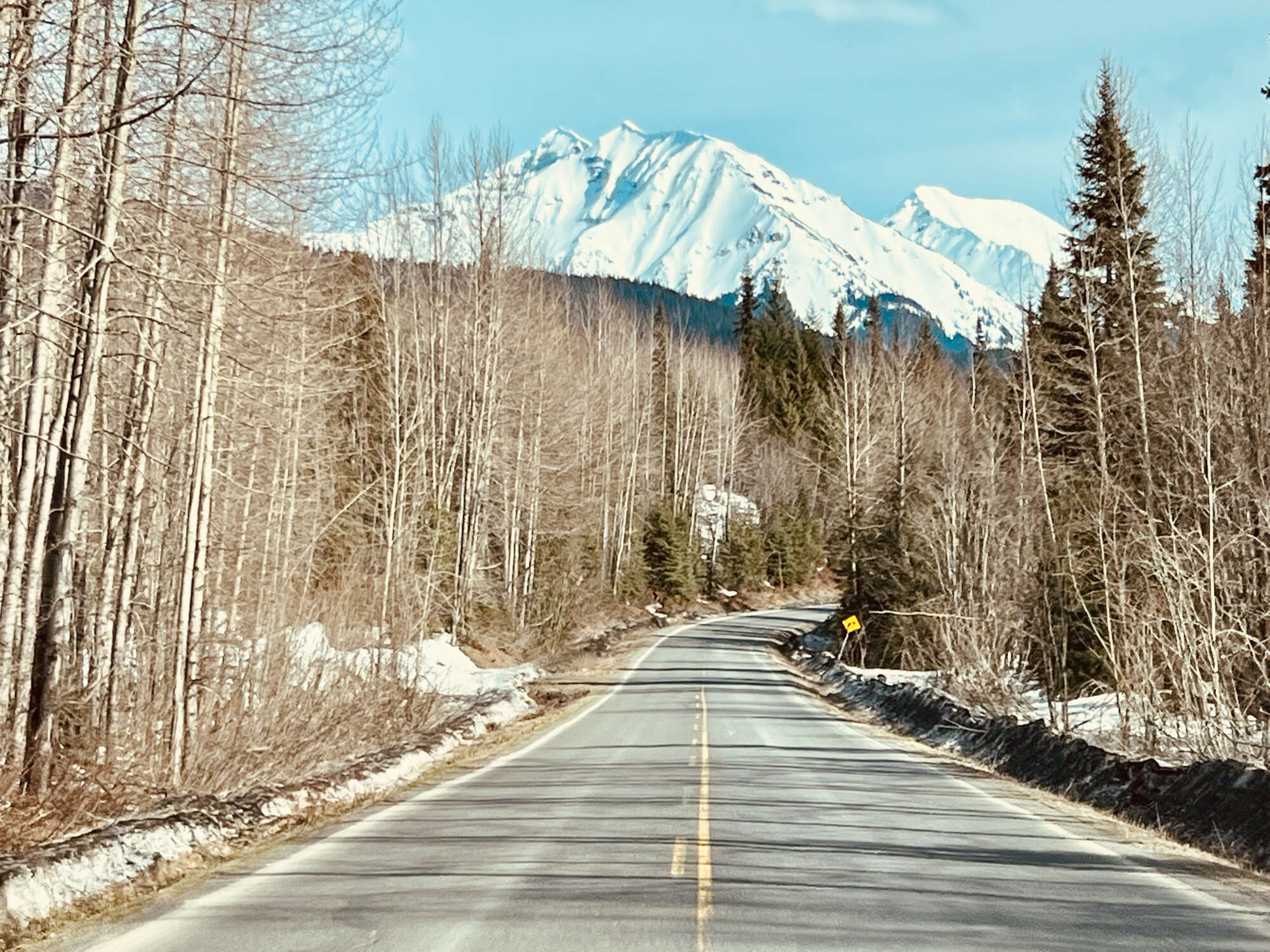 Despite the onset of spring down low, the mountains are ever present.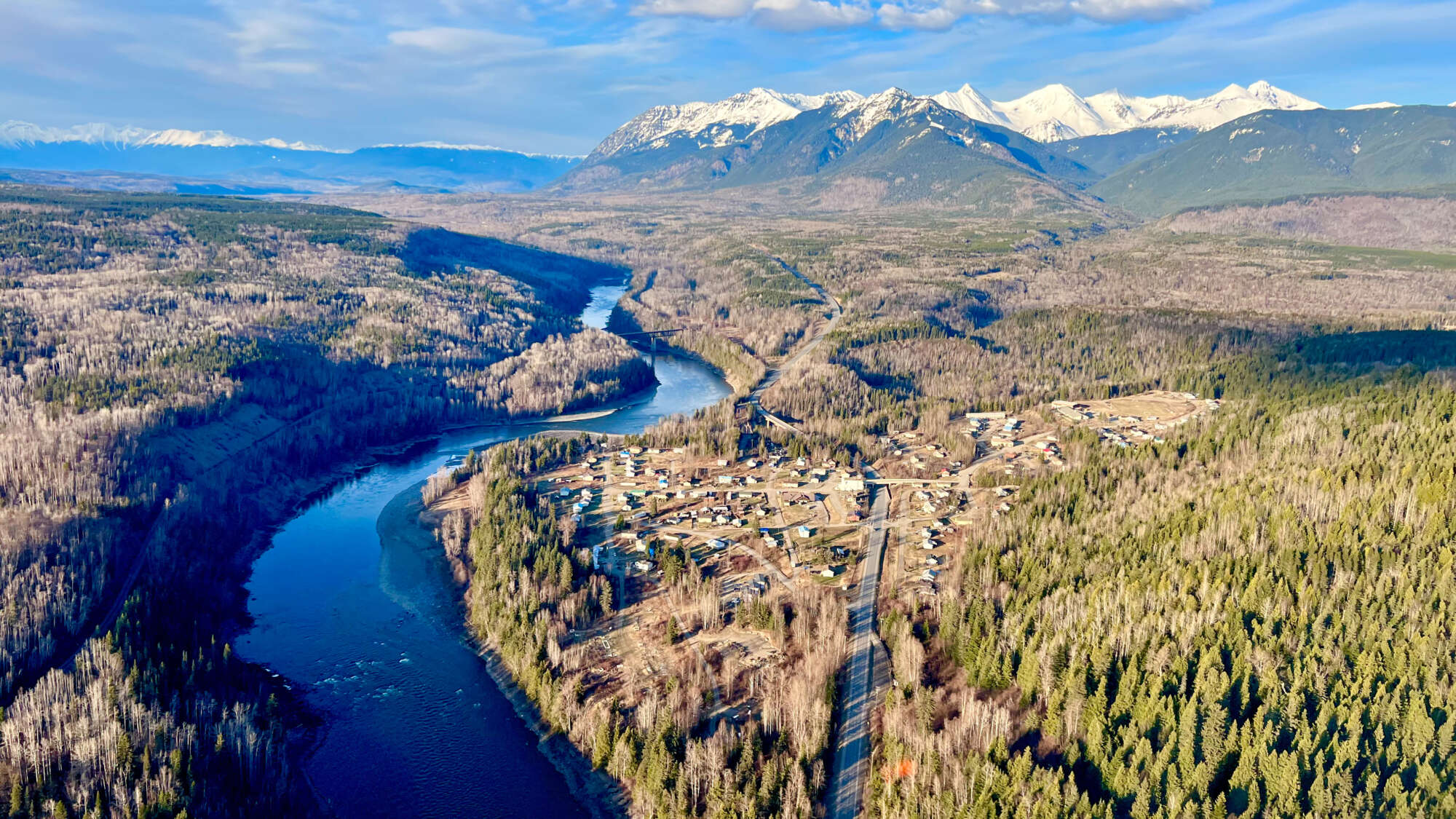 Morricetown (recently renamed Winset) just north of Smithers, on a spring evening.