Last Frontier Heliskiing: The Terrain
Let's face it. One of the main reasons people go heliskiing is to experience never ending, untracked terrain. The helicopter is an incredibly efficient tool for accessing large tracts of skiable area. We have just over 10,100 square kilometers of ski area available elusively for our enjoyment [see size comparison]. That's about two and a half times the size of the average heliski area in British Columbia.
Terrain Variety & Versatility
Not only is our heliski area massive, but it's incredible versatile as well. We've got big rolling alpine slopes, wide open glaciers, tight chutes, nicely spaced trees and everything in between. When the weather is clear, we head high up into the alpine where we have access to the largest glaciated skiing terrain in Canada. When the snow arrives, our pilots need more visibility and we head for treed terrain.
At Bell 2 Lodge we are surrounded with bad weather skiing terrain, some of it only a short 5 minute flight from the lodge. Classic drainage's such as Owl Creek and Red Flat have been explored extensively and hold an abundance tree skiing. Even when the weather is poor and we have to drop guests at treeline, these runs ski deep into valley bottoms. At Ripley Creek we have extensive tree skiing options available just over Bear Pass in the heart of our Surprise Creek zone. This area has some of the longest and steepest treed terrain in our tenure.
During extended high-pressure systems, a pattern that has developed several times this winter, we are able to make full potential of our vast heliski area. This is when our guides are forced to get more creative and seek terrain that is a bit further out, or might otherwise be overlooked. Blue skies are ideal conditions for exploring and this is when our network of remote fueling caches and road re-fueling trucks come into play. Last Frontier is blessed with a road network that dissect the tenure North-South and East-West, allowing us quick access to every corner of our heliski area.
Currently we have just over 1,000 marked runs in our tenure. This in itself is a bit misleading, as each run has a multitude of ways to be skied. In fact, we have areas that are the size of Whistler-Blackomb that have only a dozen marked slopes. Not a season goes by where we don't find more terrain to ski. In fact, just last week we added a half dozen new runs to this growing list.
Explore Our Ski Area Map
To get a better sense for the scale and variety of terrain available at Last Frontier, we encourage you to visit our online Terrain Map. It's been geo-mapped with all of our runs and heliski bases. If you zoom closely you will be able to see run names and topographic lines for elevation gain.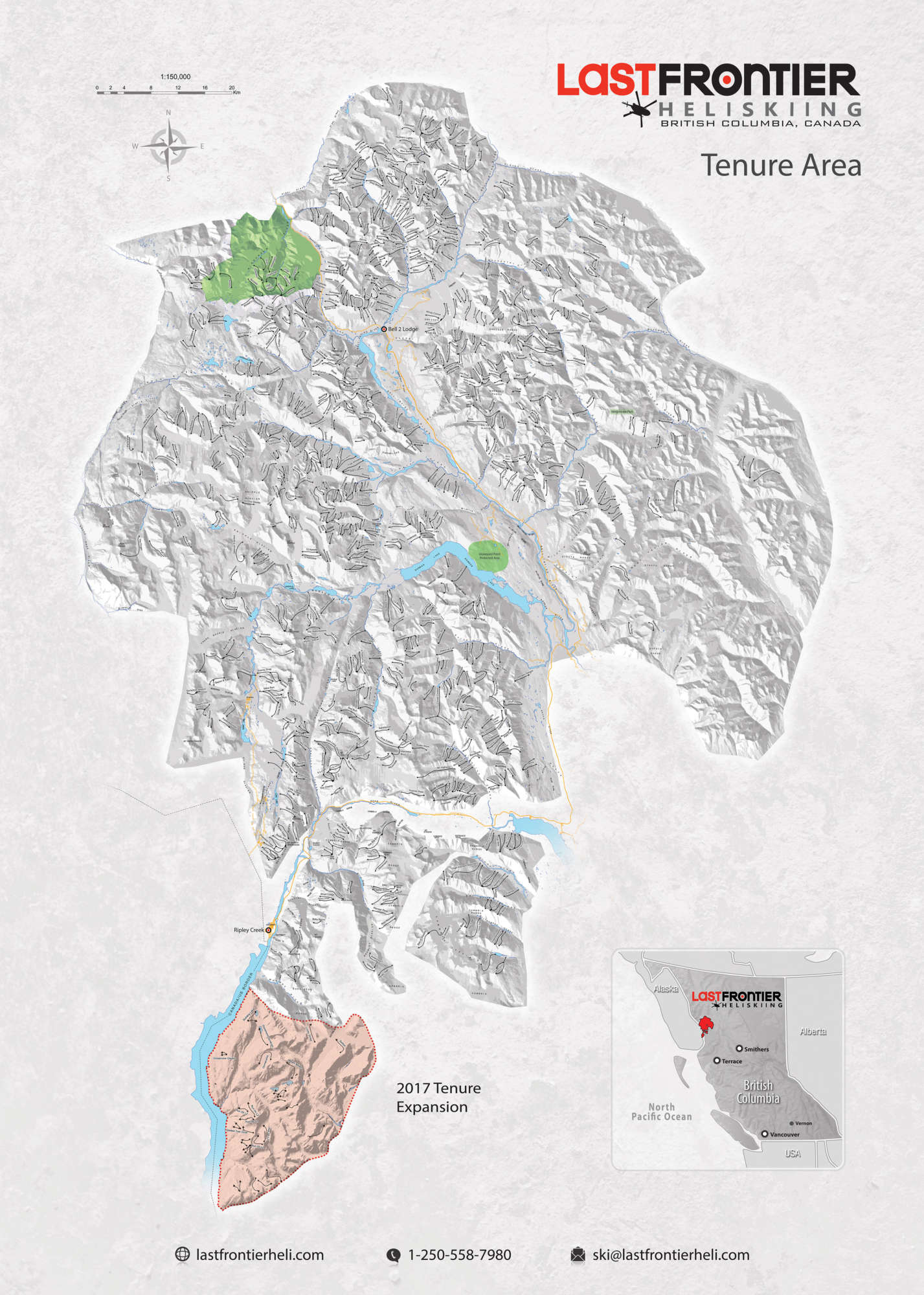 Bell 2 Lodge Versus Ripley Creek
The age old question is still one of the hardest to answer. Bell 2 Lodge is situated predominately in the Skeena Mountains. It's smack dab in the middle of our tenure and you can fly directly from the lodge in all directions. It's where it all started out and has a ton of classic heliski terrain suited to a range of skill levels [strong intermediate to expert]. Ripley Creek is based on the Southwest corner of our tenure in the heart of the Coast Mountain Range. It generally takes a bit longer to get to the skiing areas as a result, but more than makes up for it with it's expansive terrain offering. The terrain is just a bit burlier than what you might find at Bell 2, with a higher concentration of big glaciated terrain and steep tree skiing. It's aimed at the enthusiast and we recommend that you be advanced to expert in ability level. For more information, head over to our handy side-by side comparison.
Last Frontier's huge variety and depth of terrain is a distinguishing feature for us. It affords us the opportunity to operate a long heliski season that lasts from the middle of December until late April.