November Snow Report – Highest Snowpack in BC
The snow keeps piling up. Since we last checked in with you on November 13th, the snowbase has grown by 55cm to reach up to 200cm at only 1,300m in elevation at our Mucho Gusto camera. That's 79 inches of snow at 4,265 feet in elevation for those of you using the imperial measuring system.
November 24, 2019 Update:
Confirming these snow reports, we have the first ski photos of the year from our tenure. Part-time Last Frontier guide Francois Longpre drove up from Prince Rupert with Adrien Treu. They ski-toured from the road and claimed first tracks on one of our favorite tree-skiing runs near Bell 2 Lodge: Caribou Trees. Francois says the run skied like a dream all the way down to 900 meters in elevation. They reported 160cm at 1,200m, dropping to around 100cm at 900m. These are phenomenal readings for late November. Last year those snowpack readings were not achieved until mid-January.
Over at the Snowbank Mid BC Highways weather plot, there is currently 165cm [65 inches] of settled snow at 1,065 meters elevation.
We have word from Highways BC that Last Frontier Heliskiing currently has the highest snowpack in all of British Columbia. All this snow bodes extremely well for the official opening of our 25th heliski season on December 27th. If you've been on the fence about booking a trip with us this winter, it's time to get in touch and enquire about remaining availability.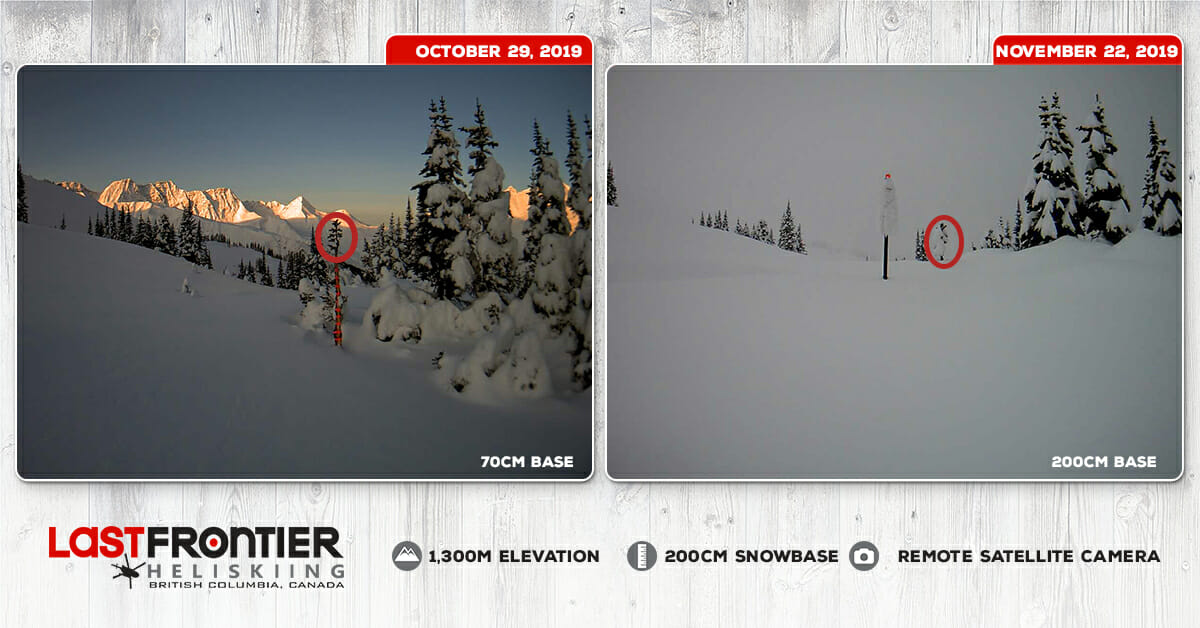 ---
Related Posts