Mid-November Conditions Update – Record Snow
Its mid-November and Winter is in full swing at Bell 2 Lodge. Since the middle of October, the snow keeps on piling up. It won't be long before Cliff's measuring stick disappears from sight. To say that we are stoked for this winter would be a massive understatement.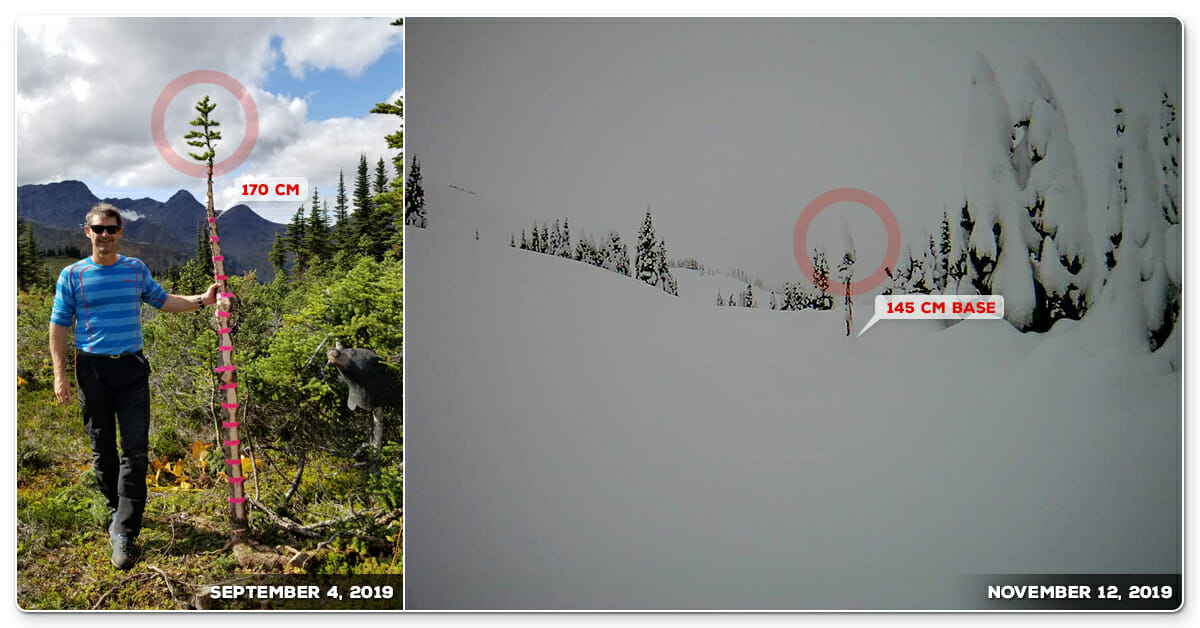 Current Snowpack – Historical Highs
For the first time in Last Frontier history, we have eyes on our remote snowpack. Watching the steady snowfall accumulation from our computer screens hasn't been easy. We've been tempted to start early, but good things must wait.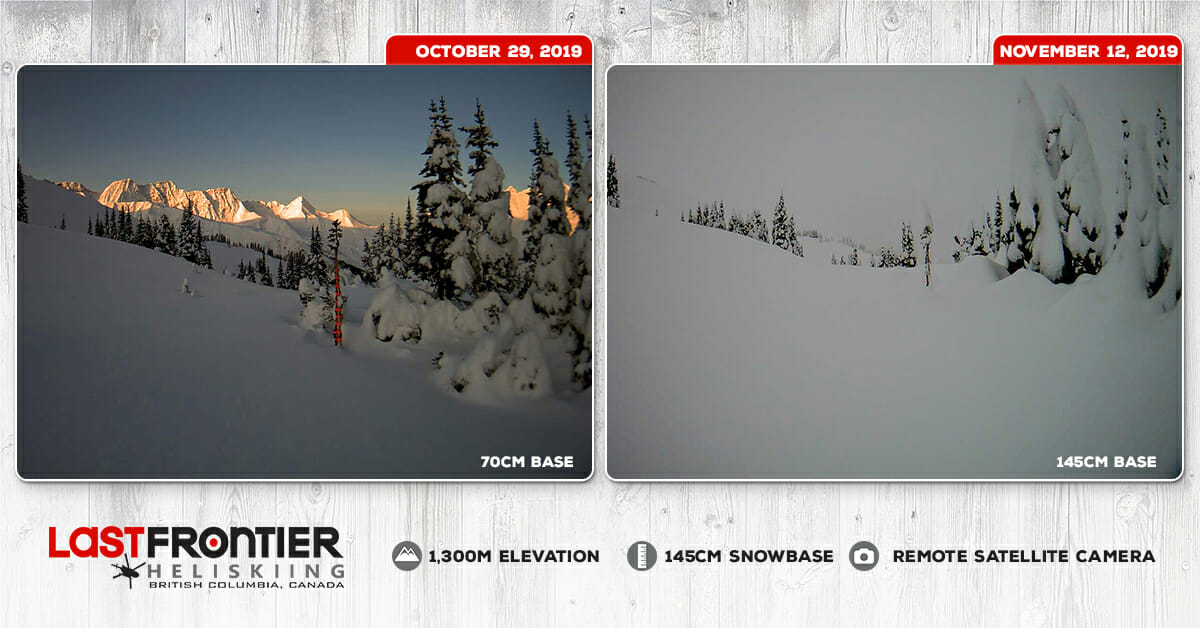 According to BC Highways & Transportation, some areas in our tenure are seeing record snowpack for this time of the year. Temperatures have dropped in recent days to the point where snow is now accumulating at Bell 2 Lodge [base elevation = 550m]. Climbing in altitude and the base jumps to 100cm at 1,065m in elevation and over 145cm at 1,300m [treeline]. We estimate over 2 meters of snow is already coating higher alpine elevations [2,000m]. For our American colleagues, that translates into 40 inches @ 3,500ft, 57 inches @ 4,300ft and over 79 inches above 6,500 ft. This puts our snowpack a full month ahead of last winter's start.
5 Day Weather Outlook
The forecast for the coming 5 days [Nov 13 – 17th] is calling for another 60 to 100+cm [23 to 39 inches] of snow as two large storm fronts move their way over Coastal areas of British Columbia. This is a pattern that has repeated itself for much of October and November, at least in Northwestern BC.
A Strong Outlook for Season Start
All this snow has us very excited about early-season heli skiing conditions. A deep snowpack allows natural terrain features such as creeks to be filled in, making for silky smooth skiing. It also provides good vegetation cover, enabling us to ski longer runs deep into valley bottoms right from the season start.
Our first guests for the 2020 season arrive on December 27th and we are busy ensuring everything will be ready for their arrival.
If you haven't made plans for this winter, we strongly encourage you to get in touch with us as there are still a few prime spaces left for this season.
---
Related Posts