Bell 2 Lodge – A Heli Skier's Paradise
There are many options for skiing in B.C. At Last Frontier Heliskiing, we only have two: Ripley Creek and Bell 2 Lodge. However, choosing between the two is still difficult, like trying to decide between creme brulee and creme caramel. Both are fabulous.
About us
Bell 2 Lodge is deep in the Skeena Mountains of Northwest B.C, a remote outpost with only bears and moose as neighbours.
The lodge originates from 1979, when it was a basic gas station and mechanics garage. Back then, it was called the Bell 2 Crossing as it's near the second bridge crossing over the Bell Irving River. In those days, Highway 37, which leads to Bell 2 from the town of Kitwanga and continues onto the Yukon, was a bumpy, lumpy and dusty ride.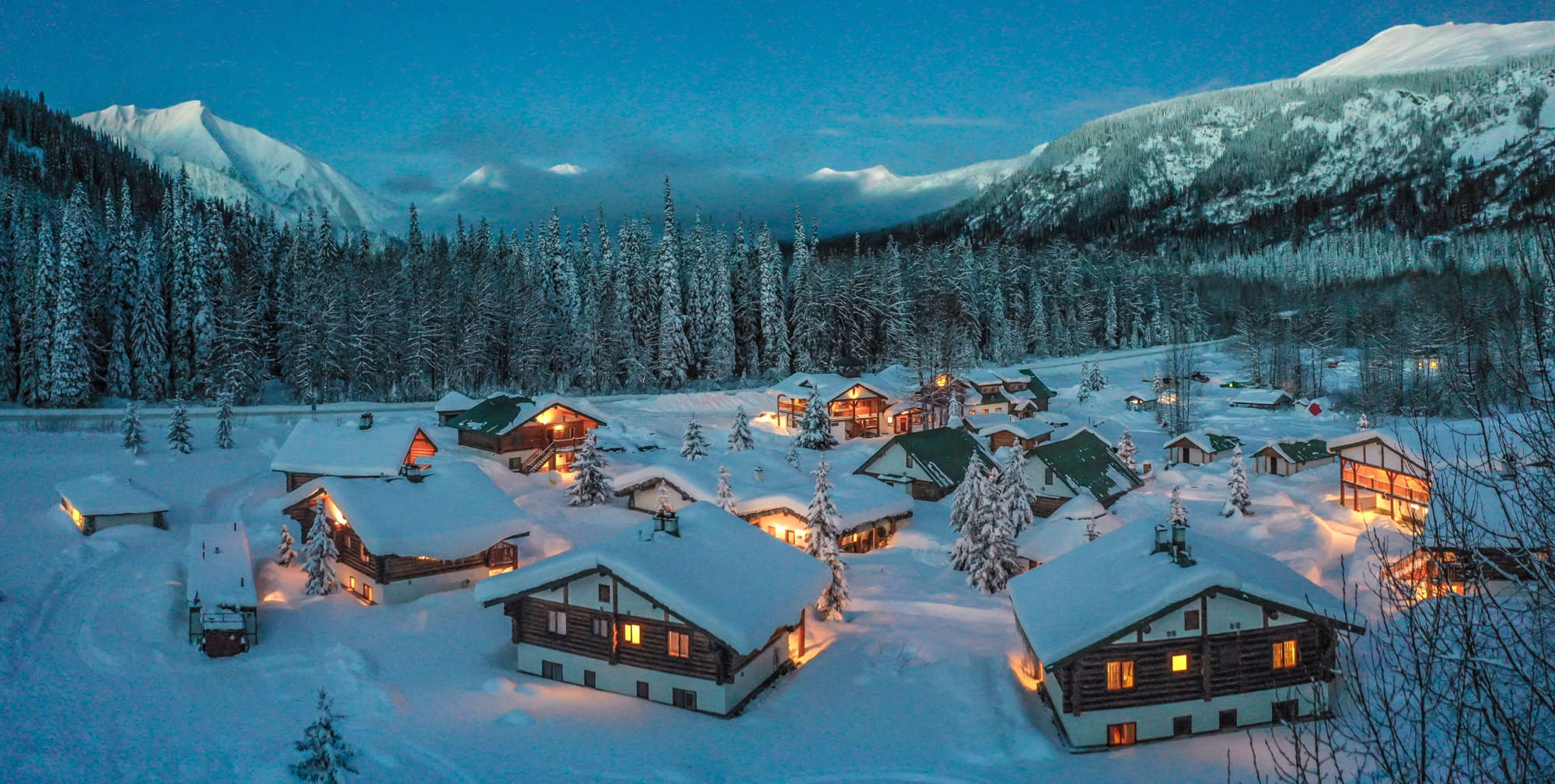 In 1996, tales of legendary skiing from renowned mountain guide Herb Bleuer, who was said to have been one of the founders of the sport, reached the ears of the founding partners of Last Frontier Heliskiing. Soon after George Rosset, Franz Fux, Mike Watling and Geoff Straight set out to explore the area. Two years later, they bought the property and established the largest single heli-skiing area on the planet at more than 10,100 square kilometres.  Bell 2 Crossing was then renamed Bell 2 Lodge.
The Nitty Gritty 
At Bell 2 Lodge, the commute to the helicopter is short at about ten seconds as the pad is outside the main lodge. The closest runs are minutes away [flying] and since we have exclusive rights to our tenure, there's little chance of a traffic jam. The lodge is right smack in the middle of our tenure with heli-skiing in all directions.
The area has towering peaks with wide-open bowls, glaciers, natural glades and treed runs for those days with unfavourable weather. Typically, the terrain is perfect for strong intermediate to expert skiers and snowboarders as compared to Ripley Creek where the terrain is generally a bit more aggressive.
While Ripley Creek gets 30 percent more snow, the season at Bell 2 is longer since it opens a month earlier in December. The lodge still boasts one of the largest snowpacks in the world and tt's not uncommon for snowbanks to reach the roofs with an average total in-season [late December – mid-April] snowfall of more than 7 metres.  Don't worry, we'll do the shoveling.
Since it's a couple hours from the Pacific Ocean, Bell 2 tends to be slightly colder than Ripley Creek. Bring a toque, Canadian slang for warm hat, just in case. We'll supply the hot chocolate.
Bell 2 Lodge can host a maximum of 36 guests.
Lodge Amenities 
While at Bell 2 Lodge, guests stay in cozy log chalets, each equipped with wood-burning soapstone stoves and down feather beds. Time to snuggle with Mr. Teddy.
The lodge comes alive at night with social gatherings. There's an outdoor covered hot tub, gym, yoga and massage studio. After each ski day, there's also après. What's après you ask? It's only the best thing invented since romance novels and bubble baths. Après involves snacks, such as tacos, burger sliders, ribs and drinks. Each Thursday, there's also raclette, which is a Swiss dish of hot cheese smothered on meat, potatoes and vegetables. Good thing there's skiing, or you might need a wheelbarrow to get home.
Since it's an off-the-grid village that's custom-built for heli-skiing, there's little online distraction. While internet is available via satellite, it's slow. Like only-good-for-checking-emails-not-streaming-Netflix slow. If guests are desperate for higher speed internet, Ripley Creek in the Town of Stewart might be better as it has cell phone service. There, it's even possible to browse Tinder. However, don't get too excited as Stewart only has 300 people.
It's possible you might get a sore back and/or legs while skiing our weekly average of roughly 40,000 metres. No problemo. Bell 2 Lodge has an outdoor, covered hot tub, gym, yoga and massage space, fitness centre and games room; all a stone's throw from each chalet.
During any downtime, which is usually less than one day per week, Bell 2 Lodge has snowshoeing, cross-country and fat biking trails right out back, as well as archery and skeet shooting. This is a holiday after all, might as well enjoy it.
Life as a Remote Lodge
In many ways, Bell 2 Lodge is remarkable. Not only is the skiing legendary, but since the nearest town of notable size is almost 400 kilometres away, we must be self-sufficient. Meaning, we have our own wastewater management system that cleans all our water and disposes of our sewage, we compost, recycle and what's left we incinerate. Electricity is generated onsite via a diesel generator, which I call Ol' Betsy. Our maintenance team is pretty handy, but you have to be when the nearest repair person is a four-hour drive away.
The writer Lewis Carroll once said, "There is a place, like no place on earth. A land full of wonder, mystery, and danger. Some say, to survive it, you need to be as mad as a hatter." While northern B.C. is wild and rugged, I don't believe madness will help you survive. However, Bell 2 Lodge might. And in style.
---
Related Posts