Ski Movies Filmed in Northern BC
Northern BC may feel like it's in the middle of nowhere, but that's also what make so attractive to ski movie producers. Constantly gathering new, innovative ski footage is how these teams manage to release fresh film offering new perspectives to the skiing community every fall. At Last Frontier Heliskiing we've hosted many international members of the ski and snowboard media over the years, some which are featured below. Whether for some summer powder dreaming or inspiration for your next heliski trip, here's five ski movies filmed in Northern BC.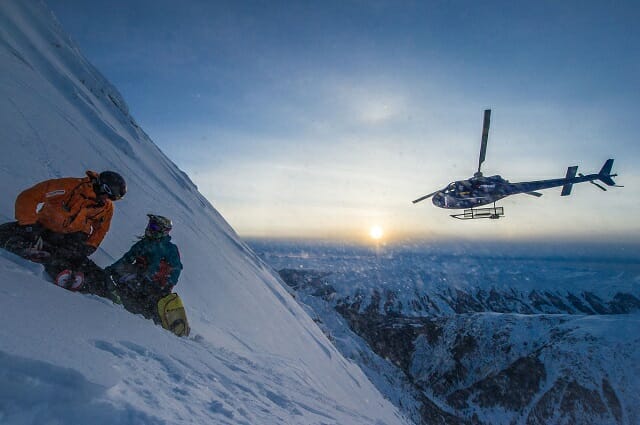 RE:session (TGR, 2009)
Whether you are about to launch off the biggest backcountry jump of your career or the deepest powder run of your life, the experience is always reinforced by having your friends beside you. Camaraderie helps push the world's best skiers to new heights, as demonstrated in 2009's RE:session from Teton Gravity Research.
Kye Petersen: In Search (Inspired Media Concepts, 2015)
Few professional skiers have been filming from as young age as Kye Petersen. Growing up as a sponsored freeskier in Whistler, B.C., it wasn't long before this teenager was hucking himself off huge cliffs alongside his seasoned peers. In Search explores Kye's yearning for backcountry lines and explores the Waddington Range in his directorial debut.
In Motion (Mark McMorris & Friends, 2015)
Anyone who experienced the 2014/15 ski season knows it was a tough one in B.C. Mark McMorris and his his snowboarder friends Nicolas Muller & Mikkel Bang solved that by escaping to Northern BC where deep powder was still plentiful. Filmed out of our Ripley Creek base in Stewart, In Motion follows a group of professional athletes looking for a break from competition in favour of deep days.
Light the Wick (TGR, 2010)
TGR returned to Last Frontier in 2010 for their project Light the Wick, capturing some of the most jaw dropping ski footage for its time. Gaps over massive wind scoops, some of the steepest lines on Earth, and big mountain close calls all set fire to this no-nonsense ski film from TGR.
Jake Blauvelt Naturally (2013)
Snowboarding pow wizard Jake Blauvelt reflects on his personal connection to terrain in the 2013 web series. Blauvelt is joined by Eric Jackson as they travel around the world (including Bell 2 Lodge in Northern BC) in search of the deepest pow and most aesthetic lines.