A Heli Ski Guide's Daily Routine
Last week I wrote about the infamous Heli Belly and how heli ski guides are afforded the luxury of eating well while working at remote winter heli lodges. They may enjoy buffet breakfasts, four-course dinners, and ski powder every day but make no mistake, the life of a heli ski guide is anything but an easy ride.

The alarm clock rings at 5:30 a.m. After showering and getting dressed, all guides convene for their morning meeting at 6:30 a.m where the assigned "weatherman" outlines weather data of any new snow the previous night, temperatures, wind and avalanche conditions. From this information the lead guide will assign a list of which runs are open or closed that day to manage the associated weather and avalanche hazards. Heliskiers are then assigned to groups based on ability level, level of fatigue and body weight and heli pilot is assigned to each group.
By 8 a.m. the morning meeting has wrapped up it's time for breakfast. While eating, guests may sometimes approach their guide and let them know that they'll be skiing slower that day (perhaps due to fatigue) and any last minute group changes are discussed. By 9 a.m. guests are performing their last-minute checks on transceivers, avalanche gear and ABS packs before loading in to their respective helis.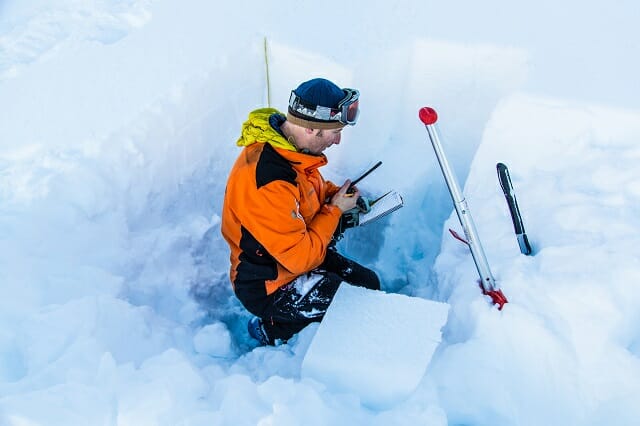 Commence morning powder turns. A warm up lap is usually on the cards for guests to get their legs back into the rhythm before either heading to the tree runs for bottomless pow or the alpine for long, glacier descents. In doubts, guides will take out their shovels and dig pits to verify the solidity of the snowpack.
At midday it's time to break for lunch, giving both guests and guides chance to rest and refuel before firing up the rotors again for the afternoon. At 2 p.m. some guests will inevitably be feeling fatigued, so groups are rearranged to accommodate those that wish to keep skiing and those that wish to retire early to the lodge. By 4:30 p.m. the day begins to wrap up by going over the run list and seeing how much vertical each group has skied that day. Guest are flown back to the lodge for apres drinks and snacks.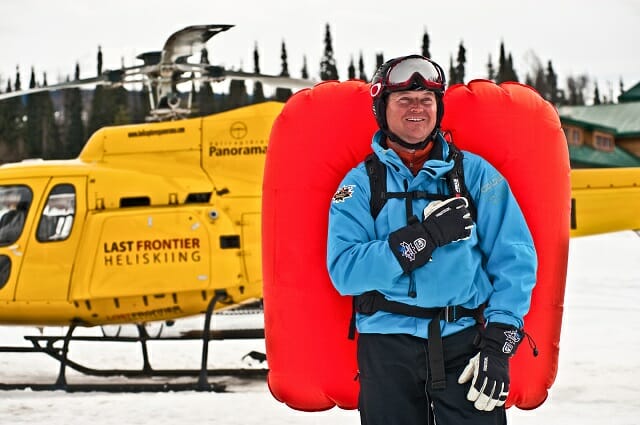 But the heli ski guides' day is far from done. Duties in the afternoon include monitoring the next day's weather forecast, uploading avalanche data to the Canadian Avalanche Association's InfoEx network, discussing the day's operation and any associated incidents. A final meeting at 6 p.m. makes sure all guides are up to speed for the following day.
Dinner is served at 7:30 p.m. with guides retiring after the final course. With another early start the next day and guides requiring to be well rested for their jobs, bed time is usually no later 9 p.m.
All in a day's work at Last Frontier Heliskiing. To see how our other staff get through their day, check out our piece on Cabin Fever.