An ode to rock skis
One just never knows when they might go skiing.
When the resorts close and the backcountry begins to dry up, skis will hopefully get their end-of-season wax before being placed in storage. But there should always be one pair of skis handy at all times – the rock skis. Rusted, blunt edges, chipped top sheets and bindings with a disturbing rattle are all hallmarks of a great pair of rock skis. Years ago when they gave you so much joy during their first days on snow, you never thought they would end up in this condition. The exposed core and dried out bases may reek of abuse and neglect, but these former all-mountain power sticks are never forgotten, their spirit lives on by skiing over not just snow but every other kind of natural and man-made surface.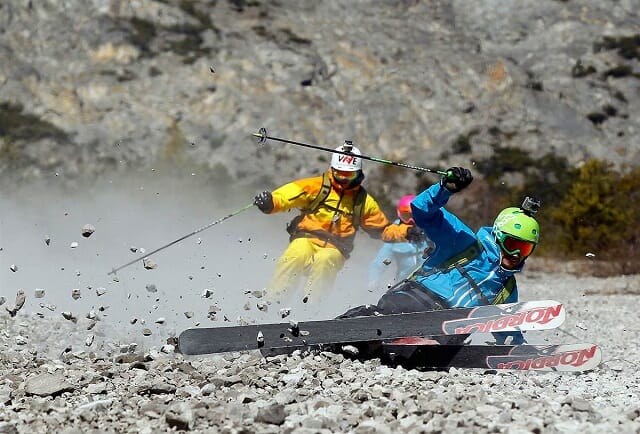 In our ode to rock skis, today we look at their most common applications and why you should reconsider giving away all your old skis or sending them to the local thrift shop.
Opening Day
It's easy to spot the opening day rookies in the opening day gondola line up, they're the ones with brand new skis and snowboards. They just couldn't wait to try out their new gear, eager to have it proudly visible in the lift line for all to see. That pride quickly turns to regret after the first couple runs when the not-so-bottomless powder reveals lurking knife edge rocks (known as "shark fins") that gouge base material like a chisel. The opening day veterans will bring along an ageing pair of all mountain skis with little concern for the damage the day will cause, making those loud scrapes from underfoot all the more bearable.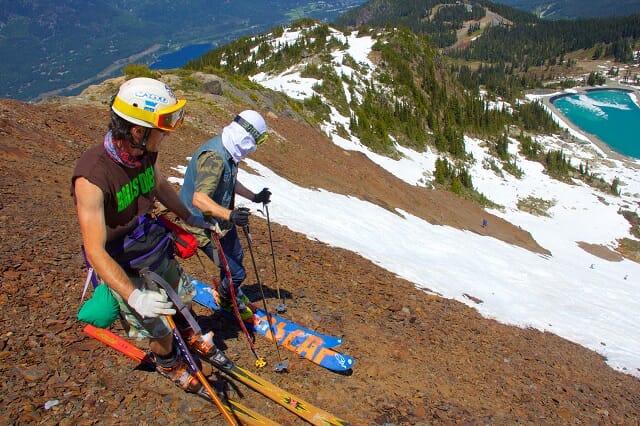 Gaper Day
The last day of mountain operations usually has a rule for costume dress, so the more ancient your skis are the more props and high fives will be coming your way on Gaper Day. Spring snow is likely isothermal slush with patchy coverage, so with a seasoned pair of rock skis you can still carry out all the lift line shenanigans and pond-skimming competitions without damaging your favourite pair of boards. Gaper Day ski surfaces include (but are not limited to) rock, shale, concrete, picnic table timber, metal grating, carpet, linoleum flooring and of course the odd steel hand rail or box rail. The motto "Death before Download" or "Ski Out or Get Out" is proudly chanted by Gapers, so make sure your skis are up to the task.
Any day, really
Sometimes the winter takes a while to kick in with storms not hitting until mid to late December, sometimes even later. Leave those shiny new skis by the door until there is a sufficient snow base to not damage them on the maiden voyage. If snow comes early in the Fall or even the summer, have your rock skis ready for the obligatory hike into the alpine for turns.
Coming to a yard sale near you, rock skis are an essential addition to every skier's quiver. Just ask extreme skiing legend Sylvain Saudan.
https://www.youtube.com/watch?v=7kUsv8tTnR4