Group Dynamics in the Backcountry: Smaller is Better
When it comes to backcountry travels, the old adage "less is more" couldn't ring more true. Resisting to fit that blanket, extra sweater and the rest of your bedroom in your backpack will save your body from a premature retirement. Renouncing to bring all of your friends on a backcoutry trip is also necessary. Research has shown that the likelihood of an avalanche increases significantly when group size is more than four people. The human factors play a role in group dynamics in the backcountry, in which group size is often overlooked.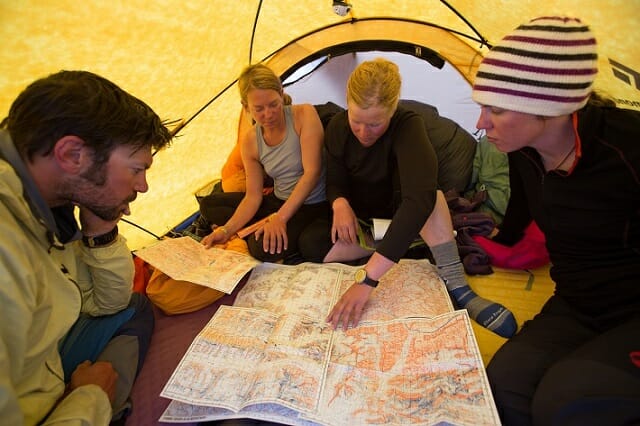 Think of group size like a mathematical equation. More people = more variables. When heading into the backcountry, having a familiarity with other group members is important. If you have a specific goal in mind, knowing your partners' comfort zone and how they react outside of it is paramount. This is why experienced ski tourers generally won't head out into the wilderness with strangers or acquaintances unless someone they trust can vouch for the newcomer's speed, ability and avalanche rescue skills.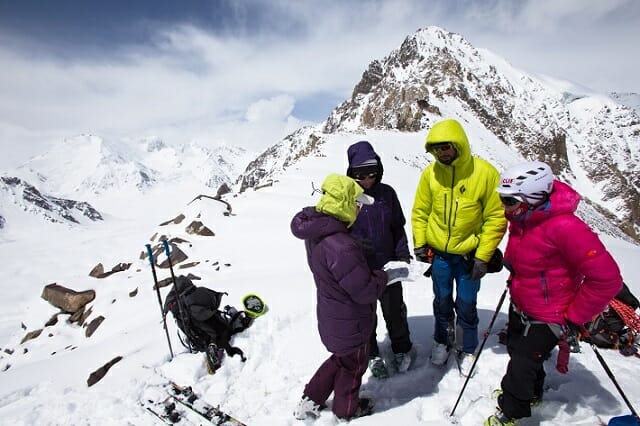 But variables can extend beyond a skier's skill set. Some people have higher or lower risk tolerance than others, some have less endurance, which can affect the choice of terrain tackled together. Some may wish for thousand powder turns down endless glaciers, others may be laser-focused on skiing a particular couloir which only sees ideal conditions for skiing a few weeks every year. Clear goals communication is of utmost importance before the party even sets foot on snow. Planning a heliski trip is no different. Knowing your friends skill levels and terrain preferences will help you make the most of a trip.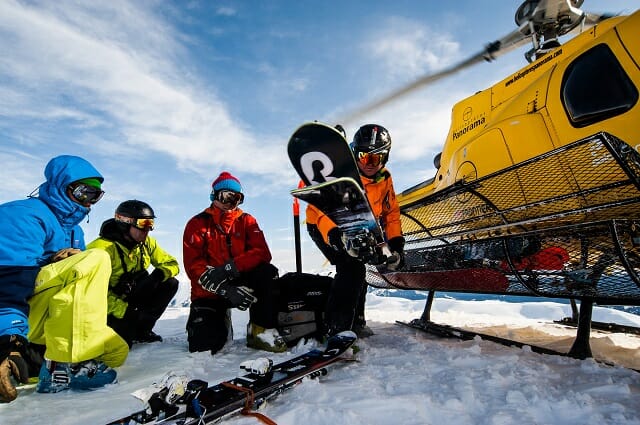 This "more people = more variables" equation applies to commercially guided backcountry skiing as much as it does to recreational trips. Professional ski guides always have a maximum number of guests that they are safely allowed to lead, usually determined by the commercial operation they are working for. This ensures sufficient attention is paid to each guest, whether they are enjoying the experience, looking for more excitement or if they happen to be struggling under the current conditions. Guides also generally prefer to be in smaller groups when bad weather or fog suddenly envelopes a party. The quicker a guide can count the heads of his or her group, the quicker they can all start skiing again.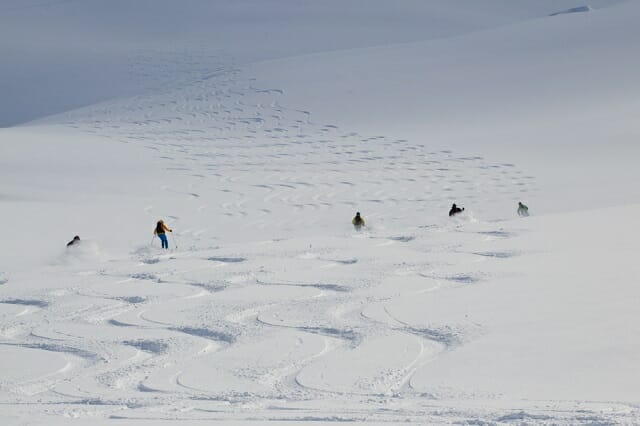 Here at Last Frontier Heliskiing we stick to smaller group sizes of four people maximum. This facilitates group homogeneity, as well as keeping load and unload procedures as quick as possible. The result? Less stress, more fun and more daily vertical! Our single-engine A-Star B2 and B3 are also able to land in tighter zones in treed terrain, which gives us more skiing options during inclement weather.