Last Frontier Heliskiing: The Terrain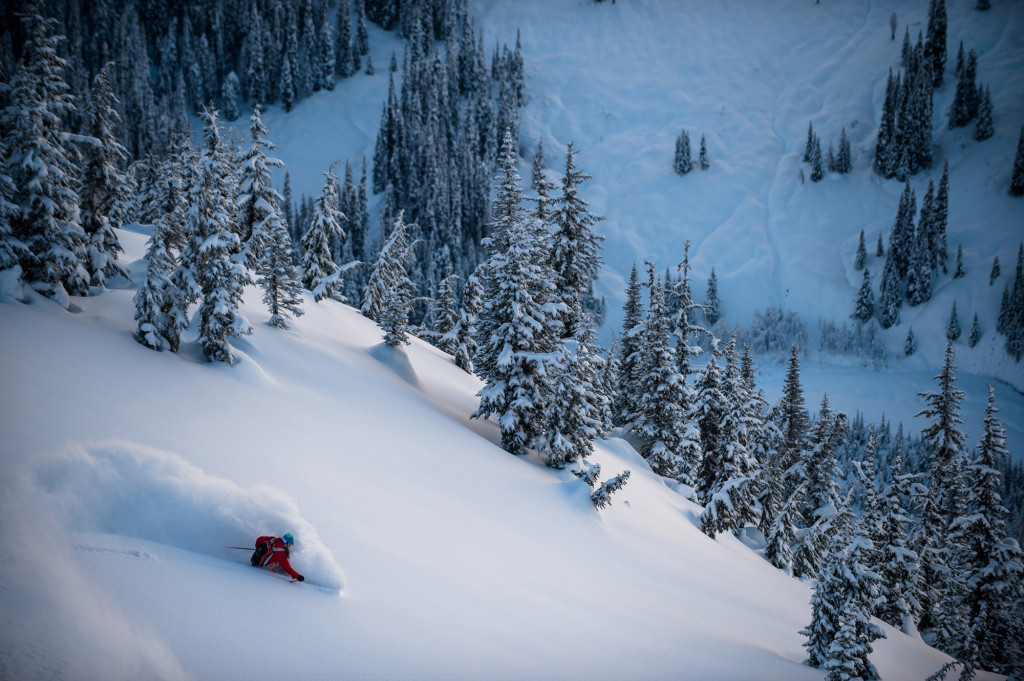 People often ask us what our terrain is like. The simple answer to that is endless. Last Frontier Heliskiing is tucked deep into the Coast and Skeena Mountains of Northern British Columbia. In this vast wilderness of glaciers, alpine peaks, old growth forests and mountain creeks is some of the most varied ski terrain in BC. Averaging between 20 and 25 metres of snow each winter, with a heliski area that spans some 10,100 square kilometres, Last Frontier Heliskiing offers just about every type of option for skiing from a helicopter you could imagine. So endless is the short answer. The longer answer is versatility and flexibility.
In a heliski operation, there are some things you need to get right, and one of those is providing your guests with lots of options for where they are going to ski each day. No one wants to come to a heliski lodge for a week and spend days on end waiting for the weather. When we first heard about this area in the early 1990s, our founders had been looking for somewhere that not only offered the classic, high alpine glacier skiing that's on everyone's must do list, but also somewhere that could offer enough versatility in the terrain so no fly days could be minimized. Good quality snow (read blower pow) was another requirement and we have that in spades.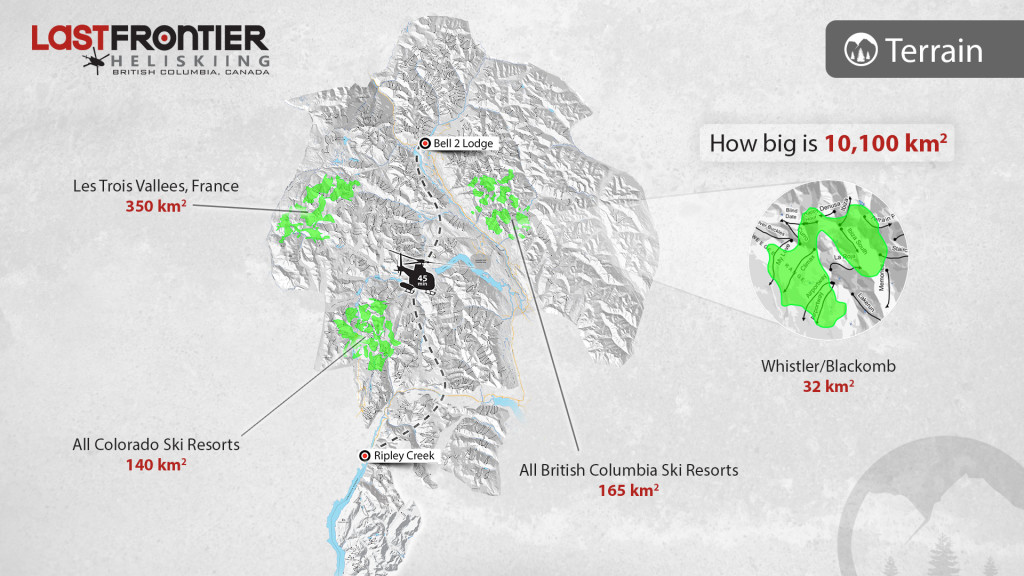 The size and scope of our heliski area gives us huge flexibility in our operation. The first part of that is the road that runs through the middle of our tenure. Both our Bell 2 Lodge and Ripley Creek locations are connected by that road. That road is key for us and we've even written a post about it. In a nutshell, it allows us to move people and fuel around our tenure so we can minimize flight times and keep our guests skiing as much as possible. It also gives us a jumping off platform to ski and explore all 2.5 million acres of our heliski terrain.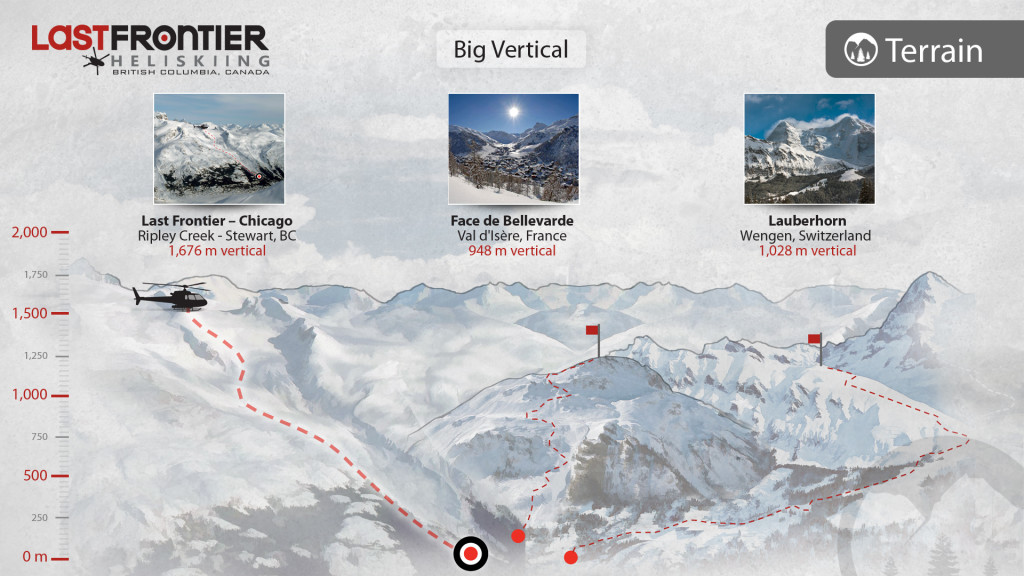 The second part to that is the vertical drop we have to play with in our terrain. Our runs can be long, many of then over 5000 vertical feet and we even have a few that crest 6000 feet. That gives us some really unique options as a heliski operation; our terrain encompasses high alpine peaks, bowls and glaciers, and lower elevation, old growth forest skiing. On any given day we could be skiing up high or smashing tree skiing laps down low or a mix of both. We've also tailored some of our landing zones in tiers, giving us options when we have inclement weather. That means we have lots of places to drop skiers lower down in the valleys. Add to that the deep coastal snowpack, being so far north and having cooler temperatures, and we can still bag lots of vertical on days when we are skiing in the trees.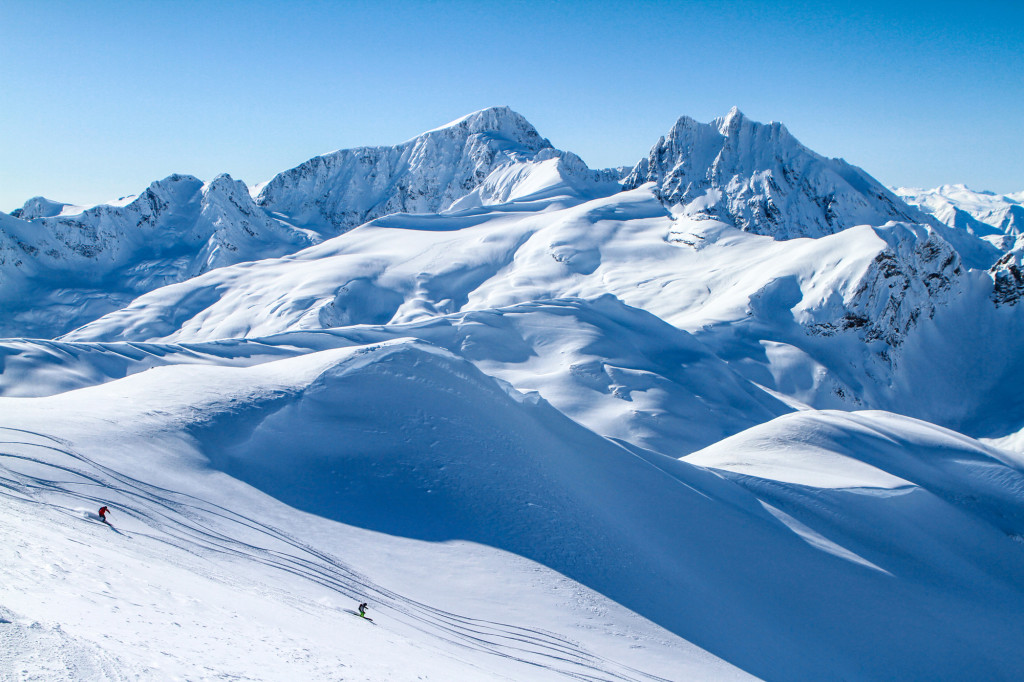 The third part of that is the scope and breadth of our terrain. 10,100 square kilometres is a big area to play with and that gives us versatility and flexibility of where we're going to ski on any given day or week. We can scout areas from the road or use that giant geographical footprint to hunt out the best snow. Weather changes rapidly in the mountains and conditions can be different from one area to the next. With such a large area to ski, we can almost always find some good snow.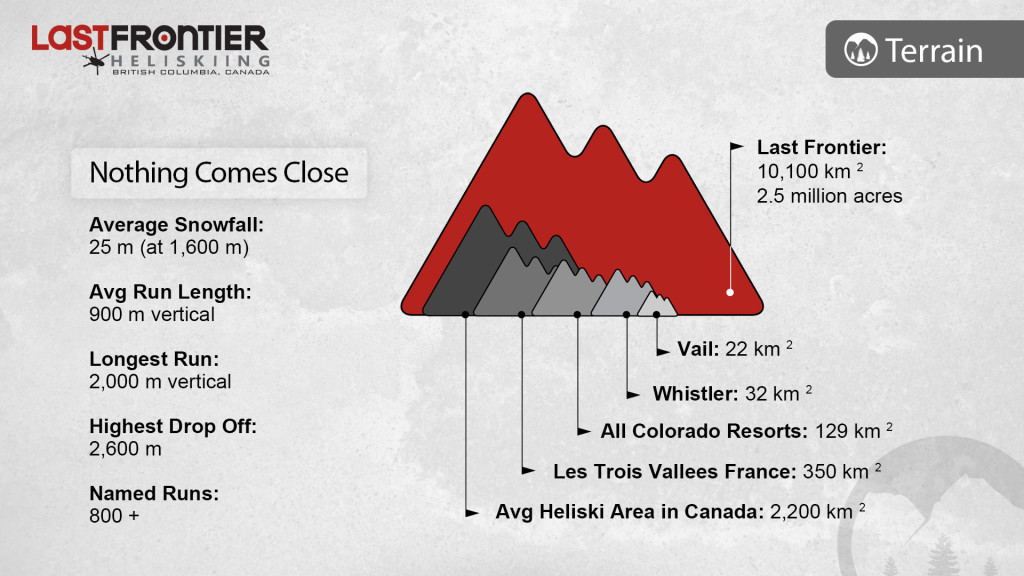 That combination of big mountains, glacier and old growth forest skiing and laps that can be skied from multiple elevations to the valley bottoms make it easier for us to get you skiing as much as possible. Cause we want to ski as much as you want to ski. Our goal is to get you out into the mountains every day and we pride ourselves on working hard to do that. Our guides and staff have as much fire for the snow as you do (possibly even more!) and we're dedicated and passionate about what we do. So when you're thinking of booking a heliski trip, ask about the terrain. Ask about storm skiing options and variability and flexibility in terrain. At Last Frontier Helskiing, we want what you want.